Newsletter: GL Releases Improved Voice Quality Testing Solutions (VQT)
Welcome to the June issue of our Newsletter providing information on the latest enhancements to our Voice Quality Testing Solutions. These products provide an excellent measure of voice quality over any type of network.
Overview
VQuad™ with Voice Quality Testing (VQT) software provides a single box solution to automatically establish calls (PSTN, VoIP, Wireless, T1/E1), send/record voice over the established call, and perform voice quality analysis on the recorded voice files. Up to 8 fully independent tests using different interfaces can be executed simultaneously.
The system utilizes three widely accepted algorithms in the measurements of voice quality over all types of networks including Wireless, ATM, VOIP, PSTN, and T1/E1. The algorithms supported by VQT include Perceptual Evaluation of Speech Quality (PESQ LQ/LQO/WB) per ITU-P.862.1/P.862.2, PAMS per ITU-P.800, and PSQM/PSQM+ per ITU- P.861.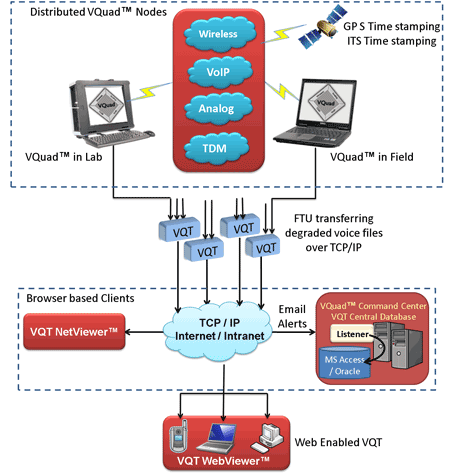 Manual or fully automated measurements are easily conducted. Important features supported are automated call control, path confirmation, and call progress logging (failed calls, dropped calls...).
The system works as follows: As each voice file is recorded at the destination, the VQT application automatically detects the completion, transfers the files to where the VQT application (over LAN or WAN) is located, and applies the required measurement algorithms against the degraded voice files. The measurement results are reported both locally and remotely through NetViewer™ and / or web based WebViewer™ applications.
WebViewer™
WebViewer™ software is used to remotely access the results of VQT measurements. Each local VQuad™ has the ability to send all measurement results to a central database. WebViewer™ accesses the VQT central database and provides a user interface to perform queries, based on search criteria, and displays the results in both tabular and graphical formats. This allows multiple VQuads™ to be run in unison.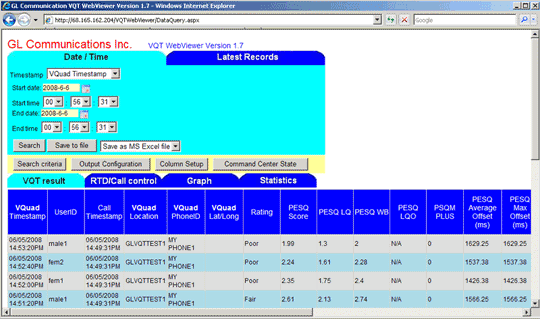 Indoor Tracking System (ITS)
To track wireless voice quality when the user is underground, where GPS is inaccessible, an ITS (Indoor Tracking System) option is available within VQuad™. This feature provides a map of the underground, and allows the user to quickly identify the location and time of calls.
The ITS option includes both an editor (accessible within VQuad™) and a Viewer (accessible within VQT NetViewer™ or as "stand alone"). The ITS Viewer allows the user to query the VQT database and display the VQT results overlaid on top of the ITS map.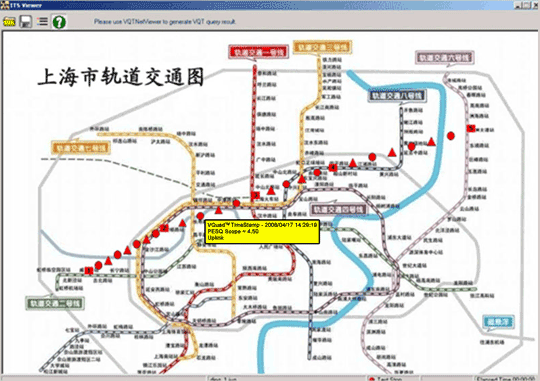 VQuad™ T1E1 Support
Using a T1/E1 Analyzer pod or cards, VQuad™ can generate and receive up to 8 simultaneous CAS, PRI ISDN, or No Call Control (NOCC) calls on either T1 or E1 trunks. The T1/E1 option includes a script based CAS State Machine for creating any desired CAS protocol. Included with the PRI ISDN are all variants associated with ANSI and ETSI specifications.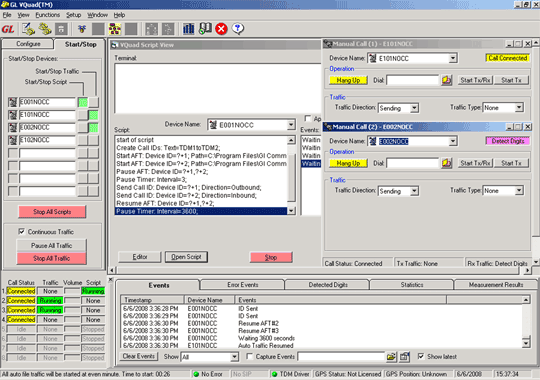 Email Alert Support
VQuad™ and VQT include the ability to generate automatic user-defined alerts. The alerts are automatically sent to VQuad™ Command Center where they are processed and, based on the type of alert, the command center can automatically generate user-defined emails.
The VQT alerts are triggered by user defined conditions in alert setup. The VQuad™ alerts are configurable through the Call Control scripting.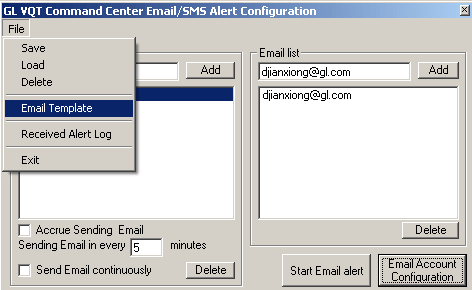 VQT PESQ WB Support
VQT and VQuad™ applications now support the "Wideband" codec ITU-P.862.2 PESQ WB.

Back to Latest News Page