Newsletter: GL Announces Enhanced ML-PPP Emulation & Analysis
Welcome to an April issue of GL Communications' Newsletter providing information and enhancements introduced to our products ML-PPP Analyzer and MC-MLPPP Emulator - tools that emulate and analyze Point-to-Point (PPP), Multi-Link Point-to-Point (MLPPP), and Multi-Class MLPPP protocols.
Overview
MLPPP bundles multiple link-layer channels into a single network-layer channel. Data sent through this channel is distributed among all the links.
GL's flexible and versatile MC-MLPPP Emulator is both GUI and script based. The software is capable of generating and receiving MC-MLPPP and PPP traffic (with or without impairments). Traffic source can be sequence number, HDL files (containing packets/frames), flat binary file, user-defined frames (ASCII HEX file), and Ethernet data.
The Multi-Class Extension to Multi-Link PPP allows a sender to fragment the packets of various priorities into multiple classes of fragments, and allows high-priority packets to be sent between fragments of lower priorities.

MC-MLPPP emulator can now be configured as a router or as a Bridge to establish connections and route traffic between LANs.
The software runs on GL's T1 E1 Analyzer platforms which are available as powerful HD PCI cards as well as portable USB based units.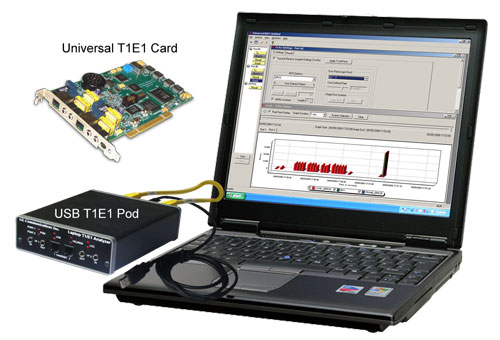 MC-MLPPP using Cient-Server
GL's MC-MLPPP Emulator allows traffic generation and verification over PPP links using industry standard Client-Server technology, which may be accessed through a GUI for manual testing or through command line scripts for automation.
Important enhancements introduced to the application
ML-PPP Emulator as a Router
The Emulator allows users to setup routing table by configuring IP-Address and Mask. Once configured, the Emulator forwards the IP packets which match routing criteria over T1/E1 links. Emulator respond to all ARP requests whose IP addresses present in routing table.
The emulator allows mapping of user defined class of service into MLPPP class/PPP Link based on length, source IP address, destination IP address and Type Of Service of the received IP packets, set in priority dialog table.
ML-PPP Emulator as a Bridge
When the emulator is configured to act as bridge between two networks, all ARP and traffic (checked against the priority table) received from the network is encapsulated as BPDU (Bridging Protocol Data Unit) and streamed over T1 E1 links. The Emulator on another network removes BPDU header, either converts to Ethernet traffic or adds Ethernet header and streams to the destination.
IP compression
MC-MLPPP Emulator supports the following IP compression standards: Van Jacobson Compression and IP Header Compression.
Impairments
MC-MLPPP Emulator supports various impairments at PPP layer - CRC error, frame error, frame duplication, and more. Also supports various Fragment/Packet impairments for each Class at ML-PPP level.
Other Important features include:
Performs MC-MLPPP as well as PPP simulation


Supports LCP with the following negotiation options



PPP options: MRU (Maximum Receive Unit), ACFC (Address and Control Field Compression), PFC (Protocol Field Compression), and Magic Number
MLPPP Options: MRRU (Maximum Received Reconstructed Unit), Short Sequence Header Format, and Endpoint Discrimination
Multi-Class Options:Multilink Header Format



Supports the following NCP: IPCP: RFC 1332 and RFC 1877; BCP: RFC 3518


Transmit and receive Ethernet traffic over T1E1 links by operating either in bridge or router mode


Supports up to 8 T1/E1 links


Supports Fragmentation and Reassembly at MLPPP level


Dynamically add/remove (open/close) PPP links without loss in data


Support for HDLC framing with CRC16, CRC32 or without CRC
For comprehensive information on the product, please refer to MC-MLPPP Emulatior web page.

Back to Latest News Page