Press Release: GL Announces the Addition of
PESQ to their Comprehensive VQA Solution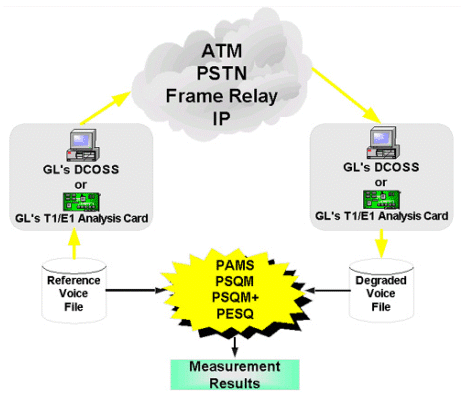 Furthering objectivity in Telecommunications Voice Quality Assessment

GAITHERSBURG, MD - August 10, 2001

GL Communications Inc., a leading provider of PC-based telecommunications test, analysis, and simulation products, announced today that it has incorporated PESQ into its powerful Voice Quality Assessment solution.
Providing clear, uninterrupted voice is critical in Network and Echo Cancellation development. The standardized measurement of voice quality is especially necessary in ATM, Frame Relay, PSTN, and IP environments. The GL Voice Quality Assessment software now uses PESQ (Perceptual Evaluation of Speech Quality per ITU Rec. P.862). The enhanced software still retains PAMS (Perceptual Analysis/Measurement System in accordance with ITU Rec. P.800) and PSQM (Perceptual Speech Quality Measurement, ITU Rec. P.861). PAMS predicts overall subjective listening quality, while PSQM predicts subjective quality of speech codecs. PESQ provides objective measurement of subjective listening tests on telephony systems.
GL's Voice Quality Assessment software performs PAMS, PSQM/PSQM+, and PESQ, simultaneously; using two voice files (the reference and the degraded) and presents the algorithms' results, in both graphical and tabular formats. Also displayed are latency and clipping results.
The Voice Quality Assessment software application is one of many applications that are offered for use on GL's Ultra T1 (or E1) PCI boards and Laptop Analyzers. Other application software for these boards (and analyzers) includes: BERT testing, Record/Playback, DTMF/MF/MFC-R2 Detection & Generation, Signaling Bits Recording, plus a variety of protocol analyses (Frame Relay, HDLC, SS7, ISDN, etc.) applications, and a suite of applications designed for automated and manual echo canceller testing, specifically per G.168.
A separate, but similar version of the Voice Quality Assessment Software is available for use on GL's DCOSS (Digital Central Office Switch Simulator & Bulk Call Generator). The DCOSS is a full-fledged Class 5 Switch Simulator with the ability to handle up to 16 trunks (T1s or E1s or both). The DCOSS provides support for a variety of protocols including ISDN, SS5, SS7, R2, etc. Connectivity to external devices (analog and/or BRI) is available. Extensive fax and modem simulation/quality testing is supported. With optional Remote Access, the Voice Quality Assessment can be put on a separate PC that reports back to the DCOSS system.
Both the DCOSS and the Ultra Cards have become important test equipment for an increasing number of GL's customers, including ECI Tel, Cisco Systems, Tellabs, Clarent, Nortel, etc. GL's VQA has been generating considerable excitement in some of the R&D departments of major telecommunications companies. The PESQ-enhanced version has been eagerly awaited.
Pricing and Availability
The PESQ-Enhanced Voice Quality Assessment solution is available now and is priced at $7,645. Voice Quality Assessment with only PAMS and PSQM remains available at a price of $5,845. These prices apply to both versions of the solution: for the Ultra Cards and the Laptop Analyzers (T1 or E1) and for the CO Switch Simulator & Bulk Call Generator. Delivery is immediate for the software. If GL's Ultra Cards or CO Simulators are needed, the delivery time increases to a week.
Founded in 1986, GL Communications Inc. is a leading supplier of rigorous, PC-based, test, analysis, and simulation equipment to the telecommunications industry. The company offers a wide range of products and services designed to aid the telecommunications engineer working in a research and development environment.
If you are looking for analog or wireless voice quaility assessment solutions,
please visit GL's VQuad™ with Analog option with Voice Quality Assesement page to learn more.
For more information:
Press and Sales Contact -- Shelley Sharma, (301)-670-4784 x114, gl-info@gl.com
For more information on GL's Voice Quality Testing:
www.gl.com/vqt
For general information on GL's PC-Based T1/E1/T3 test, analysis, and simulation products:
GL Communications Inc. 818 West Diamond Avenue - Third Floor
Gaithersburg, MD 20878
Phone: 301-670-4784
Fax: 301-670-9187
Web:
www.gl.com

Back to Press Releases Index Page