Press Release: GL Introduces Drive Testing for Wireless Voice Quality Applications
Gaithersburg, Maryland, USA - October 4th, 2005 - GL Communications Inc, today announced a "drive testing enhancement" to their Wireless Voice Quality Testing Solutions. Features include a fully portable solution, automated call control for almost all mobile phone models, support for Bluetooth™, and all results stamped with GPS location coordinates and GPS time.
GL's Wireless VQT Drive Testing product is a complete and self-contained hardware, software, and accessories package for automated wireless voice quality testing from within a vehicle. This portable package can house up to four wireless phones, a graphical computing and measurement platform, and mapping software.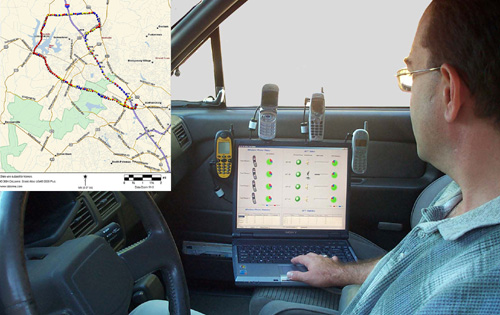 Features Include:
Voice Quality Analysis: GL's Dive Testing tool allows you to analyze the voice quality in your network within a given geographical area. Results are logged and statistics are provided for a complete understanding of the wireless network.


Convenient Packaging: This tool is conveniently packaged in a custom enclosure such that users can transport it within a vehicle, just plug into the cigarette lighter (for power), connect to the PC Laptop using the USB connections, and start the test


Designed for many mobile phones: Four mobile phones are supported simultaneously within a single enclosure. All conveniently controlled from a single laptop running GL's VQuad™ software. GL's AFT and VQT applications can be remotely accessed via the Internet with audio voice file streaming to the remote location.


RTD and PESQ LQO based results: Once a call is established, voice files are generated from either end of a call and recorded at the opposite side. The recorded voice files are automatically passed to GL's VQT application for analyzing the voice and providing VQT measurement results using the widely accepted PESQ LQO algorithm. Along with PESQ LQO results, GL's VQT also reports analysis associated with clipping, noise/signal levels, jitter, and S/N Ratio (to name a few).

Available as a part of the GL's Wireless VQT Drive Testing, is Round Trip Delay measurements (RTD). The RTD can be configured to run manually or automatically during drive testing and made part of the VQT's results.


GPS Mapping: As an option to GL's Wireless VQT Drive Test solution, a GPS receiver can be included so that all results are stamped with GPS location coordinates and GPS time. GPS stamping occurs when a mobile call is generated and when a mobile call is disconnected (or dropped), when a voice file is recorded, and when an RTD measurement is made. The logged GPS information can be imported to most GPS mapping software packages for an overall graphical understanding of the results. Thus, your drive-test results can be superimposed on a map providing you with VQT ratings, mobile phone status, and RTD results.
Other VQT products
Along with automated wireless phone testing, GL's VQT Solutions can also support automated 2-wire landline (POTS), VoIP ATA testing, VoIP (SIP/RTP) user agents, Handset phones (VoIP, Digital, Analog), and T1/E1 testing. GL's VQT is offered as a complete solution for all your voice quality testing requirements.
Please refer to Wireless VQT Drive Testing and Wireless VQT web links for further details.
About GL Communications Inc
Founded in 1986, GL Communications Inc. is a leading supplier of rigorous, PC and Laptop-based test, analysis, and simulation equipment to the telecommunications industry. The company offers a wide range of products and services designed to aid telecommunications engineers working in research and development as well as those responsible for operations and ongoing quality assurance.
Contact:

Shelley Sharma
Phone: 301-670-4784 ext. 114
E-mail: info@gl.com

Back to Press Releases Index Page