Newsletter: Voice Quality Testing for Next Generation Neworks using VQuad™, & VQT
Welcome to another February 2013 issue of GL Communications' Newsletter providing information on our enhanced Voice Quality Testing Software with Perceptual Objective Listening Quality Analysis (POLQA) standard.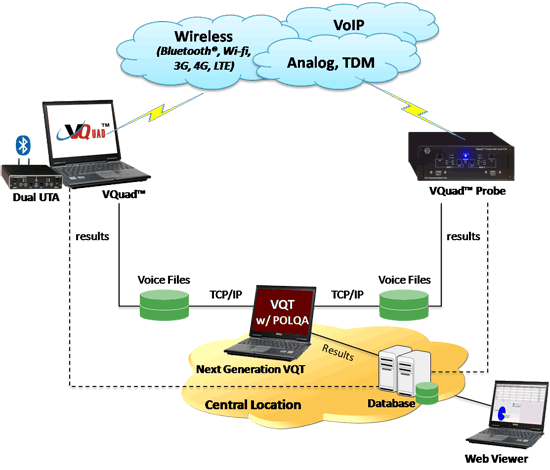 Overview
GL's enhanced
VQuad™
and stand-alone
Voice Quality Testing (VQT)
software, both support the next-generation voice quality testing standard for fixed, mobile and IP-based networks using
POLQA (ITU-T P.863)
.
The VQT supports other international standard voice quality test methods including PESQ (ITU-T P.862), PESQ LQ / LQO (P.862.1), PESQ WB (P.862.2), PAMS (ITU-T P.800), and PSQM/PSQM+ (ITU-T P.861). This is the first time Voice Quality (POLQA) is added directly to the VQuad™ as an option.
POLQA, Perceptual Objective Listening Quality Analysis, based on ITU standard, ITU-T P.863, is the successor of PESQ (ITU-T P.862) analysis. POLQA supports the latest HD-quality speech coding and network transport technology with higher accuracy for 3G, 4G/LTE and VoIP networks.
About POLQA
The POLQA algorithm avoids weaknesses of the current PESQ model and handles the higher bandwidth audio signals. POLQA supports measurements in the narrow band (NB, 300-3400 Hz), and significant new capabilities for wideband (WB, 100 - 7000 Hz), and super-wideband (SWB, 50-14000 Hz), commonly found in VoIP and next generation mobile networks. Further improvements of this algorithm include the handling of signals with many delay variations and support for assessment of speech signals recorded acoustically by HATS (head and torso simulator).
Similar to PESQ, POLQA is a Full Reference (FR) algorithm that rates a degraded or processed speech signal in relation to the original (reference) signal. POLQA analyzes the degraded speech signal sample-by-sample after a temporal alignment of the reference test signal. Perceptual differences between both signals are scored as differences. The perceptual psycho-acoustic model is based on similar models of human perception. Basically, the signals are analyzed in the frequency domain (in critical bands) after applying masking functions. Unmasked differences between the two signal representations will be counted as distortions. Finally, the accumulated distortions in the speech file are mapped into a 1 to 5 quality scale in accordance with MOS (Mean Opinion Score) tests. FR measurements deliver the highest accuracy and repeatability but can only be applied for dedicated tests in live networks.
A comparison of the standards is summarized in the table below.
| | |
| --- | --- |
| POLQA | PESQ |
| Adopted in 2011, ITU-T P.863 | Adopted in 2001, ITU-T P.862 |
| Suitable for 3G and 4G networks, VoIP networks and NGN networks delivering HD- quality voice services such as "wideband" and "super-wideband" telephone calls, 7 kHz and 14 kHz frequency range. | Suitable for G.711 A law and u law, and low bandwidth 300 to 3400 Hz voice bandwidth. Also supports WB (7kHz frequency range) using PESQ ITU-T P.862.2. |
| POLQA works quickly and accurately. POLQA is superior to existing standards, and has overcome all known issues and limitations of PESQ | PESQ-based measurements will still be considered an industry standard for several years, also for reasons of backward compatibility |
About VQuad™, VQT
Using the GL's VQuad™ application along with the Dual UTA, T1/E1 Probe, or SIP options, the user can configure manual and automated tests between practically any interfaces to conduct voice and data quality testing over any network. The Dual UTA (Universal Telephone Adapter) hardware supports several interfaces including:
2-wire analog FXO (simulates an analog phone)
4-wire analog balanced (connects to any mic/speaker combination)
RJ22 phone handset (replaces any phone handset at the curly cord)
Bluetooth (connects/controls any wireless mobile device supporting Bluetooth)
Push to Talk (PTT, connects to any mobile radio supporting PTT and tx/rx voice)
During the test, the VQuad™ can generate and receive/record a variety of traffic including:
Voice
DTMF/MF digits
Single/Dual Frequency Tones
Fax up to V.34
The VQuad™ can be configured to automatically transfer the recorded speech file to the VQT central location. The VQT software can be configured to automatically analyze the voice files while sending the results (POLQA, PESQ, PAMS, PSQM) to the central database. The results associated with the POLQA analysis include POLQA MOS, E-Model, Signal Level, SNR, and Jitter measurements.

The results can be queried and displayed either in tabular or graphical format using the web-based WebViewer™ client.

Also, optionally POLQA can be added directly to VQuad™ software with support for automated testing within the VQuad™ script. In this scenario the degraded voice files remain at the VQuad™ node for analysis and are displayed within the VQuad™ software. Results can still be sent to the central database where WebViewer™ can query and display either in tabular or graphic format.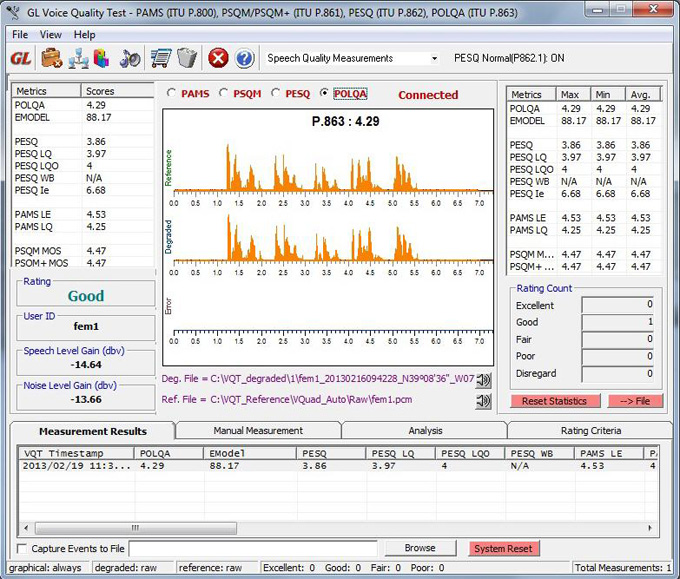 VQT POLQA Measurement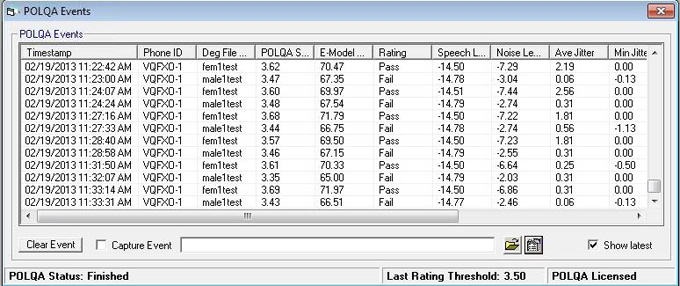 VQuad™ POLQA Events
Other VQuad™, VQT Enhancements
The following is brief list of enhancements introduced with latest release - VQuad™ version 6.14 and VQT version 4.9
Support for Windows® 7 32 bit and 64-bit versions


Supports new data tests for Mobile devices (i.e. iPhone, Android) as well as PC Ethernet connection (wired, Wi-Fi, Broadband (3G or 4G))-



Email send / receive
SMS send / receive
Phone Info, Phone SIM info, and Phone UE info



Allows sending the results from manual tests to central database with 'Send Results' option


FXO Call Progress detection supports Energy detection. The user can specify the Dial tone and Ring back tone detection as either specific frequencies or simply as energy detection with qualification time. This will allow easier detection of FXO call progress tones on certain networks.


Option to connect to the VQuad™ behind the router to central DB. With this setting, VQuad™ will send network status periodically to the WebViewer™ rather than the WebViewer™ requesting information. Both VQuad™ and Data Import are enhanced to support WebViewer™ network status if VQuad™ is located behind a router.


Added auto response on local VQuad™ event screen of far-end connection when bi-directional connection is performed. Also, ads ability to auto disconnect the bi-directional connection from the near-side device.


Scripting / Commands



Included wait for general 'user-defined events', and 'AT commands'. The user-defined events and the AT command response can be used with IF/THEN statements to allow flexibility in scripting


Supports new command, 'send call ID'. This allows the user to designate a Call ID on any device without running the VQuad™ script. This new command allows srvf (send and record voice files) and rvf (record voice files) commands in VQuad™ CLI to produce results with Call ID identified


Enhance VQuad™ CLI to support filtering responses based on which CLI is requesting the feedback. In other words the results of the CLI request (getes or gstatus) will be sent solely to the requested CLI


Included new commands to VQuad™ CLI - starts, stops, and gets options to retrieve all Call Progress and Idle events; slog and glog options to retrieve information from VQuad™ client event screen
For comprehensive information on the application, please visit Voice Quality Testing Software web page.

Back to Latest News Page