VQuad™ mTOP™ Solution for
Smartphone/Handset Benchmark Testing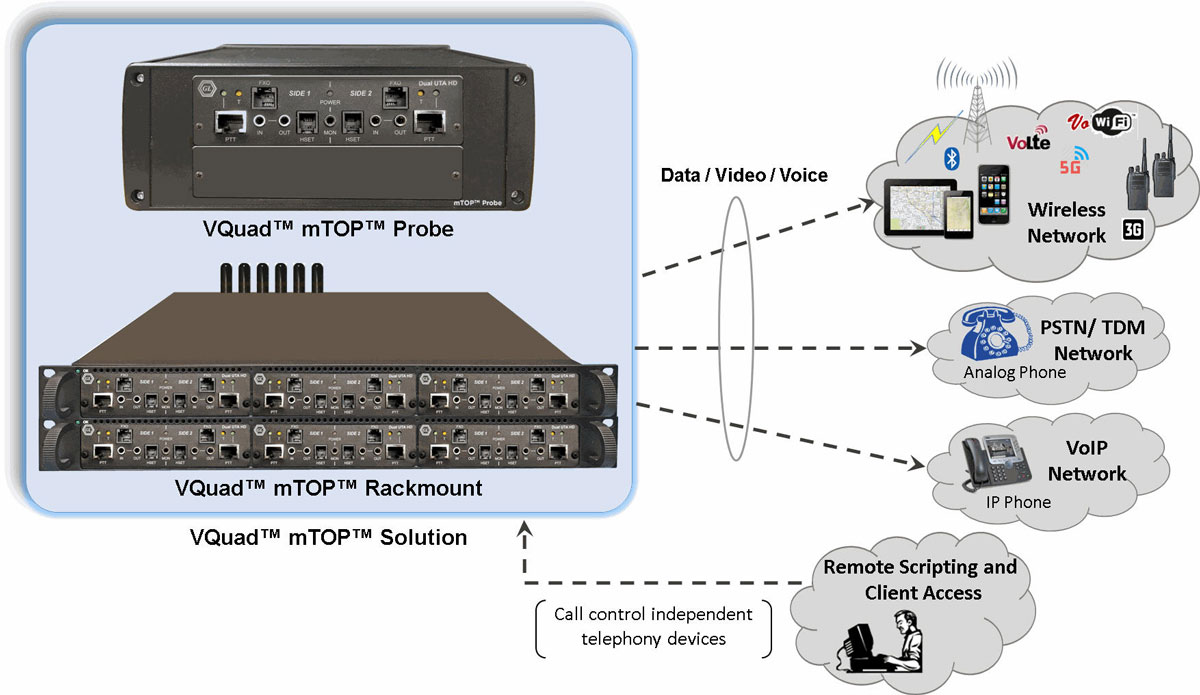 VQuad™ Software Ver 9.4 | VQT Software Ver 7.3 | WebViewer™ Software Ver 5.4 | Download Now!
---
Overview
GL's VQuad™ mTOP™ Solution is an all-in-one self-contained VQuad™ with Dual UTA HD test instrument designed for conveniently testing up to 12 independent telephony devices in your lab.
A single VQuad™ can support up-to 6 Dual UTA HD units [Two-stacked 1U mTOPs], thus supporting connection to 12 independent telephony devices. VQuad™ supports multiple tests to run simultaneously on devices connected to Dual UTA HD. Dual UTA HD (High Density) includes support for Bluetooth® Wideband, FXO Wideband and SIP Wideband (ex: AMR WB), with which you can easily interface with any Mobile Device, FXO, or SIP devices supporting HD Voice. It has the ability to generate Wireless as well as 2-Wire and 4-wire analog calls using same hardware. You can perform simultaneous Voice, Video, Data, Fax, and Time Delay Measurements from a single VQuad™ mTOP™ test solution - greatly reducing the licensing costs per device.
VQuad™ mTOP™ can perform simultaneous In-lab Tests, Drive Tests, Walk-around tests. VQuad™ mTOP™ solution can also be deployed for drive-testing within a car. Using the daisy chain feature of GPS, a single GPS receiver plugged to one mTOP™ unit allows to pass GPS to each of the mTOP™ systems.
In Walk-Around System, a single mTOP™ with three Dual UTAs is used for easier portability and convenient testing. VQuad™ Probe HD device is recommended for Walk-around test type.
You can use ready-to-use scripts for simultaneously testing Voice, Video, and Data Quality and benchmark performance of up to 20 mobile devices in the network. The entire test process can be automated, and test results automatically sent to a central system in the lab via TCP/IP for remote monitoring and call control.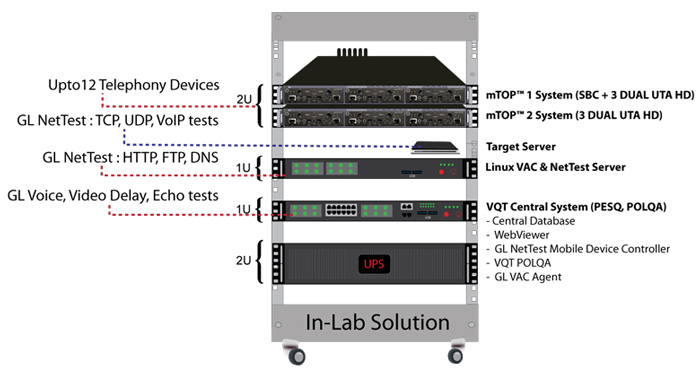 The image depicts a real-time in the lab setup where the VQuad™ mTOP™ solution is deployed to perform simultaneous Voice, Video, and Data Quality tests to benchmark performance of up to 12 telephony devices in the network. For this solution, we are using two mTOPs (mTOP™ 1 that includes an SBC connects to mTOP™ 2 via USB). So, essentially creating a system with one VQuad™ system and 6 Dual UTA HDs. All devices on all six Dual UTA HDs are supported including FXO, 4-wire Analog, PTT, and Bluetooth.
Separate 1U PCs are also mounted which include Central Database with WebViewer™, VQT POLQA, GL NetTest Mobile Device Controller (MDC), GL NetTest Target Server, and VAC Agents. All systems are connected to the central system for remote monitoring, remote operation, and storing results/events.
All results and events can be queried and filtered using the WebViewer™ (web browser). Create Custom Reports, display results graphically, show results on Google Maps, and display status of all connected systems. Using the WebViewer™ you can also remote control the individual VQuad™ systems.
Network Types
Automated QoS Testing of Wireless Network
Automated QoS Testing of Analog Network
Automated Testing of VoIP (SIP) Interface, Digital VoIP Phones, VoIP Softphones
Automated Testing of TDM Network
Test Types
Delay Measurements

OWD - End points at same location
Both sides of the established call may be co-located on same Dual UTA HD or geographically separated.
One Way Delay (OWD) - VQuad™ includes an advanced method for performing One Way Delay (OWD) measurements using a Correlator algorithm. The Correlator method is extremely accurate and works with the next generation Dual UTA HD
Round Trip Delay (RTD) – the enhanced correlator algorithm method for accurate RTD measurements supported on Dual UTA HD
The measurements require GPS only for OWD and if the two sides of the call are geographically separated (not on same Dual UTA HD).
Post Dial Delay (PDD)
Signal-to-Noise Ratio (SNR = S/N)
Oscilloscope and Spectral Display
RMS Power as well as C-Message
Audio analysis of any recorded voice file for both Power and Frequency. RMS power and frequency response outputs are necessary for testing the network for full WB voice support.

Audio Analysis
Echo Measurements

Echo Identification

Supports echo measurements over any network using EMU
Assess sidetone, line, and acoustic echo and the corresponding delays.
Voice Band Analysis
Monitor voice band traffic
Measure Active Speech Level, Activity Factor, RMS Factor, DC Level, Noise Level, Echo Return Loss, Echo Delay, and Echo Dispersion statistics.
Automated Voice Quality Testing


Automated Voice Quality Measurement

Network-independent VQT – Supports legacy, as well as Next Generation networks
PESQ (ITU-T P.862), PESQ LQ, LQO (P.862.1), PESQ WB (P.862.2)
Call control analysis (Failed Calls, Dropped Calls, and Call ID)
Monitoring IVR System for voice and data quality
Includes Text-to-Speech technology (VQT009) for automatically creating the necessary voice prompt for placing call over Siri or Google Voice
Supports PESQ/POLQA (both NB and WB) measurements
Supports both Narrow band (NB) and Wideband (WB) audio codecs (both 8k and 16k samples/sec)
Auto detects voice files with wideband attributes
All VoIP Codec supported including - G.711, G.711 App II with VAD, G.729, G.726, G.726 with VAD, GSM, AMR NB and WB, EVRC, SMV, iLBC, SPEEX NB and WB, G.722, and G722.1.

Visit Voice Codecs webpage for more comprehensive information.
Automated Data Quality Testing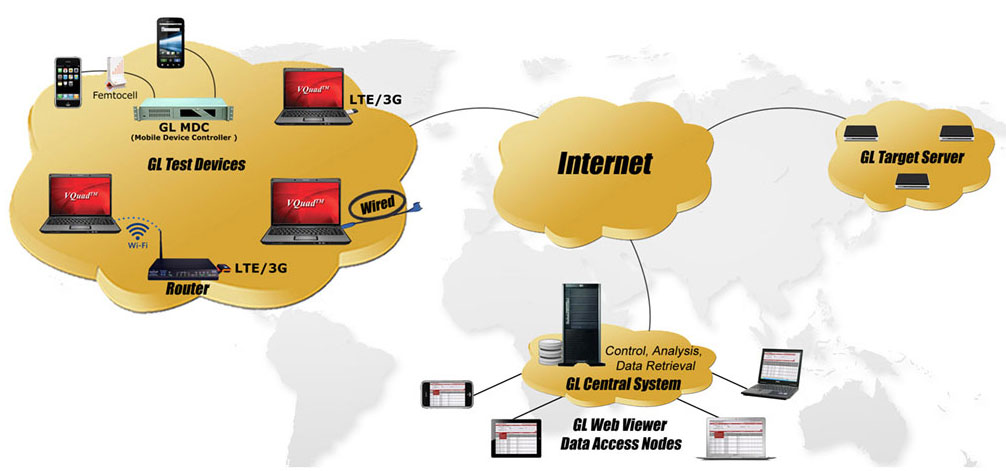 VQuad™ is enhanced to support Data Testing including TCP, UDP, VoIP, Route, HTTP, FTP, DNS, SMS, Email, PhoneInfo, SimInfo, and UEInfo. The Data Tests are configured via the VQuad™ scripting and supports Wireless devices as well as PC Ethernet connections (wired, WiFi, Broadband 3G/4G, and LTE).
Network independent, supports 4G LTE, 3G, WiMax, and Wired Internet connections
Supports Mobile devices (i.e. iPhone, Android)
Supports PC Ethernet connection (Wired, Wi-Fi, Broadband (3G or 4G))
Different type of tests supported – TCP, UDP, HTTP, FTP, DNS, VoIP, Route, SMS, Email, PhoneInfo, SimInfo, and UEInfo.
End-to-End SMS Testing over wireless network directly and remotely
Remotely perform Data tests from GLNetTestApp on mobile devices (iPhone, Android); this requires connection with Mobile Device Controller server. Mobile device communicates with Mobile Device Controller from anywhere in the world.
Fully automated and remote testing with all results accessible via WebViewer™.
Automated Video Quality Testing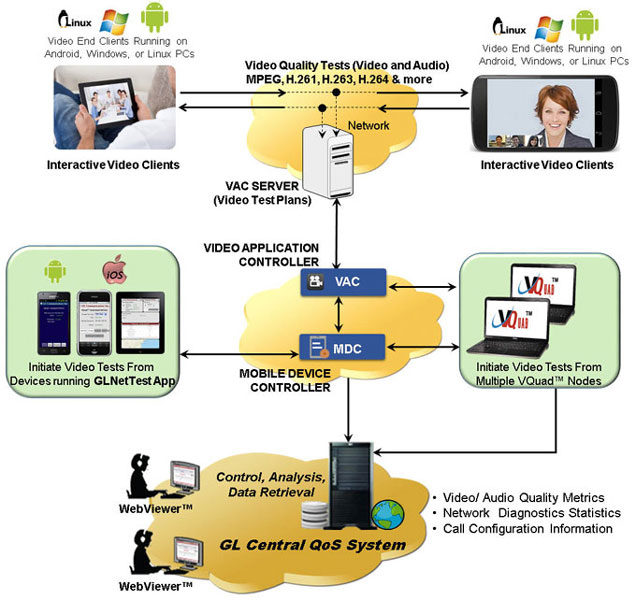 VQuad™ can now initiate, control, test, and measure video conferencing services over IP, and Wireless networks, using additional support of a Video Controller/Server and Video Clients (Agents).
Video Tests can be configured between any two active video clients with flexibility of specifying the typical characteristics of the Video test. Video Test agents generates simulated video calls to other test agents as per these test parameters.
Fully automated Video Conference testing performed with QoS results provided along with several analytical metrics
Support for Android, PC and Linux based video clients (end points) for active Video Quality Testing
Both manual and automated tests are supported
Tests can be run directly from the Android phone or using the VQuad™ interface
Configure unlimited test plans; video test parameters include Codec, Bandwidth, Latency, Frame Rate, GoP (Group of Pictures) Structure, Echo, and Resolution
Test results include Video MOS, Audio MOS, and A/V MOS along with a variety of analytical and quality metrics
Fully automated and remote testing with all results accessible via WebViewer™.
Drive Testing for Wireless Networks




Drive test with any Wireless device with real-time GPS mapping
GPS connectivity for recording timing and location of tests performed
The GPS mapping records and adds the real-time GPS information to all test results and VQuad™ call control.
GPS Location includes stamping each result with Latitude, Longitude, and GPS Time Stamp
The Indoor Tracking System (ITS) in VQuad™ is developed to support VQT in remote locations where GPS signal is unavailable
The ITS information (location, timestamp) is saved to the database per VQuad™ Measurement
GPS information is automatically sent to central database and accessed via Google Maps feature in WebViewer™.
Automated Fax Quality Testing
Supports Fax testing (sending and receiving) up to 4 independent and simultaneous T.30 faxes over 2-Wire, and 4-wire analog networks
Support higher resolution and multi-page fax TIF files
Tx and Rx fax rate from 2400 baud to 33600 baud with V.34 fully supported.
Interfaces supported for fax generation include 2-wire FXO and 4-wire analog.
Automatically save the fax session (both East and West directions) to a PCM file.
Supports higher resolution and multi-page fax TIF files.
Use GLInsight™ or GL Fax Scan analysis software packages for further analysis of the recorded fax files. GL's FaxScan™ can be configured for fully automated analysis.
Automated IVR Testing
Simulate IVR Users and IVR System
Single-box portable solution and Rackmount PC solution for higher density
Complete automation with enhanced scripting and remote operation including traffic generation and call control scripting
Automate the IVR testing process - call establishment and traffic generation detection process through scripts
Monitoring IVR System for voice and data quality
Perform Quality of Service (PESQ) or path confirmation tests
Within a proper voice call, additional analysis is available such as Round Trip Delay (RTD) and Voice Quality Testing (VQT)
Support for Command Line Interface (CLI) to access VQuad™ remotely