Press Release: GL Announces the Release of
T1/E1 Traffic Classifier
Gaithersburg, Maryland, USA - August 17'th, 2006 - GL Communications Inc, today announced the release of their new product "T1 E1 Traffic Classifier" - a tool for non-intrusive, real-time monitoring and classification of traffic on T1 E1 lines. Speaking to the media, Vijay Kulkarni, CEO of the company, said, "When we take a look at the corporate network scenario today, most of them are still connected to the WAN through a T1 or slower connection. In all probability, this is certain to cause a speed mismatch between the internal network and the outside world, and may even lead to a potential data bottleneck. Therefore it is important that a Telecom Manager understand and analyze 'what is being carried on their T1 E1 lines. Our Traffic Classifier is an invaluable tool for traffic engineering".
GL's Traffic Classifier can analyze and classify various traffic types such as voice, fax, modem, data, tones (dial tone, ring-back tone, busy tone etc) as well as identify dialing digits and other events happening on a T1/E1 network. It uses various algorithms for identifying voice, modem modulation; fax modulation, tones and dual tones. The algorithms can also be country specific for dialing tones, ring tones, etc.
Important Features and types of traffic classified by GL's Traffic Classifier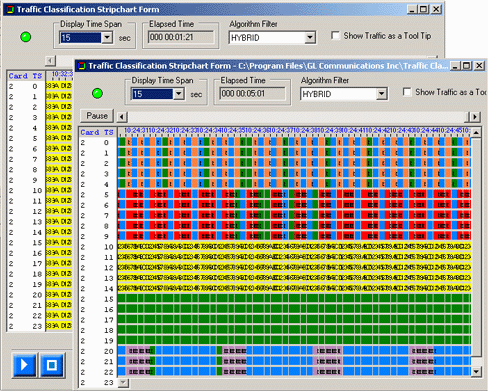 Ability to non-intrusively monitor T1 or E1 line in real-time and offline modes
Sixteen traffic types are classified, which include Tones (dial, ring, busy), Voice/Speech, Data and Fax Signaling, Dialing digits (DTMF, MFR1, MFR2F, MFR2B)
Data and fax modulations such as V.22, V.34, V.29, V.32, and V.27 are supported as traffic types
Monitor single or multiple DS0s on multiple T1/E1 lines
Monitor the T1/E1 line locally or remotely through TCP/IP connection
Provides real-time display of the traffic types for each DS0 on the T1 / E1 trunk
Result options allow the results to be either displayed on the screen, and/or save it to a file for extended periods
Off-line (playback) feature can playback or fast forward previously recorded results
Analyzes the T1/E1 traffic and graphically displays the results as a strip-chart
Codecs supported - mu-law, A-law, and linear
Traffic view for a particular span of time by using the File Scroller option
Four algorithm options (Linear, quadratic, hybrid and hybrid filtered) to fine-tune the classification results
Types of Traffic Classified
Unknown (Silence) - Channel handling a call but no signal is detected (eg: pause in speech)
V22FOR (V.22 Forward) - Slow modem (forward channels) - typically Point of Sale terminals like VISA- 2400 bps
V22REV (V.22 Reverse) - Slow modem (reverse channels)- 2400 bps
V34V90UP (V.34) - Fast modem- 33600 bps
V29 - Common fax- All speeds
V32V17GT24 (V.32) - Fast fax and modem- >2400 bps
V27AT48 (V.27) - Slow fax- 4800 bps
V27AT24 (V.27) - Slowest fax - when V.29 has transmission problems, this mode is used as fall back.- 2400 bps
Voice - Speech
BINV90DOWN (Binary) - Native binary - ISDN Basic Rate Interface- 64000 bps
FSK - Fax signaling - page break, end of page, end of transmission- 300 bps
Digits - DTMF/MFR1/MFR2F/MFR2B Digits- 40 bps
Dial Tone
Ring-back Tone
Busy Tone
Idle - channel is on-line but not in use (digital silence)
Benefits of using GL's Traffic Classifier and its Applications
Plan for the Future

Up-to-date information on the traffic trends is essential to accurately plan for growth. Only GL's Traffic Classifier provides this essential information.


Build a Business Case

What is the business case for changing your network capacity? How do you deal with digital data? The Traffic Classifier can tell you all these.


Outflank the Competition

The Traffic Classifier lets you anticipate customer needs. A satisfied customer is your best customer.


Optimize your resources

Ensure that you maximize your current resources. The Traffic Classifier lets you compare loads on a channel-to-channel or T1/E1-to-T1/E1 basis.


Real-time Snapshot

Get a real-time snapshot of your T1/E1 network activity.


Surveillance and Data Collection

You can monitor all the events on all the timeslots on a single or multiple T1/E1 line. You can also do surveillance for extended periods by recording the classification results for days, weeks or months at a time.


Equipment Manufactures and Equipment Vendors

Use GL's Traffic Classifier to do pre-deployment analysis of a network so as to provide an optimized solution for your customers.


Research and Development, Traffic Engineering and Network Condition Analysis

Traffic Classifier is an ideal tool in an R & D environment for understanding, analyzing and traffic engineering of a T1/E1 network.
For complete information about GL's Traffic Classifier product, please visit: Traffic Classifier page
About GL Communications Inc
Founded in 1986, GL Communications Inc. is a leading supplier of test, monitoring, and analysis equipment for TDM, Wireless, and VoIP networks. Unlike conventional test equipment, GL's test platforms provide visualization, capture, storage, and convenient features like portability, remotability, and scripting.
GL's TDM Analysis & Emulation line of products includes T1, E1, T3, OC-3, STM-1, analog four-wire, and analog two-wire interface cards and solutions. Capabilities include voiceband traffic analysis and emulation across all traffic types (voice, digits, tones, fax, modem), all protocols (HDLC, ISDN, SS7, CAS, GSM, GPRS, CDMA), and with capacities up to thousands of channels.
GL's VoIP products generate / analyze thousands of calls simultaneously with traffic types such as voice files, digits, tones, noise, and fax using G.711, G.729, AMR, EVRC, and GSM codecs. Additional features include visual analysis, real-time listening, recording, and voice quality assessment using ITU algorithms PAMS, PSQM, and PESQ.
GL's Wireless Products perform protocol analysis and voice quality assessment on GSM, CDMA, UMTS, and CDMA 2000 networks. Connections can be made to any wireless phone with automated call control, GPS, mapping software, and real-time signal measurements.
GL's Echo Canceller testing solutions provide the broadest range of simulation and analysis, including compliance testing per G.168 and G.160.
GL's Network Surveillance and Monitoring products include Probes for TDM, VoIP, ATM, and Wireless networks. An open standards based approach provides a scalable, feature rich, real-time access to network intelligence. Centralized or distributed access, efficient transport and database loading allow compatibility with 3rd party and standards based monitoring systems.
For more information about GL's complete line of products,
Contact:

Shelley Sharma
Phone: 301-670-4784 ext. 114
E-mail: info@gl.com

Back to Press Releases Index Page