Satellite Communications
Applications, Testing, & Test Tools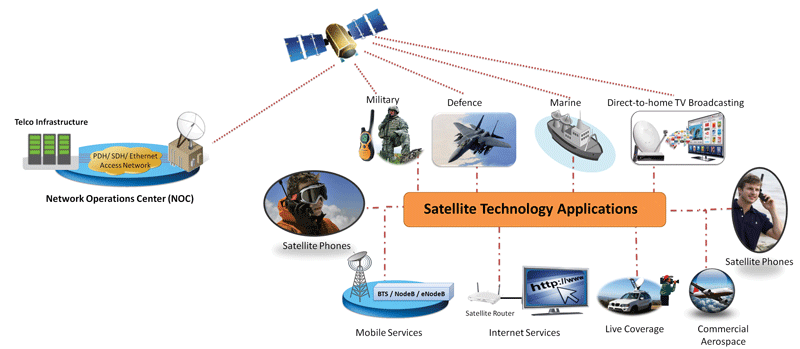 The characteristics of satellite communications such as Variable channel, Propagation Delay, and Limited Bandwidth, present challenges and opportunities for the service providers. Effective test tools are required for monitoring, analysis, troubleshooting and management satcom networks.
The above characteristics present challenges and opportunities.
GL provides various test solutions to monitor and test backhaul networks no matter what type of media, bandwidth, or signaling is over the network. Our products are portable, hand-held, or compact rack-based equipment and deployed successfully by customers world-wide to monitor and troubleshoot satcom networks.
---
Test Tools, and Requirements for Satellite Backhaul for Mobile Networks
A complete wireless network test suite by GL Communications provides reliable integrated solutions to vendors and service providers for simulation, monitoring, troubleshooting any wireless network, including, 5G, 4G, 3G & 2G. All functionalities conform to industry standards.
Test, monitor, and troubleshoot all the core network elements and traffic types within the Wireless infrastructure for deployment-readiness, functionalities, inter-operability, performance and latest mobile features. Test end-user applications, devices, and services on a simulated wireless infrastructure environment prior to deployment on a real-time network.
Visit Wireless Core Networks LAB Solutions 5G, 4G, 3G & 2G for more details.
---
Satellite Delay Measurement over Ethernet/IP, T1 E1, Datacom, T3 E3, & Optical Interfaces
---
---
Test Suite for Air Traffic Management via Satellite Communication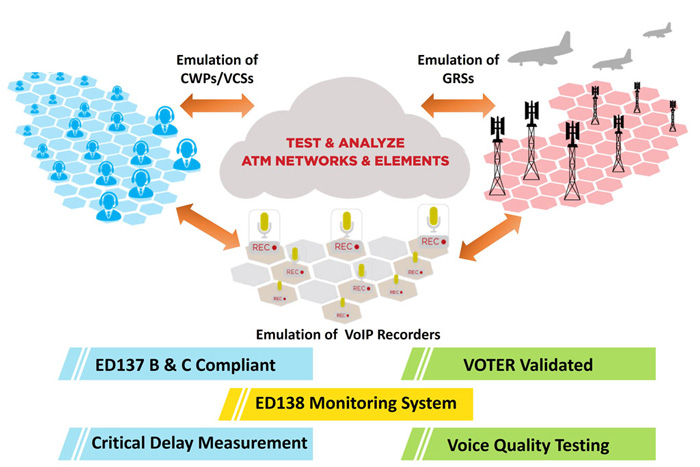 GL tools for Air Traffic Management (ATM) offer signaling and traffic simulation, monitoring quality of service, and critical network delay measurements. The satellite-based solution ensures reliable management during tactical& disaster situations. With customized test solutions, the ATM core network and all its underlying entities (CWP, GRS, VoIP Gateways) can be accurately tested for performance, and functionalities. Test tools simulate communication events between different ATM core network entities, precisely time these events and measure critical delay, jitter, packet loss, and voice quality. Monitoring Probes deployed across ATM network captures and sends call records, measurements results, and network performance statistics to a centralized surveillance system.
---
Satellite Delay Compensation Application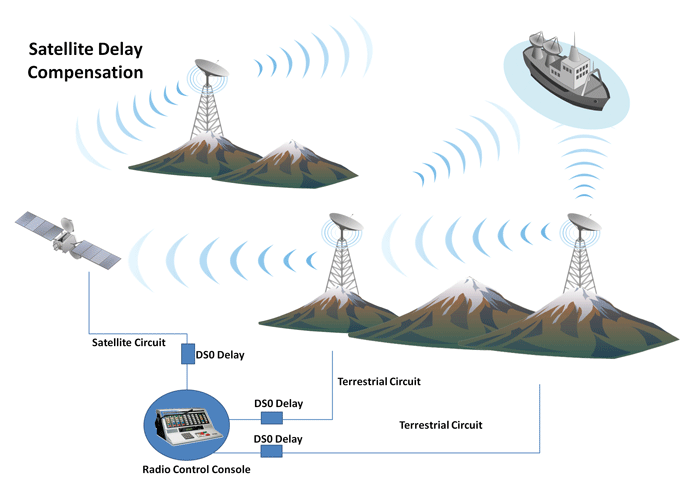 Variations in delay can potentially cause gaps in the speech. The greater the time discrepancy between the audio signals, the more difficulties to understand the messages. GL's Echo Mitigation System (EMS) Software can be deployed on the backhaul systems to eliminate the varying delay/echo resulting from different backhaul technologies used to transport audio through the system. EMS solution allows for the measurement of delay from each site of a group of radio sites as well as the application of offsetting delays to mitigate the echo impairment. Visit Delay Compensation for backhaul systems for complete details.


Test platforms for T1 E1 from GL can insert independent delays for each DS0 in each direction with increments as low as 0.125ms and receive an accurate measurement in milliseconds of the round-trip circuit delay. GL provides tools that permit delay and error simulation over TDM networks to assess voice, data, and video applications. Visit T1 E1 Test Platforms for complete details.


Network Delay Emulator application can emulate packet delays that occur over SONET/SDH carrying ATM/PoS traffic. It provides full duplex delay simulation for PoS and ATM based traffic from 1 ms to 500 ms, with incremental delays of 1 ms. Test platforms for Ethernet / Optical networks from GL can simulate real-time network impairments. Visit OC-3/STM-1, OC-12/STM-4, T3/E3 Test Platforms for complete details.
---
Satellite Delay, Error, Jitter Simulation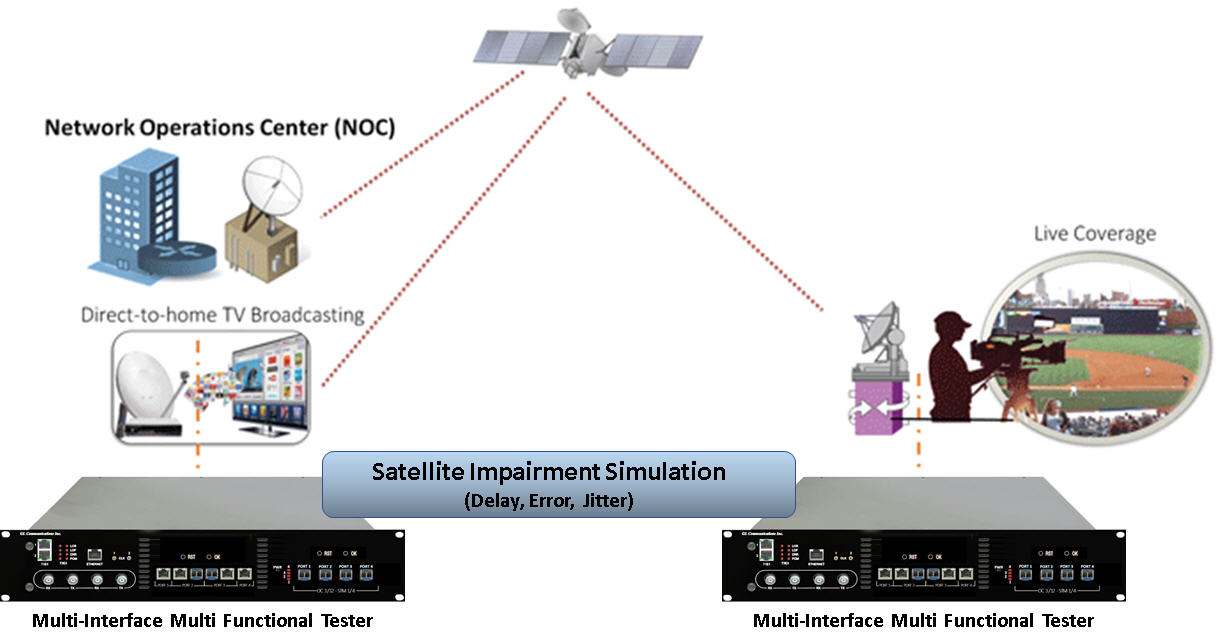 Re-create a Satcom network environment emulating satellite delay or latency, jitter, random bit errors, restricted bandwidth, packet re-ordering, packet-duplication, and packet loss. GL's simulation tools are simple and affordable and allows to test the various applications in a controlled lab environment prior to live deployment to optimize the performance of the applications for the end-users. GL offers host of such solutions for testing and simulation of network impairments


Test equipment permit adding delays, errors, and other impairments over GigE Ethernet, and Optical networks. They also allow the user to accurately emulate bandwidth, latency, loss and congestion. GL offers host of such solutions for simulation and testing Network Impairment Simulator


GL provides tools that permits delay and error simulation over TDM networks to assess voice, data, and video applications - Visit T1/E1 Error Insertion for more details
---
Voice and Data Quality Testing of Satellite Channels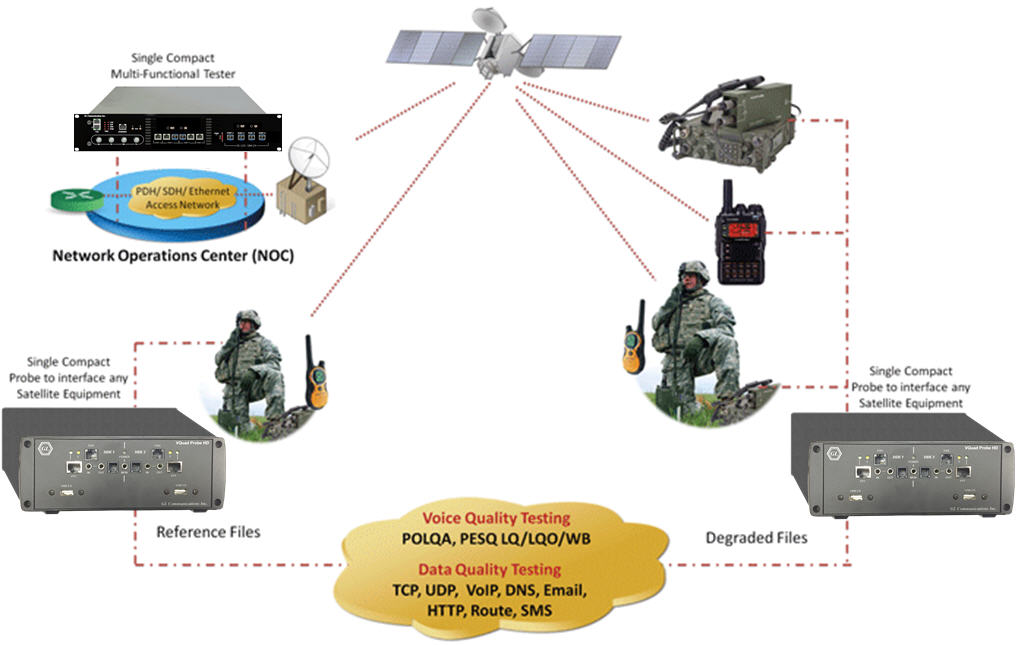 GL's versatile test suite allow users to send and receive the simulated voice and data traffic (as seen in real-time) over satellite network and perform the QoS measurements using ITU-T standard – PEQSQ and POLQA. These capabilities are provided within a portable-single-box solution with the flexibility of connecting to and between any network, any service, and any interface - Visit Voice, Video, Data Quality Testing for more details
---
Testing Satellite WAN Links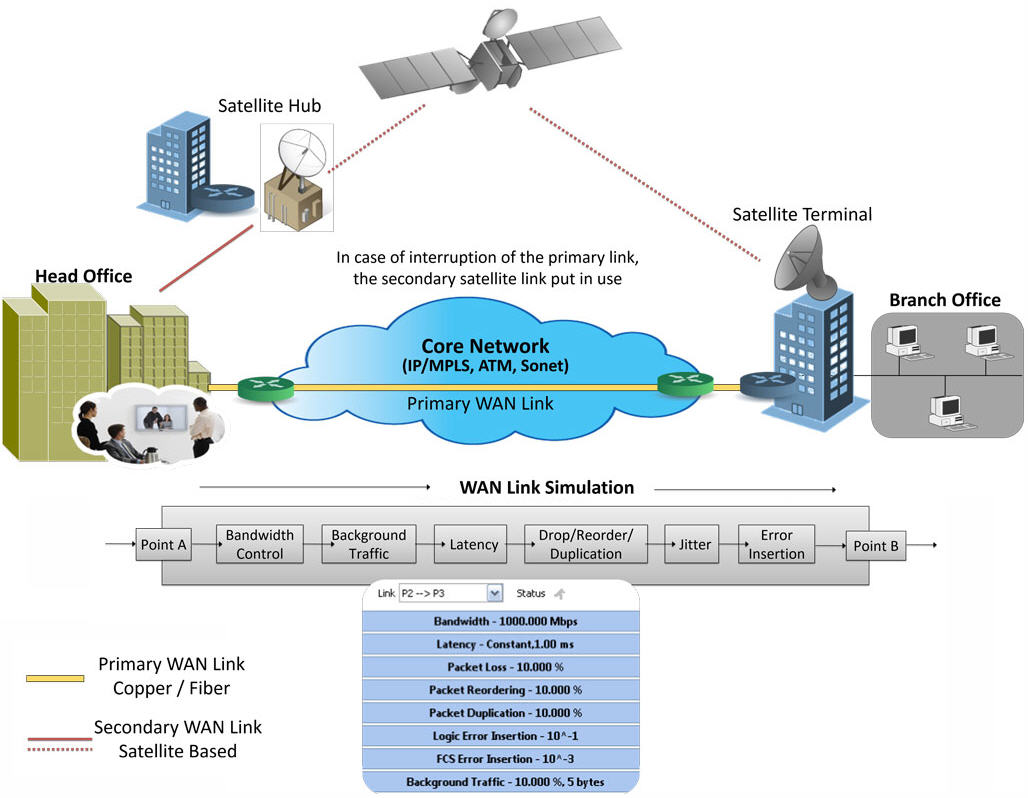 Application performance over WAN networks can be highly sensitive to bandwidth, latency, jitter, loss, and other WAN impairments. Testing these applications on the local network generally fails to identify critical issues that impact the end user experience. Fortunately, GL provides a new generation of WAN network emulation appliances that makes it simple and affordable to test applications in the lab under real-world conditions, ensuring smooth roll-outs of new applications and helping to optimize the performance of the applications for the end-users.
---
Testing DCME (Digital Circuit Multiplication Equipment)

The DCME testing, analysis and verification can be performed with DCME monitoring software such as GL's DCME analysis software. Additionally, a Facsimile subframe analysis software may be used that permits bit level analysis and verification of fax data sub-multiplexing on the DCME output bearer signal.
---
Centralized Network Monitoring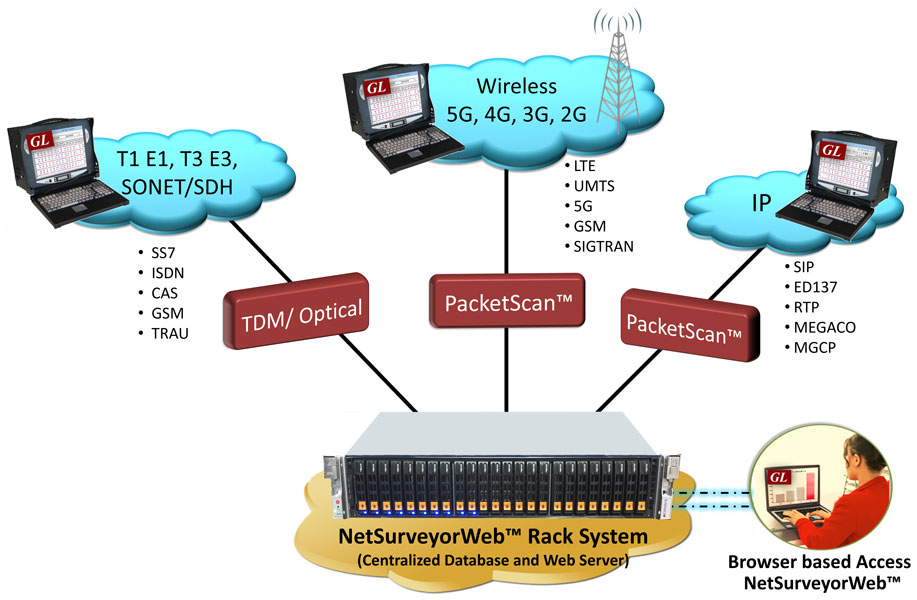 GL's Surveillance System is scalable, so that it can be used for various applications like Billing Verification, Fraud Detection, Protocol Analysis, Traffic Engineering, QoS, Call Recording etc. T1/E1/PSTN/VoIP Probes are deployed in the field to monitor various protocols, which are collected at a central site into a database. Various client applications can be developed to interrogate database records. GL offers a variety of Protocol Analysis probes over TDM, IP, and Wireless networks that capture packets/frames, perform detailed analysis of voice band streams gathering QOS statistics such as ITU G.107 E Model MOS, along with detailed packet/frame statistics, such as total packets, reordered, duplicate and missing packet counts, gap, jitter, and delay measurements. The client can access database information remotely via Web Browsers