T1 E1 Analysis and Emulation Hardware
Overview
T1 E1 carriers are still used extensively throughout the world for carrying large volumes of call containing both voice and data. Their popularity can be attributed to their high reliability, manageability and flexibility. The available digitized channels, 24 for T1 and 32 for E1 carry voice and/or data. Further, the channels can be used separately or they can be combined to provide higher transmission bandwidth.
T1 E1 solutions are available in various form factors from portable, handheld, and rack-based platforms. Regardless of the form-factor you choose, GL's T1 E1 Analyzers provide a wide range of functionalities and testing capabilities. GL's versatile T1 E1 Analyzer Hardware portfolio is briefly discussed below.
Access to DS0s/T1s/E1s on Channelized T3 E3, OC-3/STM-1, and OC-12/STM-4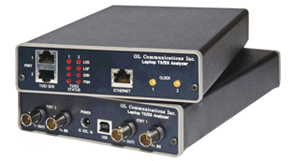 GL's USB based T3 E3 Analyzer is one of the smallest and lightest pods (weighing only 1.75 lbs) capable of processing signaling, voice, and data on T3 and E3 lines. The channelized option in the T3 E3 Analyzer uses "software-only" approach to support direct access to all 2x28 T1s or 2x21 E1s or 2x16 E1s on a T3 E3 line per board for analysis and monitoring– all within a single PC, including differing T1 E1 framing formats, physical layer alarms, and payloads. The unchannelized option supports analysis/emulation of unchannelized (Unstructured) T3 or E3 for ATM, PPP, HDLC, and Frame Relay protocols.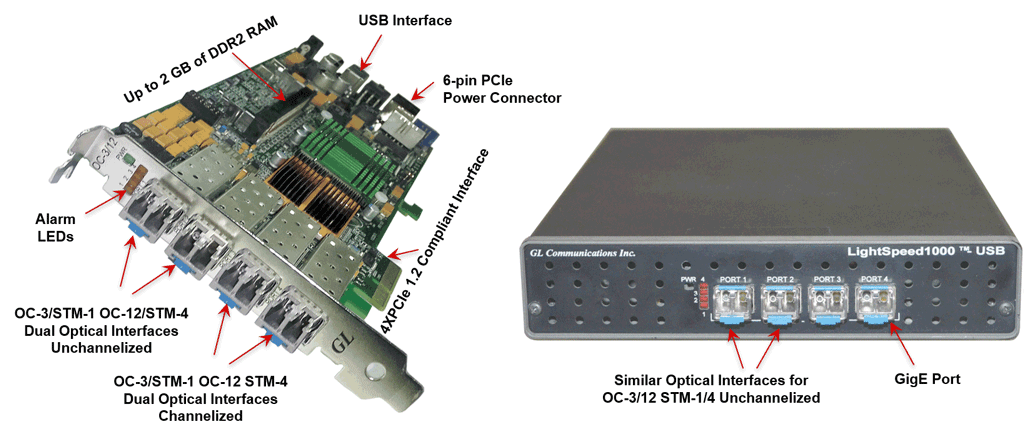 GL's LightSpeed1000™ hardware platform (PCIe Card and USB Pod) comes with software for overall monitoring, BERT, delay measurements, protocol analysis and emulation of unchannelized ATM, PoS, and Raw unframed data. With the channelized option in an OC-3/STM-1, all 84 T1s or all 63 E1s can be identified and processed in transmit and receive modes.
---
SonetExpert™ Channelized (SEC) Analyzer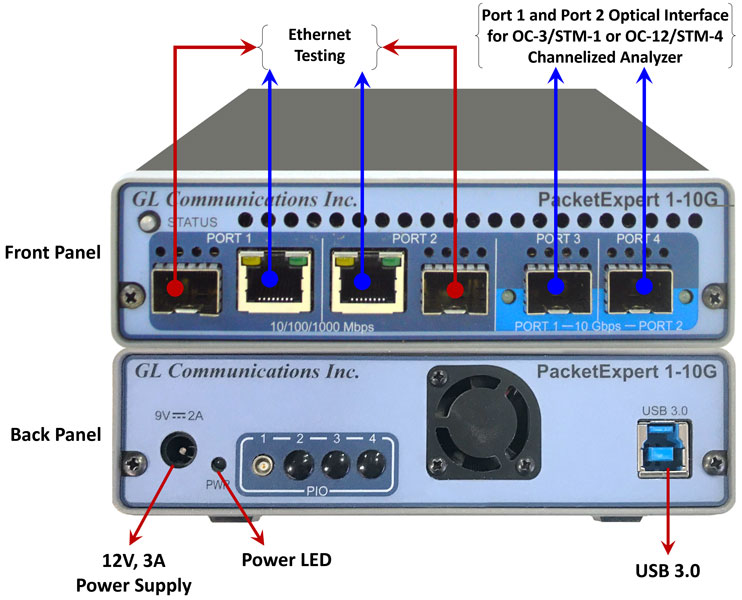 GL's SonetExpert™ hardware platform (USB Unit) is capable of OC-3/STM-1 and OC-12/STM-4 wirespeed processing on two optical ports (Port 3 and Port 4) for channelized data carrying many independent unframed/framed T1 and E1 streams. USB 3.0 interface is used to connect with a Notebook PC for portability. The hardware is FPGA based making it easy to upgrade in the field for application versatility. A unique feature of the unit is the capability to capture, transmit and process at wirespeed to/from applications on all interfaces. Also, can save the captured traffic to the hard disk and playback.
In an OC-3/STM-1, all 84 T1s or all 63 E1s can be identified and processed in transmit and receive modes. In an OC-12/STM-4, all 336 T1s or all 252 E1s can be identified and processed in transmit and receive modes.
---
GSM Abis T1 E1 VF FXO FXS Datacom tProbe™ Analyzer Unit Emulation (TDM, IP)
GL's tProbe™ is an enhanced version of our popular USB based T1 E1 Analyzer / Emulator with VF, Datacom, FXO-FXS, and Ethernet options. This hardware incorporates all the features of the previous analyzer such as portability, USB interface, remote accessibility, scripting, and a vast collection of basic and optional applications.
GL's tProbe™ also includes ability to add optional boards such as the Datacom Analyzer, and FXO-FXS Simulation boards. The FXO port on tProbe™ allows to simulate a two-wire FXO device such as a telephone or a fax machine. This feature allows to capture and analyze data from a two-wire telephone line, as well as to generate and transmit analog data onto the two-wire line.
---
Octal/Quad T1 E1 Analyzer Boards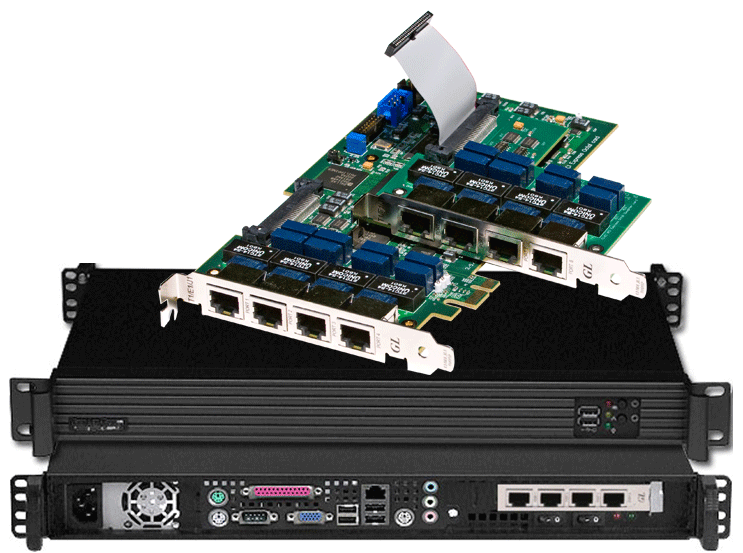 GL's Octal & Quad T1 E1 boards are high density and provide Four (4) or Eight (8) RJ-48 T1 E1 ports and multiples thereof. For example, configurations of 8, 12, 16, 64 T1 E1s in a single rack are possible.
GL's Octal/Quad T1 E1 Analyzer comes with "basic applications" for basic testing needs and "special applications" that extend the capability far beyond the most expensive T1 E1 Data testers. Examples include, capturing and transmitting an entire raw T1 E1 signal simultaneously on two full duplex ports, or performing ISDN emulation, or SS7 analysis, or analyzing echo, delay and voice quality on voiceband channels, and many others.
---
Dual T1 E1 VF Express (PCIe) Boards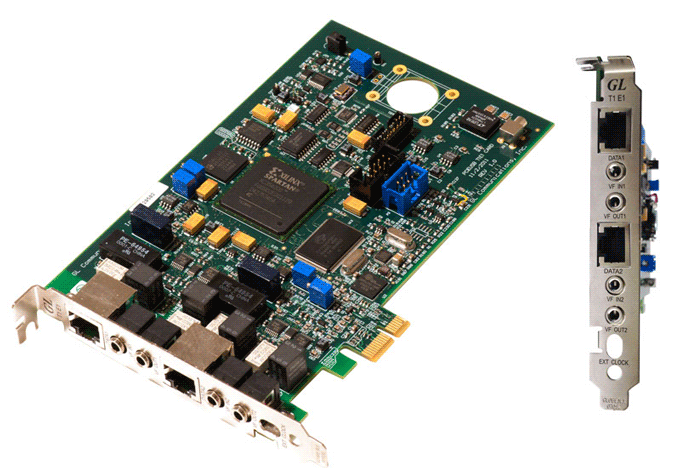 GL's Dual T1 E1 Express (PCIe) Boards are high-density dual T1 or E1 boards with newer PCIe (x1) bus interface.  These cards are identical to the portable tProbe™ units, except for FXO FXS and Datacom functionality. This hardware also incorporates all the supports a vast collection of basic and optional applications.
In addition to the other basic T1 E1 line signals monitoring applications, the Dual T1 E1 Express (PCIe) Boards support enhanced VF drop and insert capabilities  with software selectable VF Tx and Rx impedances (135 Ω, 150 Ω, 600 Ω, 900 Ω, or High), Pulse Mask Compliance Testing, Jitter Generation and Measurement applications.
---
tScan16™ - T1 E1 Analysis Hardware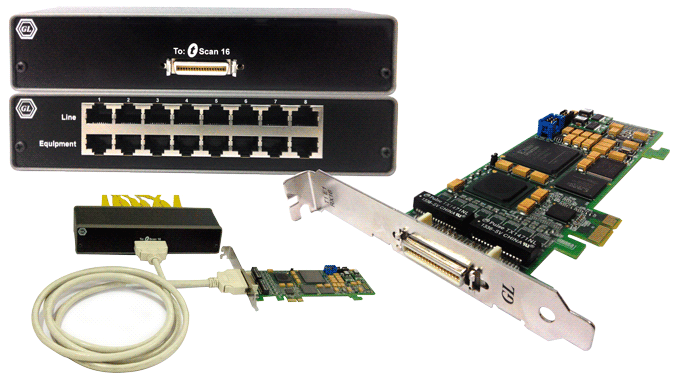 GL's tScan16™ is a high-density board with 16 T1 E1 ports and the newer PCIe (x1) bus interface. The sixteen T1 E1 ports are Receive-only ports optimized for high performance voice and data capture, monitoring, and analysis requirements.  Most all monitoring applications are supported within this tscan16 analyzer.
tScan16™ extends the family of GL's T1 E1 platforms with greater density, increased ports, and reduced power.
---
T1 E1 Single or Dual Multiport Repeaters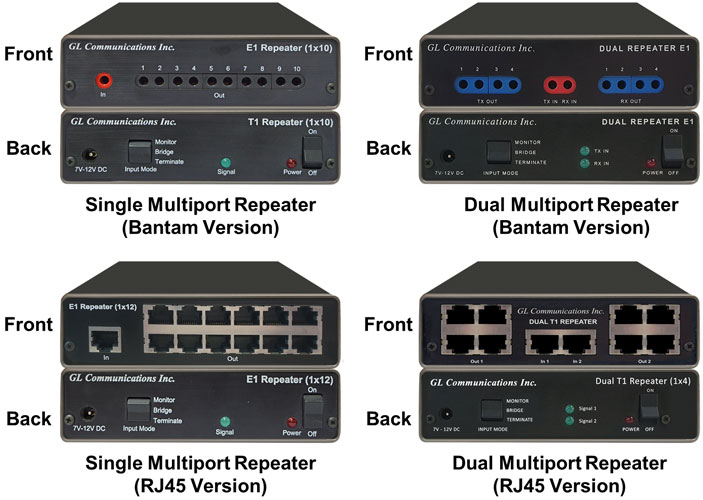 Multiport Repeaters are used to generate multiple identical T1 E1 outputs for each T1 E1 input, thus increasing the range of transmission of T1 E1 signals. A single/ dual Multiport Repeater can be used for the following purposes:
To generate multiple identical T1  E1 outputs for each T1 E1 input
To test and load multiple T1 E1 interfaces simultaneously
For broadcast applications and traffic generation and simulation
To preserve the strength of the signal and extend the distance over which the signal representing the data can be transmitted.
---
LinkTest™ Dual E1 - E1, Datacom, Jitter, Wander Testing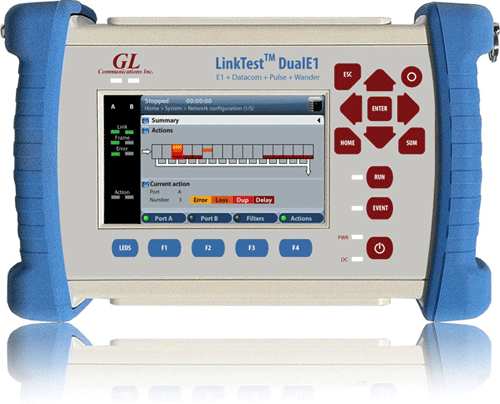 GL's LinkTest™ Dual E1 is a handheld dual-port tester for E1 and data communications (V.11 / X.24, V.24/RS232, V.35, V.36/RS449, EIA-530, EIA-530A) interfaces. With the support of a large range of software options for E1 services and sub rate multiplexing system, this handheld unit provides a scalable test solution for E1 and data testing. It provides a large, clear screen with a full set of physical layer tests for E1 balanced and unbalanced circuits including BERT, VF, round trip delay and signal level.