Press Release: GL Annnounces Enhanced T1 E1 Products and Software
Gaithersburg, Maryland, USA - November 20, 2008 - GL Communications Inc. announced today the release of T1 E1 Analyzer Software Version 5.18 with new applications and enhancements. In a statement to the press, Mr. Vijay Kulkarni, CEO of the company said, "Our T1 E1 Analysis suite of products provides comprehensive analysis and emulation capabilities for voiceband analysis and signaling protocol analysis. The additions now include a new application: WCS ISDN Emulator and a host of significant enhancements Multiple Call Capture, Multi-Class ML-PPP Emulator, Protocol Analyzers, and Windows Client Server products".
Mr. Kulkarni added, "With the introduction of the new applications and enhancements, the T1 E1 Analyzer Product suite adds significant value to T1 E1 testing needs of customers".
A brief summary of the new applications and enhancements introduced to T1 E1 Analyzers - 5.18 Release are provided below:
New Applications
WCS ISDN Emulator:
The application is used for performing complete ISDN switch and subscriber emulation. The functions that can be performed using client-server software are:
Configuring the ISDN layer parameters, called/calling numbering plan/type, type of ISDN service,
Placing and accepting call for each timeslot or for the whole trunk
Logging call records for complete or incomplete calls
Simple NFAS setup for T1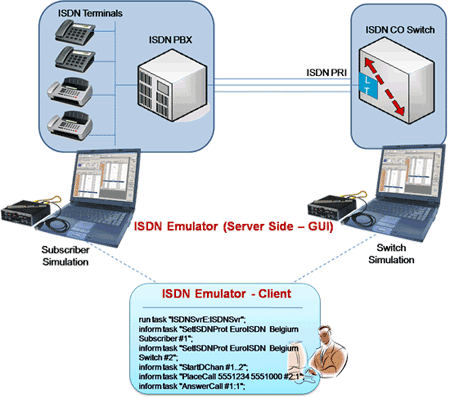 For comprehensive understanding of the product, please visit WCS ISDN Emulator web page
Major features and enhancements to Protocol Analyzer and call capture products:
Scripted ISDN PRI Emulation in addition to existing GUI PRI ISDN Emulation
Call capture based on traffic type triggering, e.g. tones, digits, voice, or modem
ML-PPP Emulator now supports Van Jacobson Compression and IP Header Compression in IPCP Configuration as per RFC 1144 and RFC 2507
All HDLC based protocol analyzers now support decoding of frames with Frame Check Sequence of 32 or 16 bits
ISDN PRI protocol analyzer now supports ANSI decode T1.607
ISDN PRI protocol analyzer now supports MLPP (Multi Level Precedence and Pre-emption)
GSM Analyzer now supports decoding of SMS layer i.e SMS-CP, SMS-RP, and SMS-TP protocols
TRAU Toolbox™ and analyzer has been enhanced to support DTX
Enhancements to the Windows Client-Server application:
New commands
Transmit line build-out
Jitter attenuation buffer size
Begin/end/inform/query task
Get app license
Enhancements
Supports CRC32 option selection for each link in MLPPP client-server module
Syntax changed for "Equalizer control", "Jitter attenuation", and "line length" commands in Universal and USB cards
MCBERT command is modified to capture on multiple cards
The "tx server file" command can now broadcast onto multiple T1/E1 ports with a single command. The "broadcast" operating mode causes the file being transmitted to be inserted into all named timeslots, even if the timeslots are on separate ports. The "multiplex" operating mode will cause the file being transmitted to be multiplexed into the specified timeslots on a port-by-port basis. That is, the file will be multiplexed into the named timeslots of each specified port independently
Vocabulary: 'board' and 'card' are now synonymous with 'port'
Data Type: The 64-bit integer data type is now supported
USB T1/E1 unit & Universal T1/E1 cards: GL Server and GL Server Launch pad have been enhanced to support USB and Universal GL Cards
Sub-channels: Sub-channels have been defined and a grammar has been developed to specify them
Dynamic DSP Operation: A dynamic (time-varying) DSP Operator feature has been implemented. Using this feature, you are able to dynamically alter the settings of various DSP operators according to a schedule. To lend further support to this feature, DSP Operator IDs are now taken from the lexemes (the form of the words) used in the DSP command to specify the DSP operators
For comprehensive understanding of the enhancements introduced to the Windows Client-Server product, please visit Windows Client-Server web page
For more information about GL's complete line of products,
Contact:

Shelley Sharma
Phone: 301-670-4784 ext. 114
E-mail: info@gl.com

Back to Press Releases Index Page