Press Releases: GL Enhances T1 E1 Line
Management System
Gaithersburg, Maryland, USA - June 1, 2010 - GL Communications Inc., announced today the release of its enhanced T1 E1 Line Management System. Addressing the press conference, Mr. Matthew Yost, Product Engineer at GL, said, "T1 E1 lines in many cases carry vital traffic, so much so that - any downtime would severely affect a business. Even if redundant T1 E1 lines were available and switched into service, the faulty line must still be repaired in a timely manner or risk the failure of the redundant line. MTTR (Mean Time To Repair) is a critical parameter in the overall availability of T1 E1 lines and associated equipment. MTTR includes the time to detect that a failure has occurred, travel (if any) to the affected site, troubleshoot the problem, and restore the line back to active status".
A remote management system that can achieve these tasks remotely from anywhere and at anytime would be ideal. An ideal system should be able to:
detect failures and send an email to the concerned engineer, and
allow the engineer to simply log on securely to view the status of all lines, no matter where he/she is, and,
permit the control necessary to take the faulty line out of service and intrusively test , and
allow the engineer to restore the repaired line back to operational status
He further added, "GL's T1 E1 Line Management System provides the capability of remote management NOW and is being used by many companies to manage their T1 E1 lines". He added, "The major elements of this system are: GL's T1 E1 J1 Switch ( a 19-inch 1U rack mounted device) designed to provide non-intrusive and intrusive access to T1 E1 J1 circuits, T1 E1 Line Monitoring, Test, and Control System that monitors T1 and E1 line health by non intrusively collecting line status information, e.g. loss of sync, bipolar violations, CRC errors, yellow and red alarms, line frequency, and many more status indicators, and GL's netsurveyor system provides for an instant overall view of the health of all T1 E1 lines, with the ability to successively drill down to individual T1 E1 lines for specific status. Maintenance engineers can securely access the network view from literally "anywhere" that Internet access is available".
He added, "Any authorized PC with an Internet browser can access the WEBServer to obtain status of T1 E1 lines, or perform diagnostics on them - all remotely".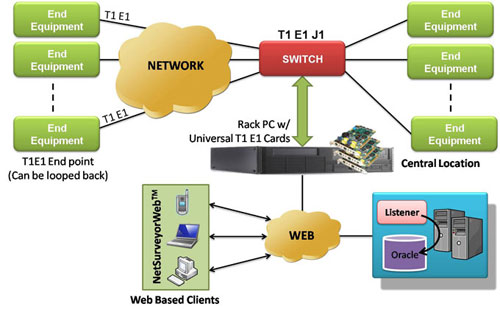 About GL Communications Inc
Founded in 1986, GL Communications Inc. is a leading supplier of test, monitoring, and analysis equipment for TDM, Wireless, IP and VoIP networks. Unlike conventional test equipment, GL's test platforms provide visualization, capture, storage, and convenient features like portability, remotability, and scripting.
GLís TDM Analysis & Emulation line of products includes T1, E1, T3, E3, OC-3, OC-12, STM-1, STM-4, analog four-wire, and analog two-wire interface cards, external portable pods, and complete system solutions. Capabilities include voiceband traffic analysis and emulation across all traffic types (voice, digits, tones, fax, modem), all protocols (ISDN, SS7, GR-303, Frame Relay, HDLC, V5.X, ATM, GSM, GPRS, LTE, etc.), and with capacities up to thousands of channels. Our newest products provide astonishing capacity and capture capability up to and including gigabit speeds.
GLís VoIP and IP products generate / analyze thousands of calls and traffic simultaneously with traffic types such as frames, packets, voice files, digits, video, tones, noise, and fax. Almost all codecs are supported including G.711, G.729, AMR, EVRC-A,B,C, GSM, iSAC, and many more. Additional features include visual analysis, real-time listening, and recording. The product line also includes Ethernet / IP Testing capability that simulates and checks frame transport and throughput parameters of Ethernet and IP networks, including delay, errors and other impairments.
GL's Voice Quality Testing (VQT) product line complements all of GL's products. Using ITU-standard algorithms (PAMS, PSQM, and PESQ), GL's VQT provides a widely accepted solution for assessing voice quality in the telecom industry. Voice Quality Testing across multiple networks (T1, E1, T3, E3, OC-3, OC-12, VoIP, Wireless, and Landline) are all available.
GLís Wireless Products perform protocol analysis and voice quality assessment on GSM, CDMA, UMTS, and LTE networks. Connections can be made to any wireless phone with automated call control, GPS mapping and real-time signal measurements.
GLís Echo Canceller testing solutions provide the broadest range of simulation and analysis, including line and acoustic echo. GLís compliance testing per G.168. G.167 and P.340 across TDM, IP, VoIP and Wireless networks is widely accepted in the industry.
GLís wireless VQT solutions help assessing impairments to voice quality such as poor mobile phone quality, voice compression and decompression algorithms, delay, loss and gain in speech levels, noise, acoustic and landline echo, and other distortions are easily assessed and accurately measured.
GLís Handheld data testers can test a wide variety of communications facilities and equipment including T1, fractional T1, E1, fractional E1, T3 and E3 modems, multiplexers, CSU, DSUs, T1 CSUs, DTUs, NTUs and TIUs and more. The testers provide convenience, economy, and portability for almost any interface, including RS232, RS-422, RS-530, X.21, T1, E1, T3, E3, and many others.
GLís Network Surveillance and Monitoring products include Probes for TDM, IP, VoIP, ATM, and Wireless networks. An open standards based approach provides a scalable, feature rich, real-time access to network characteristics. Centralized or distributed access, efficient transport and database loading allow compatibility with 3rd party and standards based monitoring systems.
For more information about GL's complete line of products,
Contact:

Shelley Sharma
Phone: 301-670-4784 ext. 114
E-mail: info@gl.com

Back to Press Releases Index Page