Newsletter: GL Enhances T1 E1 Analyzer
Products & Software
Welcome to the February issue of GL's Newsletter covering new applications, new hardware, and enhancements to our versatile T1 E1 Analyzer product line. The Ennhanced T1 E1 software, and hardware are now part of Version 6.0.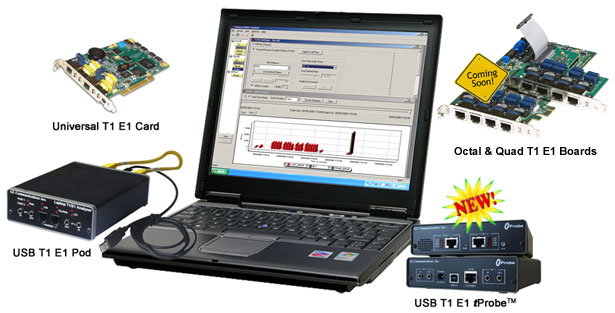 New Hardware Introduction
tProbe™ T1 E1 Analyzer Unit (USB Based)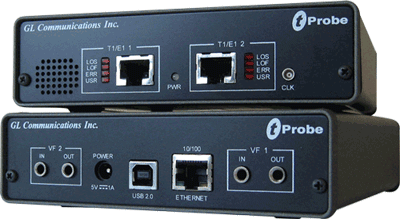 ….the future of T1 E1 VF Data Analysis / Emulation
GL's new tProbe™ is an enhanced version of our popular USB based T1 E1 VF Analyzer. The tProbe™ incorporates all the same features of the previous analyzer such as portability, USB interface, remote accessibility, scripting, and a vast set of optional applications. tProbe™ comes with "basic software" for basic testing needs and optional features that extend the capability far beyond the most expensive T1 E1 testers. In addition, the tProbe™ has the following very important enhancements:
Pulse Mask and Jitter Measurement Hardware and Software
"Cross-port Through" Mode and "Cross-port Transmit" Mode options make cabling with Drop/Insert and Fail-Safe Inline Monitoring very easy
Enhanced VF Drop and VF Insert Capabilities (including 3.5mm or Bantam physical connection options)
Improved circuitry for very accurate Digital Line Level measurements
Forward thinking hardware design for future daughter board expansion applications
Includes clock slip registers, clock timer
Software selectable T1 E1 interface along with Drop and Insert
Switchable Line Level or Microphone input using 3.5 mm or Bantam physical connectors
VF Tx Gains ranges from -12 dB to +59.5 dB in 0.5 dB steps, and VF Rx Gains from -63.5 dB to +9 dB in 0.5 dB steps
tProbe™ analyzer has speaker output for Tx & Rx directions for each port
The VF Tx and Rx impedances for tProbe™ analyzer supports software selectable 135, 150, 600, or 900 Ohm terminations, New High Impedance Monitor Termination (>25K Ohms), and Mic/HS impedance (Microphone Headset impedance is 1K Ohms)
New Software Applications
New applications introduced into T1 E1 Analyzer Version 6.0 are described briefly below:
Enhancements Introduced to the Existing Applications
Jitter Measurement & Pulse Mask

Implemented Rx Line Frequency and Frequency Offset


MAPS

The enhancements introduced to the application are as below:



Load Generation is added to generate Bulk Calling Capability providing CPS or BHCA, Max Simultaneous Calls and Burst parameters.
Statistics feature indicates Total, Active, Completed, Passed and Failed Call counters including a Pie graph to indicate Pass/Fail Call Ratio.
Statistics Options allows grouping set of scripts with particular names. When these scripts are run, counters in Statistics Dialog get updated.
Link Status features indicates Transport related information of the Protocol. It is enabled for SS7 and GSM A.
Event Config Dialog tab is added for editing event profiles at the runtime.
Passing user parameter (variable values) to 'user event' at the run time using event profiles in Event Config window
New script flow tab added in Call Generation & Reception windows
Supports Master Configuration option
Changes in the appearance of the xml related files i.e. Test-bed Setup Profile, Profiles, Event Profiles
New instructions such as message handler, start timer, stop timer, return, initialize unique id, allocate unique id, reserve unique id, and free unique id are added
Existing instructions such as 'wait' (i.e. wait for Infinite time is added); 'ActiveUserEvent' (i.e. adding and removing labels) and 'StopRetxmit' (i.e. Stop Variable is removed) are modified
Ability to add & remove "Call Handlers" from GUI
MTP2 state log messages



Protocol Analyzer

The enhancements introduced to the Protocol Analyzer applications are:



SS7 Protocol Analyzer: Prevent Cyclic Retransmission in SS7 Protocol for Satellite and Slow Intercontinental Links


MLPPP Protocol Analyzer:

Added new standard (PPP SigTran) to PPP analyzer and removed CiscoHDLC standard
New INI file option has been added to read the configured IP layer offset.
Option to select UDP checksum presence/absence in the compressed UDP packet (IPHC compressed non-tcp packet)
PPP Mux decode has been updated to decode more protocol field values.
"PPP Mux CP" protocol field display for the Protocol-Reject message
"VJ Uncompressed TCP" protocol field display for the PPP Multiplexed sub frame
Sample trace files have been added for PPP-VoIP PDA



Windows Client-Server (WCS)

The enhancements introduced to the application are as below:



G.729 implementation - The codec has been implemented as a DSP operation.


Crossport, VF I/O, Impedance command changes – Includes new set of commands to set loopback modes, VF I/O, and VF Impedances in tProbe™, and Universal cards.


GLClient – Now handles a wide variety of Text formats, including that used by notepad.



WCS MLPPP Emulator

The enhancements introduced to the application are as below:



Link configuration tab in MLPPP View has been updated to include PPP in MLPPP configuration with Protocol field compression, and Address and Control Field compression.


Action tab now includes 'Traffic Mode' option, which allows users to maintain timing between frames. If the emulator is configured as router (using NETWORK TRAFFIC source and sink type) it might be required to maintain the timing while forwarding packets from Ethernet to T1 E1 and vice versa i.e. time difference between the consecutive packets captured from NIC card is maintained while transmitting on T1 E1 and vice-versa.



MLPPPterr

The enhancements introduced to the application are as below:



Accepts new command: PPP_IN_MLPPP to inform the server about the ppp header config in MLPPP
PPP header in MLPPP can be configured by PPP_IN_MLPPP command
In addition to the above, there have been many minor modifications and bug fixes to the T1 E1 Software. For more details, please refer to the link what's new in the current version web page.

Back to Latest News Page