Newsletter: GL Enhances T1 E1 Analyzer
Products & Software
Welcome to GL's Newsletter covering the latest products, features, and enhancements to our versatile
T1 E1 Analyzer Product line. The software has been enhanced, now Version 5.28.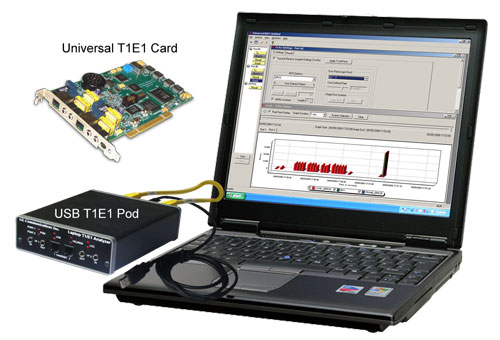 New applications introduced:
Two new applications introduced into T1 E1 Version 5.28 are: Call Data Records and Voiceband Analyzer. They are described briefly below:
Call Data Records (CDR – optional application licensed with dongle)

This application works with CCA (Call Capture and Analysis) and VBA (Voice Band Analyzer) applications and generates Call Summary and Call Detail reports. CDR provides comprehensive information on each and every call occurring on T1 E1 lines, including,

voice capture for both directions
complete signaling information for each direction for CAS, ISDN, MFC-R2, SS7, and more
all alarms and errors occurring during the call including BPV, Frame Errors, CRC errors, LOS, and more
detailed voice band event information occurring during the call including dual tones (DTMF, MF, MFC-R2), fax tones, modem signals, and more
detailed analysis of the voice band call including noise level, speech level, speech activity factor, echo measurements, and more
categorization of the call as voice, fax, modem, or data



Voice band Analyzer (VBA – optional application licensed with dongle)

This is an an analysis tool for monitoring voice band network traffic. The VBA can host different analysis modules for monitoring speech and noise levels, and line echo. This application can now be invoked from T1/E1 Analyzer – Special Applications menu or from command line.
Enhancements to the existing applications:
Support for Vista and Windows 7.0 drivers for Universal Cards
56K Bert in USB and Universal T1 Cards
VBA enhancement includes Traffic Classification


MAPS™ - T1E1



MAPS™ GSM Abis - The application is now capable of creating GSM (TRAU) sessions and generating/receiving traffic over the created session based on the codec type.


Traffic Options in MAPS - The following commands have been implemented to allow traffic actions



Send File - the command is used to transmit a file up to specified frames, end of file, or continuously
Receive File - the command is used to receive the transmitted file
Send Tones & Digits - the command is used to send specified tones/digits in continuous or time limited manner.



Multiple Call Capture



Call Capture & Analysis application can now be saved as a "profile" with the file name extensions *.pfr. The saved profile can be loaded for future operations.
Users are now given the choice of stamping captured files sequentially or with the date/time.
Includes option to log events such as Call Summary Records, Facility Alarms, Supervisory signals as CSV or Binary files
The capacity has been enhanced to 22 ports in this and in Record Multiple Cards Application
Updates have been included to eliminate initial silence



Goldwave



The enhanced Goldwave A-law/Mu-Law (standalone executable) software provides an internal conversion utility that allows opening A-law/Mu-law file from any analyzer (T1 or E1) just by selecting the appropriate conversion type.



Protocol Analyzers



The SS7 Analyzer enhanced with SS7 CDR improvements that allows direct SSP connections and simplifies data link configuration


The application TRAU ToolBox™ has been enhanced with several features:



Supports Data Codec of up to 14.5kbps,Generation of Error frames,
Generation of AMR/AMR-WB TRAU frames which should act according to CMR request in UL, Generation of SID frames for AMR codec
Generation of No Data, Onset frames, Generation of Idle Speech Frames, Generation of N TRAU frames with configurable SID/No Data.
Updated ACM files for AMR codec to support Codec Mod Request (CMR)
Impairment of TRAU frames in pass through, terminate, and loopback modes, Phase Alignment is supported in AMR and AMR-WB codec
Converting uplink frames to downlink frames in loopback



Windows Client Server

The enhancements introduced to the Windows Client Server (WCS) application are as follows:




Error Insertion



Logic errors can now be inserted at a user-determined fixed or random rate;
In Auto Insertion Mode, it is now possible to change the rate;
Ex:"insert fixed<new rate>", or "insert random<new rate>"
<new rate>- can be any value between 10-2 and 10-9



WCS TrauTerr



New Log and Exit commands are added in gls files



WCS - The application is enhanced with additional command set:



set cross port loopback (on | off) #port-id
get cross port loopback #port-id
set thru mode (on | off) #port-id
get thru mode #port-id
In addition to the above, there have been many minor modifications and bug fixes to the T1 E1 Software.
For more details, please refer to the link what's new in the current version web page.

Back to Latest News Page