Newsletter: GL Announced Enhanced T1 E1 Products and Software Version 6.18
Welcome to another June 2012 issue of GL's newsletter covering latest applications and enhancements introduced to our versatile T1 E1 Analyzer product line. The T1 E1 software has been enhanced, now Version 6.18.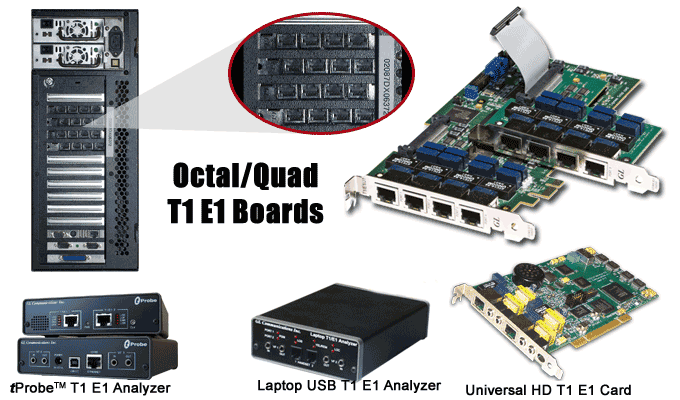 New Hardware and Applications Introduced:
Octal/Quad T1 E1 Boards

GL's Octal & Quad T1 E1 boards are high density and provide Four (4) or Eight (8) RJ-48 T1 E1 ports and multiples thereof. For example, configurations of 8, 12, 16, 64 T1 E1s in a single rack are possible. Octal boards are compatible with dual, quad, and higher core motherboards and software that simulate dual and quad cores (hyper-threading). Support is provided for all existing T1 E1 applications including comprehensive Voice, Data, Protocol, Analog, Digital Analysis / Emulation, and Echo and Voice Quality testing.


Multiple Call Capture and Analysis (Multi-CCA)

Multi-CCA is used to monitor hundreds of calls, capture the bi-directional data, signaling and traffic, simultaneously from multiple T1 E1 lines, based on the user-defined trigger configurations. Unlike the older version of CCA, once the capture trigger type is selected, users can control and run multiple capture instances on different T1 E1 ports from a single GUI.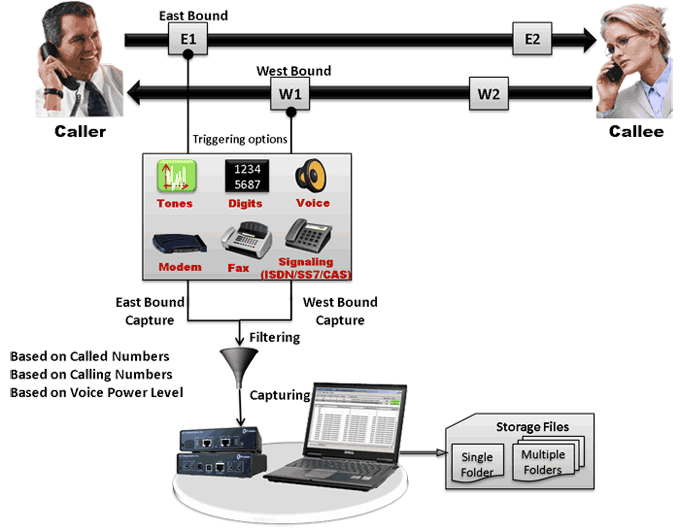 Enhancements Introduced to Existing Applications:
tProbe™ Enhancements


BoardSerialRegisters.cfg added to installation for reading the 2W FXO and FXS Hardware Registers
New FPGA file

Added Clock Slip Counters
Added FXO and FXS Registers and functions
Added Datacom features



MAPS™ Emulation Software

Implementation of global script for MAPS (Pass through)
National ISDN PRI Standard is added in MAPS™ ISDN
MAPS™ MAP Emulation: SMS Procedure support is added
Implemented power detection for CAS
Implemented invoking new script from the existing script.
Statistics Graph displays Calls/sec vs Time and Simultaneous Calls vs Time graphs in real time
Added MAPS™ CLI support
Updates done to Isdn5ess.h and QsigECMA.h encode file



Codec Updates in TRAU PDA and TRAU Analyzer

HR codec has been updated to accept user options to enable/disable VAD
EFR codec has been implemented from VoiceAge library
All codec project files have been updated to link the new gsmefr.lib from VoiceAge



GSM Analyzer

Supports new decode standard "GSM-Railway" - an international wireless communications standard for railway communication and applications
Added User-to-User IE (Information Elements) according to ETSI TS 102 610 specification and system based on GSM and EIRENE-MORANE (European Integrated Radio Enhanced Network-Mobile Radio for Railway Networks in Europe) specifications.
A new GSM-SS layer decode is added according to 3GPP TS 24.080 to support the GSM Supplementary Services



ATM Analyzer

SS7 over ATM - Includes SS7 stack to support SS7 over ATM



SS7 Analyzer

Changed the SCCP-User part branching so that it considers TCAP package type instead of selected standard in the GUI
The "INI" files, "SS7Prot.ini_CNAM" and "SS7Prot.INI_Default" have been added to the installations
ISUP ITU decode - This includes new messages and parameters as per T-REC-Q.763-199912-I



ISDN Analyzer

Includes Summary and Filter additions to National ISDN PRI and ARINC746 standards



Frame Relay Analyzer

Frame relay analyzer has been updated to include MAC and higher layers over SNAP to the stack. It also includes modification to flag values and new flag declarations.



WCS ATM IMA Emulator



AAL2 Support
ATM IMA Emulator now supports AAL2 traffic generation and reception. A VC of AAL2 type is identified by combination of VPI, VCI and CID fields [Like: VPI:VCI:CID]. VC Statistics and Tx/Rx Verification tabs show an AAL2 connection in this format. The GUI has been updated to provide AAL2 configuration parameters - CID and user configurable Max CPS packet length for each AAL2 connection uniquely identified by CID. The default value for cps packet length is 45, which can be set to 64 otherwise.



User interface for ATM BERT, Enhanced BERT, and VoIP products now supports 64-bit functionality
G729 Codec is now added to Analyzer software
Tone Decoder sample files (a-law, u-law, and pcm) added to installations, along with scripts
Error Insertion - Auto Error Insertion for Frame and CRC has been added

Back to Latest News Page