Newsletter: GL Announces System Wide Network Testing Solutions
Welcome to an April 2010 issue of GL's Newsletter providing information and insight into our System-wide Network Testing Solutions.
Overview
Voice quality, signaling methods, and delay vary with each type of network - wireless, PSTN, or VoIP. An end to end network test system that can easily interface to each network type and automatically and centrally perform vital measurements is desirable. GL has just such a solution.
GL's system consists of individual probes, both fixed and mobile, remotely controlled, and automated through scripts and schedules. All results are automatically cataloged and easily accessed by a standard web browser. Measurements such as call failures, voice quality, delay, and echo are made for each and every call. The data is centrally available and accessible from a single location with user friendly filtering and querying capabilities.
Introducing GL's System Wide Network Testing Solution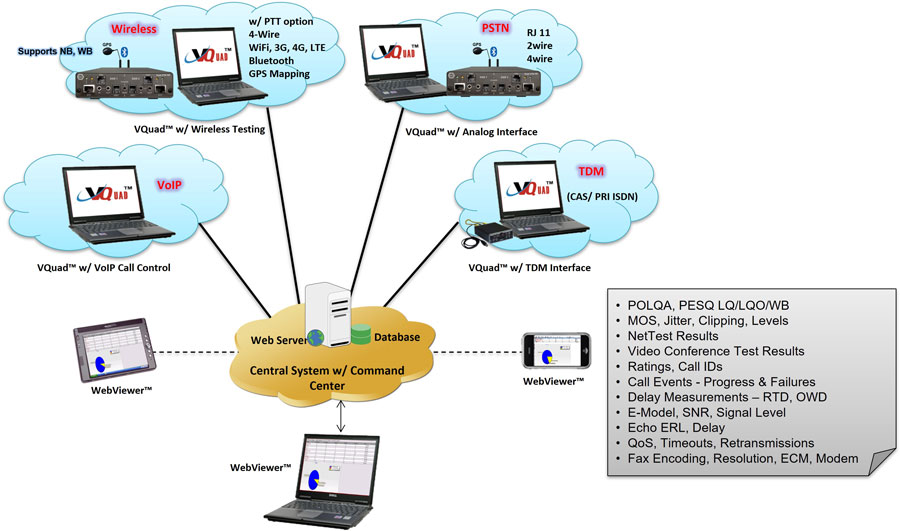 GL's solution deploys intrusive probes which that connect to any interface, including mobile wireless, 2-wire analog, VoIP softphone, PTT radio, and T1/E1 PRI. These intrusive probes run GL's VQuad™ software. Non-intrusive probes may also deployed at various points within the VoIP and TDM networks. All results associated with the intrusive and non-intrusive nodes are automatically transferred to a central location where analysis applications, databases, and a Command Center provide for automated operation, email alerts, and a web server. Users may access the command center and databases via a standard web browser.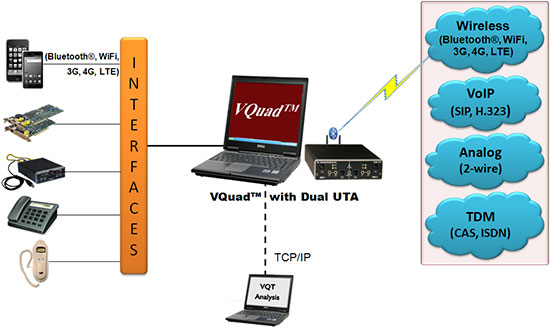 The WebViewer™ is a web based browser. One can easily and remotely connect to the central database over any internet connection. The WebViewer™ supports querying the central database and includes advanced search criteria such as time/date range, phone number, measurement threshold values, and call progress events. The WebViewer™ displays the results both in tabular and graphical formats and supports text and Excel formatted outputs. Statistics of all results is available including a customized statistics screen based on user-defined criteria. Complete real-time status of the entire network including all intrusive/non-intrusive nodes and status history is available.
Finally, using the WebViewer™ one can remotely access any probe within the network for remote operation. The WebViewer™ includes operations such as load/start/stop individual tests as well as the ability to configure individual tests and transfer a test script to individual probes.
Individual Elements of GL's System Wide Network Testing Solution
VQuad™ intrusive probes
Various interfaces including Mobile, Bluetooth®, 2-Wire Analog FXO, 4-Wire Balanced Analog, Phone Handset, PTT Radio, VoIP SIP, T1/E1 PRI/CAS


Remotely controlled


Fully automated with sophisticated scripting and remote operation


Results sent to central location


Small footprint, either rack mounted or laptop/netbook operation


VQT, OWD, RTD, SNR, CFR, Bluetooth®, Voice and Data


All networks and phones supported
Non-intrusive probes
VoIP analysis of RTP and protocol


TDM analysis


Fax and modem analysis
Central Location
Central database (Oracle and MS Access supported) with all results


All results and testing files sent to central location for analysis


Fail/safe mechanisms if TCP/IP network fails or momentarily drops


User-defined Email alerts


Intrusive tests associated with individual probes automatically started/stopped using central Command Center
Analysis
Voice Quality PESQ (ITU-P.862.1/2)


Voice Analysis including SNR, Signal level, Noise Level, Echo, Delay


VoIP RTP Packet Analysis


Data analysis


Analog E-Model QoS
Web based browser for accessing all results


Results (tabular and graphical) include VQT, Call Control, Time/Delay Measurements, Error events


Statistics include VQT, Time/Delay, Call Rates, and user-defined


Search and filtering based on time/date, called number, measurement ratings or thresholds, location, test scenarios, and user-defined events


Network Status of all probes and systems at remote locations and central location. Status includes currently running tests


Remote operation of individual probes and central location. Remotely configure load and start/stop tests


Multi-user with available login security and privileges settings

Back to Latest News Page