MAPS™ Skinny Protocol Emulator
(Scripted Skinny Call Control Protocol (SCCP) Emulation)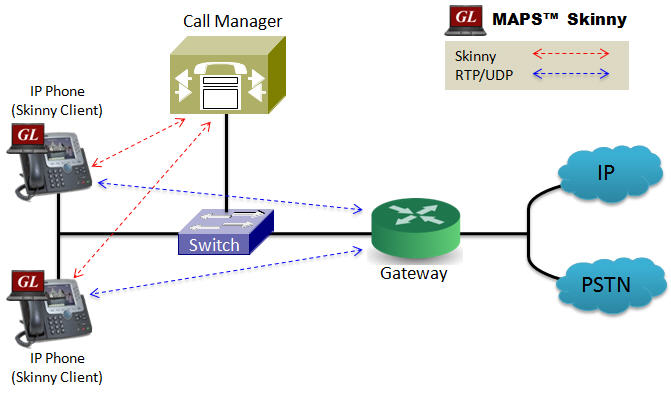 MAPS™ SKINNY Protocol Emulator Software Ver 6.4.22 | Download Now!
---
Background

Skinny Call Control Protocol (SCCP), also referred to as "Skinny," is a Cisco Systems proprietary signaling and control protocol used to communicate between IP devices and Cisco Unified Communications Manager for call establishment, teardown, and control in VoIP environments. It is widely deployed in VoIP enterprise solutions and is increasingly supported by third-party service provider. It is a simple, lightweight, very feature-rich stimulus protocol deployed in conjunction with Cisco IP phones.

A SCCP client uses TCP/IP to communicate with one or more Call Manager applications in a network. It uses the Real-time Transport Protocol (RTP) over UDP for the traffic (real-time audio stream) with other Skinny clients or an H.323 terminal.
Skinny was initially designed and deployed in conjunction with Cisco Call Manager, but has since gained much attention from third-party vendors. The Call Manager, or SoftSwitch, controls the endpoints, establishment, teardown, and accounting of calls, while the endpoints stream media directly between one another.
---
Overview
GL's MAPS™ is an advanced and versatile protocol simulator/tester that can simulate a variety of protocols encountered in the telecom space, including ISDN, CAS, SS7, SIP, MEGACO, MGCP, and others. MAPS™ is now enhanced to support 'Skinny' - SCCP, Cisco Systems proprietary signaling and control protocol. GL's MAPS™ Skinny emulator can be used to emulate IP Phones (Skinny Clients) in VoIP environment. Simulation of Skinny Call Manager endpoint will be supported in future.
The supported call control functionalities include:
registration and management
call control (setup, teardown, and statistics)
media (audio) stream control
In addition to call simulation in VoIP environment, it also supports, error tracking, regression testing, conformance testing, load testing, and message generation. It can run pre-defined test scenarios against test objects in a controlled & deterministic manner.
MAPS™ Skinny Emulator supports powerful utilities like Message Editor, Script Editor, and Profile Editor which allow new scenarios to be created or existing scenarios to be modified.
GL also provides a suite of protocol analyzers for real-time capture and decode of the signaling for live IP networks.
Please visit packetscan™ or more details.
---
Main Features
Emulates Skinny Call Control Protocol (SCCP) clients (IP Phones)
User-friendly GUI for configuring the SCCP signaling links over IP
Ready scripts for registration, call control (setup, teardown, and statistics) procedures.
Logging of all messages in real-time
Supports customization of placing and answering calls using Profile editor and Message editor
Ready-to-use scripts for quick testing
Provides protocol trace with full message decoding of the call control messages
Script based & protocol independent software architecture
Provides call reports with associated captured events and error events during call simulation
Option to send reports to database accessible via web interface
Save and load configurations
Supported on Windows® XP (or higher) operating systems
---
Test Configuration
A test bed setup is configured to use a pre-defined XML profile. The multiple profiles created in the default profile (XML) selected in Test Bed Setup are accessible from the call generation and reception windows.
Test Bed Setup provides options to establish communication between MAPS™ Skinny (IP Phone) and the DUT (Call Manager). It includes Skinny configuration parameters such as Phone IP address, CCM IP address, and TCP transaction type. Default profile used to configure MAPS™ Skinny with end terminal parameters.
Once the testbed setup is configured properly, inbound and outbound calls between the IP Phone (Skinny Client) and the Call Manager can be established.

Screen Shot of Skinny Testbed Setup Configuration
---
Typical Call Procedures
The following call flow depicts the typical Skinny Client Control procedure -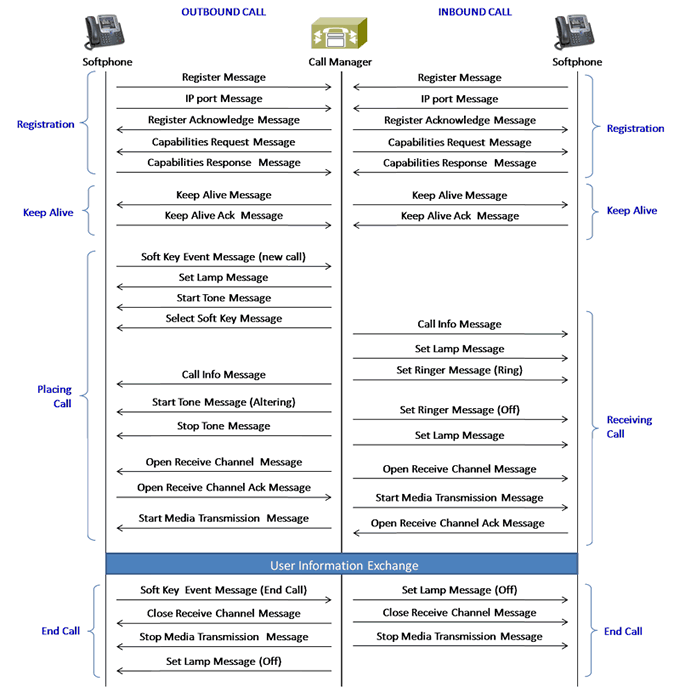 Skinny Inbound and Outbound Call Flow
Registration
IP Phone registers its IP, type, & name with the CCM, and provides its "Capabilities" (voice/video codec supported) to CCM.
Call Control (setup, teardown, and statistics)
Phone periodically sends "KeepAlive" messages to the CCM
Offhook (place call) - CCM instructs with the lamp on/off, through the prompt, key settings, and the dialtone messages.
Onhook (end call) – CCM instructs the phone to stop transmitting, close the channels, set the call status to disconnect, and send the default user prompt.
Media (audio) Stream Control
Media Transmission includes Conference ID, Pass through Party ID, Remote IP & Port Address, Packet, Payload Capability, Max Frames per Packet details.
---
Call Simulation
Call Generation feature allows the user to simulate incoming and outgoing communications in VoIP environment. Skinny call control simulation between IP Phone (Skinny Client), and Call Manager, using proper scripts and profiles. The profile allows necessary parameters of call controls to be changed during runtime.
Inbound Call
MAPS™ Skinny configured as IP Phone (Skinny Client) can receive the incoming calls (Inbound) from the Call Manager. The screenshot below shows Skinny inbound call flow.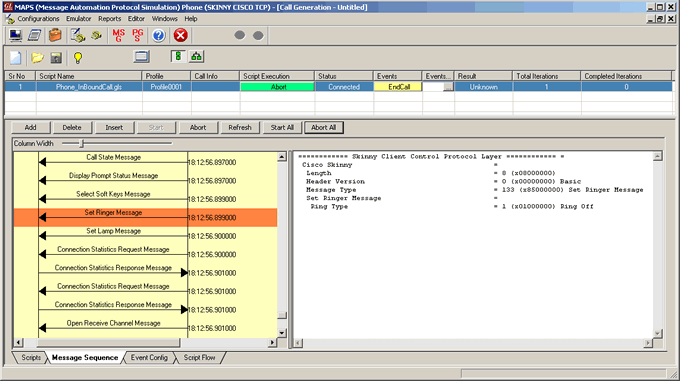 MAPS™ Skinny as IP Phone (Inbound Calls)

Outbound Call
MAPS™ Skinny configured as IP Phone (Skinny Client) can simulate outgoing communications by sending call control messages and start media transmission once the call is established with the Call Manager. The ready scripts used can detect events and respond with appropriate actions with respect to the states.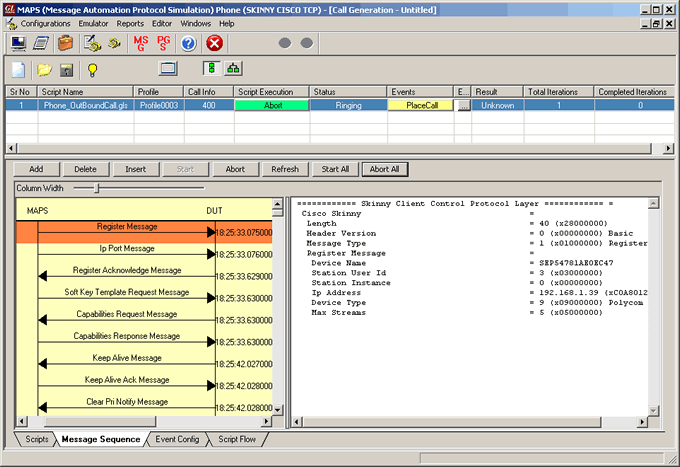 MAPS™ Skinny as IP Phone (Outbound Calls)
The Events encountered during the progress of the calls are logged as seen in the screen below.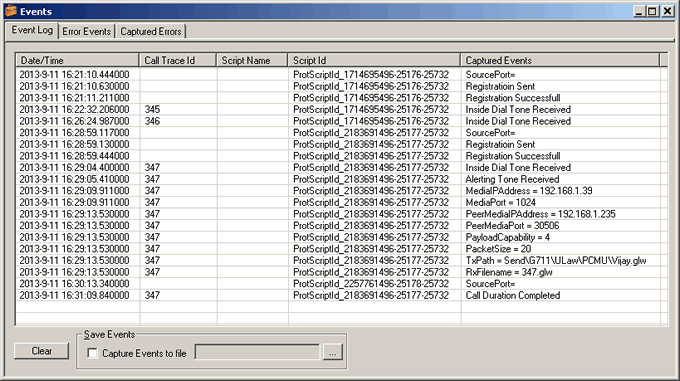 Screenshot of Outbound Call Events Log
---
Customization of Call Flow and Messages Using Pre-Processing Tools
Script Editor - The script editor allows the user to create / edit scripts and to define variables for the protocol fields. The script uses pre-defined templates to build call flow and perform send and receive actions. Script editor provides options to run the test for multiple iterations in sequential or random flow. Commands allow retransmission with specific interval. It also includes traffic commands to send and monitor voice, tones, digits, on the created sessions. It includes raw commands (send/monitor signaling bits, monitor power level, set idle code, and end task) to send WCS commands directly from MAPS™ to the server.

Screenshot of Script Editor
Profile Editor - Profiles are used to provide the user configured values to the fields through variables which are replaced during the course of a call. It is now possible to quickly create multiple profiles with varying parameters and each call instance in call generation can be configured to use any of the pre-configured profiles to suit the test scenario.

Screenshot of Profile Editor

Message Editor - The Message Template is a *.HDL file that comprises of protocol encoding parameters with preset values. It is required to create a message template for every message in a protocol. The message templates are called within the scripts to perform scenario based testing.

Screenshot of Message Editor

---
Call Flow & Script Execution Control
Script Contents & Script Flow - The Scripts Contents window displays the contents of the script selected for call generation or reception. The Script Flow window displays the set of statements successfully executed by MAPS™ to help users in troubleshooting a particular the call scenario.
Events & Event Profile Editor - User-defined events allow redirection of script execution on-the-go. The custom parameters in the events can also be changed during script execution using Event Profiles.

Screenshot of Script Contents and Script Flow
---
Call Statistics, Events, Link Status
Call Statistics & Status - By default, all call handling scripts (irrespective of the type of the functions) are assessed by MAPS™ to provide statistical information about Total Calls, Active Calls, Completed Calls, Passed Calls, Failed Calls, and Calls/Sec. It is also possible to characterize the statistical information under different groups of call handling scripts under a unique heading. In addition, Call Generation and Call Reception windows provide useful call status & script execution results.



Screenshot of Call Statistics and Status


Events Reporting – MAPS™ provides Event Log, Error Events, and Captured Errors windows that log the captured events and errors encountered during the progress of the call.



Screenshot of Event Log
---
Buyer's Guide:
Please Note: The XX in the Item No. refers to the hardware platform, listed at the bottom of the Buyer's Guide, which the software will be running on. Therefore, XX can either be ETA or EEA (Octal/Quad Boards), PTA or PEA (tProbe Units), UTA or UEA (USB Units), HUT or HUE (Universal Cards), and HDT or HDE (HD cards) depending upon the hardware.
Specifications are subject to change without notice.

Back to Message Automation & Protocol Simulation Index Page