Press Release: Single & Bulk Fax Simulation Over
T1 E1 FXO FXS Lines
Gaithersburg, Maryland, USA - November 15, 2012- GL Communications Inc. announced today the release of its latest Single and Bulk Fax Simulation & Analysis over digital T1 E1 and analog FXO FXS lines.
Speaking to reporters, Mr. Jagdish Vadalia, Senior Manager for Product Development of the company said, "Ordinary telephone lines can be used for voice, data (modem), and for fax. Believe it or not fax is still very popular. No business can be without a fax machine and some businesses, like banks, rely heavily on fax transmission for transactions involving money because faxes are considered legal documents."
He added, "GL has recently introduced Single and Bulk Call Fax Simulator. This software is capable of transmitting and receiving over many T1 E1 timeslots or through two-wire FXO and FXS lines. The software can emulate many "virtual fax machines" - Transmitter as well as Receiver. All variations are supported. Fax Simulator can be used with any GL Protocol Emulation tools such as MAPS™ CAS Simulator, MAPS™ ISDN Simulator, and MAPS™ SS7 Simulator to simulate complete real time Fax calls".
Mr. Vadalia added, "Using GL's versatile hardware product line, various fax testing scenarios can be simulated: Bulk Fax tesing over many T1 E1 lines (100's of timeslots) with our Octal T1 E1 Cards, or single FXO and FXS lines on our versatile tProbe platform, or hundreds of FXO FXS lines with our High Capacity Analog 2-Wire platform".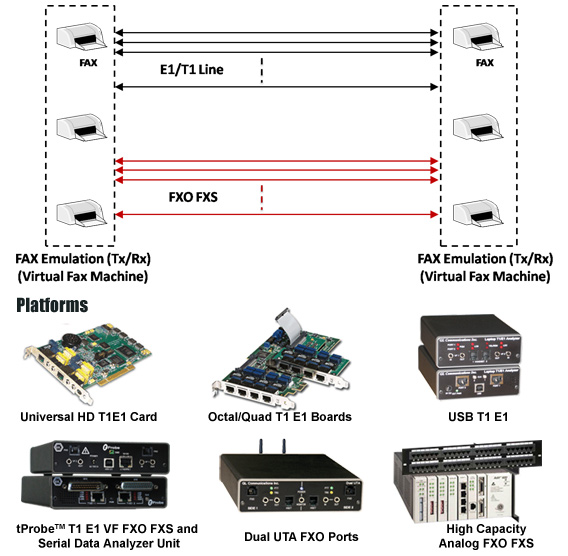 Fax Emulation Applications
Typical applications of our Fax Emulation software are load testing of fax servers, qualification testing of T.38 Gateways, testing of ATAs (Analog Terminal Adapters), testing of fax machines, and many more. Features and applications are:
Load Testing - sending or receiving up to hundreds of faxes simultaneously; one end can send and receive simultaneously on different timeslots; over many T1 E1 lines; over many FXO or FXS lines; any signaling protocol can be used such as PRI ISDN, SS7, or CAS
V.34 Testing - there are many fax modulations and V.34 is the fastest, permitting many pages to be transmitted quickly
Different Modulations as per the fax standard specified in the table below
High Speed / Low Speed - fax protocol consists of low speed handshaking and high speed image transmission
Multiple Pages - single or multiple page fax transmission is supported
With or without ECM - Error Correction Mode permits the retransmission of erred pages.
Alaw and µlaw - In TDM networks, USA uses µlaw and the rest of the world use Alaw - both coding standards are supported
Over T1 E1, PSTN, IP - Fax transmission may be over T1 E1 digital lines, over PSTN FXO / FXS lines, or over VoIP (packet) networks
For the comprehensive information on the application, you can refer to
Fax Simulation and Analysis Software
web page.

Back to Press Releases Index Page