Newsletter: GL Announces SIGTRAN Protocol Analyzer
Welcome to the July Issue of GL Communication's Newsletter providing information and insight into the latest product introductions and reviews, and updates.
GL introduces a new VoIP testing tool called , "SIGTRAN Analyzer" . A detailed description of the SIGTRAN Analyzer can be found on the web at https://www.gl.com/sigtran.html
GL's SIGTRAN protocol decoder software permits real-time analysis, call trace, capture, and filter of SS7 and ISDN signaling messages over IP protocol. This software is available as optional software under GL's PacketScan™ software. It is also complementary to GL's award winning SS7 and ISDN protocol analyzers. SIGTRAN (RFC 2960, 3332, 3331) is used to carry Q.931, SS7, ISUP, SCCP, TCAP, etc. messages between IP nodes such as a Signaling Gateway and Media Gateway Controller or Media Gateway. SIGTRAN uses a new connection oriented transport protocol called Stream Control Transport Control (SCTP - RFC 2960). SCTP is at the same level but more efficient at transport than TCP.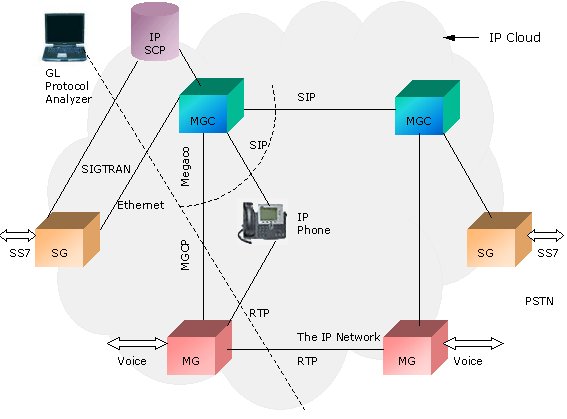 SIGTRAN Protocol Analyzer Main Features:
SIGTRAN Protocol Analyzer decodes M2UA, M2PA, M3UA, SCTP, SUA etc.
Real time filter and search on SIGTRAN messages, classes, and other fields
Decodes SS7 information such as SCCP messages, INAP, MAP etc.
Real-time as well as offline analysis
Provides statistics for all layers
Supports powerful call trace features
Provides "Connect to Remote Database" feature
Please review the above and give us a call if you are interested in GL's SIGTRAN Protocol Analyzer or other applications. We would be happy to consult with you on solutions to your testing needs and we look forward to hearing from you.



Back to Latest News Page