APIs for Test Automation and Remote Access
Gaithersburg, Maryland, USA - November 22, 2018- GL Communications Inc. a global leader in telecom test and measurement solutions, announces the latest API clients support across various networks (TDM, Ethernet/IP, Wireless, 2-wire) for test automation and remote accessibility of various test functions.
GL's API's support across Test platforms for advanced and comprehensive testing over TDM, IP, Ethernet (1Gbps/10Gbps), Wireless, Analog networks, enables test automation and remote controlling through multiple command-line based clients (Python, TCL, Java, VBScripts, C#). The APIs allow easy integration with QualiSystems' TestShell and Labview software framework offering complete Lab Management, Device Provisioning and Test Automation solutions for engineers.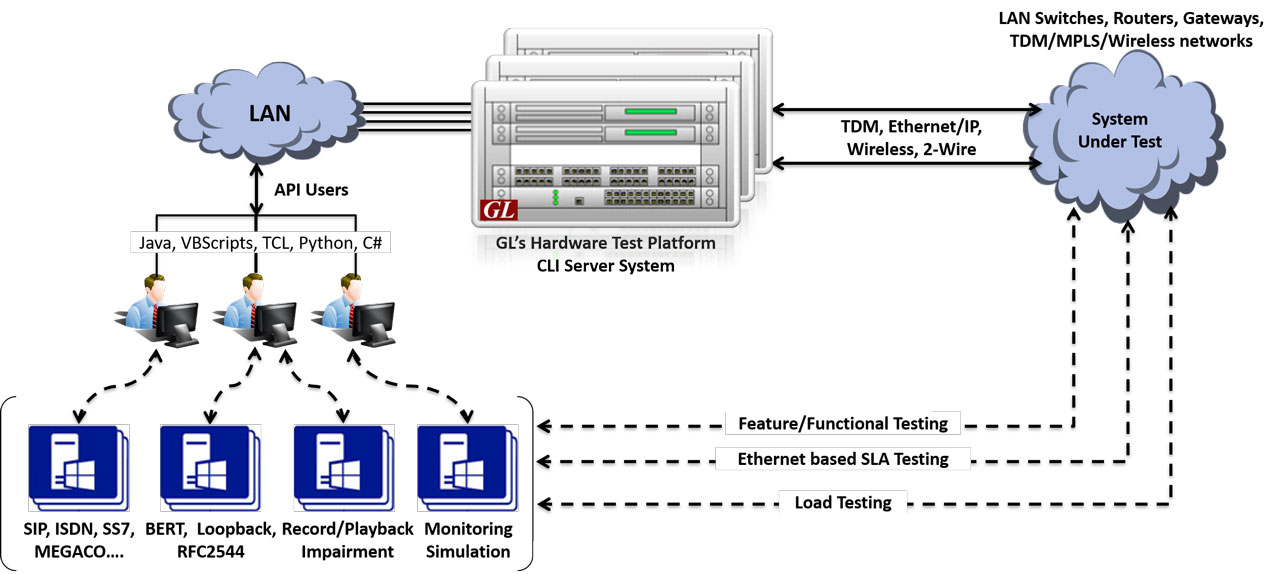 Speaking to the press, Mr. Vijay Kulkarni CEO of GL Communications Inc. said "GL's client-server-based test platforms provide the users the capability of remote operation, automation, and multi-site connectivity through APIs and various clients such as Java, TCL, VB, Python and C#. The APIs allows for programmatic and automated control over all functions of test platforms. Each server can receive multiple client connections and offer independent execution to each client. Likewise, a single client can connect to multiple servers, including servers running different complex test cases.
The Client application includes a packaged library (dll file) that enables communication with the CLI Server to perform specific test like Protocol Simulation, Monitoring, Record Playback, BERT, RFC 2544, Impairments, etc., sending User Events to perform specific actions and receiving responses back from the CLI Server.
GL's test platforms such as MAPS™, PacketExpert™, VQuad™, T1 E1, T3 E3, LightSpeed1000™ now supports client-server module enabling Test Automation and Remote Control of various functions", said Mr. Vijay Kulkarni CEO of GL Communications. "GL's MAPS™ is a flexible, script driven platform that provides access to various testing functionalities such as Functional regression testing, Long duration, high volume performance/load testing, Protocol conformance testing, Negative testing, IVR traversal, Interoperability testing, Voice Quality testing, remotely using Command line Interface (CLI) and APIs through various clients such as TCL, Java, VB, and Python.
Besides GL also supports CLI/ API client-server architecture for Ethernet test platform - PacketExpert™, using which remote control and automation of various tests such as extensive Bert, Loopback, RFC 2544, Record Playback, WAN Emulation, Tap-Filter-Aggregate-Modify Packets, and ITU-T Y.1564 tests is possible.
Further, GL provides APIs for Windows® and Linux Operating Systems to custom T1 E1 T3 E3 OC-3/12 and STM-1/4 software development, supporting functions such as implementing Delay and BERT, record/playback on single and multi-timeslot streams, Frame Relay, Pulse Mask and Jitter measurements, Dropping / Adding VF Input and VF Output and others.
Mr. Robert Bichefsky director of GL Communications Inc. also added "GL's VQuad™ multi interface test platform supports CLI and APIs (SDK) on both Windows® and Linux environment for remote controlling the individual VQuad™ nodes located across various networks (Wireless (Bluetooth®, Wi-fi, 3G, 4G, LTE, PTT), VoIP, Analog, and TDM) practically allowing any end-point interfaces to be tested for voice, data, and video quality. The VQuad™ Remote Access (Client) allows VQuad™ operations to be remotely controlled by one (or several) VQuad™ clients over a LAN, WAN, or Internet supporting Call Control as well as traffic generation/reception functions.

Back to Press Releases Index Page