GL Enhances PacketScan™ for all Wireless IP Protocols with Traffic Recording
Gaithersburg, Maryland, USA - December 17, 2018- GL Communications Inc. a global leader in telecom test and measurement solutions, announced today its insight into their enhanced PacketScan™ which supports recording of the voice traffic and works with Voice Band Analyzer (VBA), Delay Measurement tool to analyze and provide the Voice Quality (POLQA) and one-way delay metrics.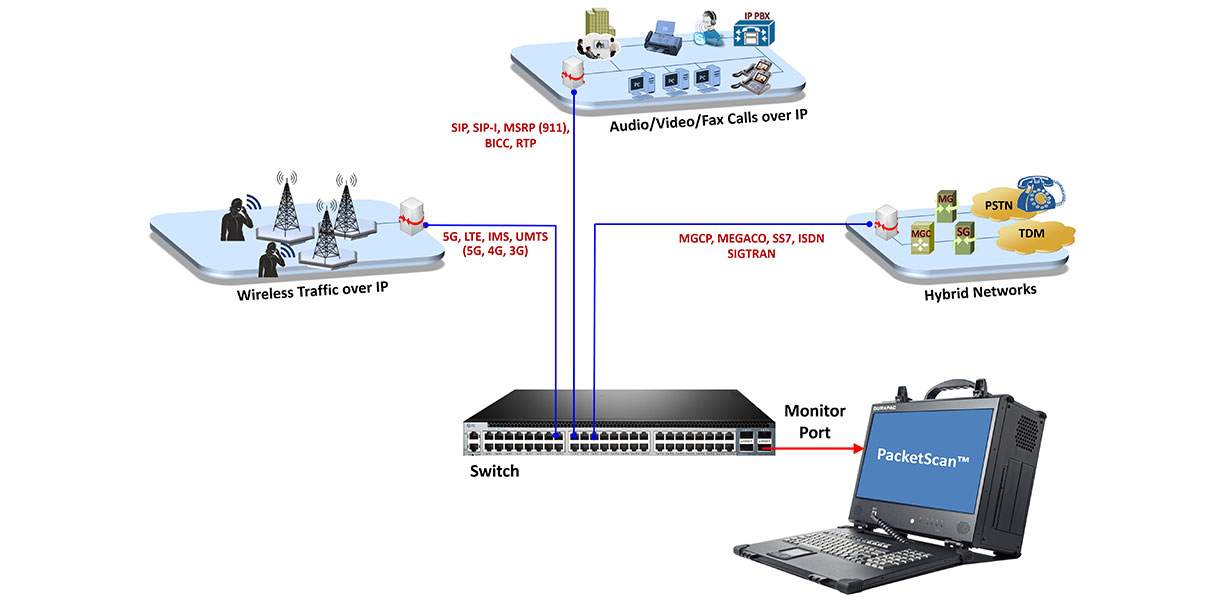 Speaking to the press, Mr. Vijay Kulkarni CEO of the GL Communications Inc said, "Wired and wireless networks are predominantly using packet techniques for transport of voice, video, fax, and data. Legacy protocols have converted to IP versions and new services like Internet of Things (IoT), Air Traffic Management, and IPTV have introduced new IP protocols. Simultaneously, IP transmission is achieving higher transmission rates, adding newer security features, encapsulating with powerful encryption, and enhancing quality using better codecs."
"GL's Packet Analyzers - All IP PacketScan™, PacketScanHD™, and NetSurveyorWEB™ are keeping pace with enhancements for wi re-speed performance, the addition of more wireless protocol support, enhanced Quality of Service (QoS) and network performance metrics, and the addition of new and enhanced codecs."
He further added, "GL's PacketScan™ All-IP Network Monitoring software offers powerful features to capture and monitor live signaling and traffic over IP (version 4 and 6). The application can capture, segregate, monitor and collect statistics all types of calls over IP. Almost all VoIP and Wireless protocols and traffic types over IP network can be captured and decoded for troubleshooting network problems."
"GL's PacketScanHD™ extends the support to wirespeed capture and analysis for high volume calls with simultaneous quality of experience metrics for measurement of degradation with call intensity, volume, or protocol. PacketScanHD™ is used during load and stress testing to verify stability of IP network and network elements pre- and post-deployment. PacketScan™ HD is a 2U rack mounted Network Monitoring Appliance w/ 4x1GigE and w/2x10GigE network interface cards that can capture and process high volumes of protocols over IP and Wireless networks."
"GL's Network Monitoring and Diagnostic Systems are web-based applications that facilitate display of CDRs by connecting to TDM, Optical, or IP probes through a web server for monitoring physical layer, signaling and traffic. Currently supported protocols include SIP, VoIP (SIGTRAN, SIP, H.323), SS7, ISDN, GSM, TRAU, CAP MAP, IuCS, IuPS, LTE, and GSM A. It is based on a scalable and flexible architecture and is used in conjunction with GL's Protocol Analyzer probes to non-intrusively monitor from one or many testing locations. GL's protocol analysis probes feed data to centralized database (Oracle) in real-time for further analysis. The NetSurveyorWeb™ client application then locally or remotely facilitates to view records from the database using a simple web browser application."
---
Important Enhancements
Voice Quality Metrics

PacketScan™ application is enhanced to record the voice traffic. The Voice Band Analyzer (VBA) application analyze the captured voice traffic and provide the Voice Quality metrics (POLQA), which can be viewed through NetSurveyorWeb™ Lite application.
Delay Measurement

PacketScan™ also works with Delay Measurement tools to analyze captured voice traffic and provide precise one-way delay metrics. For a given call which traverse through Gateway, traffic is sampled at both TDM and IP analyzer at the same point of time running in the same server. These captured segments of SIP and ISDN calls will be saved in *.pcm formats. These samples will be given to delay measurement module which compares the samples based on the timestamp and provides the delay metrics.
PacketScan™ with NetSurveyorWeb™ Lite

PacketScan™ now works with NetSurveyorWeb™ Lite, which provides a historical storage of data (up to 9GB), retrieval, querying, display of Call Detail Records (CDRs), and build custom KPIs (Key Performance Indicators).

Back to Press Releases Index Page