Next-Generation Ethernet, IP Network Monitoring, and Protocol Analysis
Gaithersburg, Maryland, USA - April 17, 2023 - GL Communications Inc., a global leader in telecom test and measurement solutions, addressed the press regarding their advanced network analysis tool - PacketScan™ HD. This network appliance captures and analyzes high-speed Ethernet traffic over a range of network speeds including 1 Gbps, 10 Gbps, 25 Gbps, 40 Gbps, and 100 Gbps. With PacketScan™ HD, network professionals can accurately and effectively examine their network performance, ensuring optimal operations and minimal disruptions.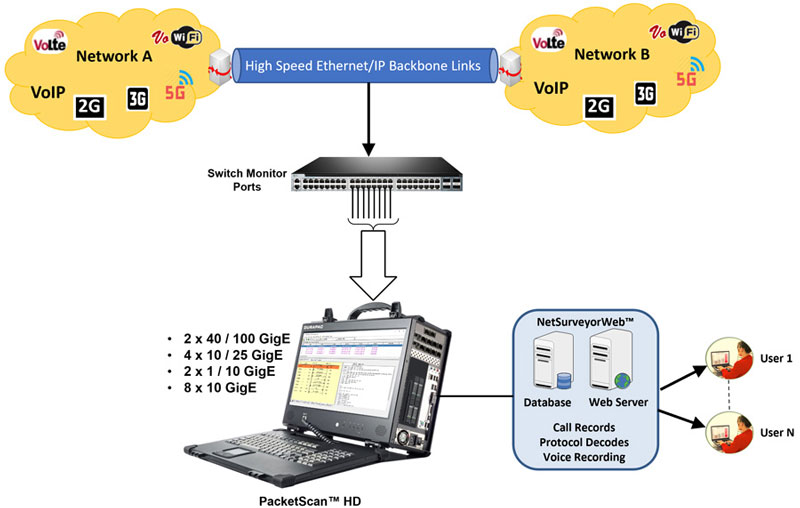 ---
Overview
"GL's PacketScan™ HD is a high-density Ethernet monitoring appliance with specialized network interface cards, large storage capacity and protocol analysis software. Almost all Voice over IP (VoIP) and Wireless protocols over IP can be captured and decoded for troubleshooting network problems. Users can perform lossless packet capture, analyze high speed networks and high-volume simultaneous calls with bidirectional RTP traffic", said Vijay Kulkarni, CEO of GL Communications.
GL's PacketScan™ HD is available in either portable or rack-mount form-factors with smart network interface cards having different Ethernet rates such as 4 x 1 GigE, 2 x 10 GigE, 2 x 40 GigE and 2 x 40 / 2 x 100 GigE variations to capture packets at high speeds.
PacketScan™ HD includes the PacketScan™ software, which captures, segregates, monitors, and gathers statistics on all types of IP calls. It has the ability to decode all VoIP and wireless protocols and provides Quality of Service (QoS) statistics on voice calls. It can also transmit captured data to GL's centralized database and dashboard, known as NetSurveyorWeb™, which offers a user-friendly web browser display for remote access.
GL's PacketScan™ HD 5G Protocol Analyzer can monitor 5G networks. It captures, decodes, and collects statistics over N1N2, N4, N8, N12 and N13 interfaces of the 5G network. The 5G Protocol Analyzer is an optional module that can be acquired within PacketScan™ HD by purchasing additional licensing.
PacketScan™ HD supports the FastRecorder™ and PacketExtractor™ application for wirespeed IP traffic filtering and recording capabilities of up to 320 Gbps directly onto disk for offline filtering, extraction, and analysis. These applications are equipped to support various Ethernet interfaces such as 4 x 1 Gbps or 2 or 4 x 1/10 Gbps or 2 x 25/40/100 or 8 x 10 Gbps Ethernet interfaces.
---
Key Features
Capture IP traffic across high-speed links (1 Gbps, 10 Gbps, 25 Gbps, 40 Gbps, 100 Gbps) without loss
Supports 5G interfaces – N1N2, N4, N8, N12, and N13
Filter traffic of interest based on IP addresses, ports, protocols, and other relevant criteria
Comprehensively analyze VoIP calls and Wireless IP Traffic:

Call Detail Records
Surveillance
Voice quality metrics and other Key Performance Indicators
Long term storage

The portable platform can be taken into the field for network monitoring and analysis
Visualize data using rich graphics, ladder diagrams, call traces, and other informative tools
Automatically establish a connection to a remote database to enable remote monitoring
Filter and search through packets based on the following criteria:

IPv4 and IPv6 address range or mask
GTP (Inner UDP, Inner TCP, and SCTP fields)
IP address list and IP address pair for Inner, Outer, and Inner/Outer

Supports wirespeed hardware filtering and nanosecond timestamping
Supports the filtering of multi-layer tunneled traffic including GTP, GRE, and VXLAN
Users can create their own filters to focus on traffic of interest
---
Real-Time Applications
PacketScan™ HD has a wide range of real-time applications that can be beneficial for network service providers, security professionals, and VoIP engineers. Here are some examples:
Network Monitoring: PacketScan™ HD can monitor network traffic in real-time and provide detailed information about the network's health. It can detect network anomalies and bottlenecks
Troubleshooting: PacketScan™ HD can be used to troubleshoot network problems quickly and accurately. It can capture and analyze network traffic to identify the cause of issues
VoIP Analysis: PacketScan™ HD can capture and analyze VoIP traffic in real-time, providing valuable insights into the quality and performance of voice calls. It can help engineers identify and troubleshoot issues related to jitter, latency, packet loss, and other quality-of-service (QoS) issues

Back to Press Releases Index Page