Strip Chart with Real-time Signaling
and PCM data Transitions
Real-time Strip-Chart application is included with T1 E1 Basic Software
Overview
The Real-time Stripchart application software (XX024) is used for analysis of CAS signaling. The application works with all GL's T1 E1 analyzers. The Stripchart enables non-intrusive capturing of PCM data and signaling, and subsequent plotting of the same onto a strip chart format. The application is perfect for CAS protocols, DTMF or MF Signaling, or other voice and signaling timing relationships. Now, Real-time Stripchart (xx024) is available as a part of T1 E1 analyzer basic applications.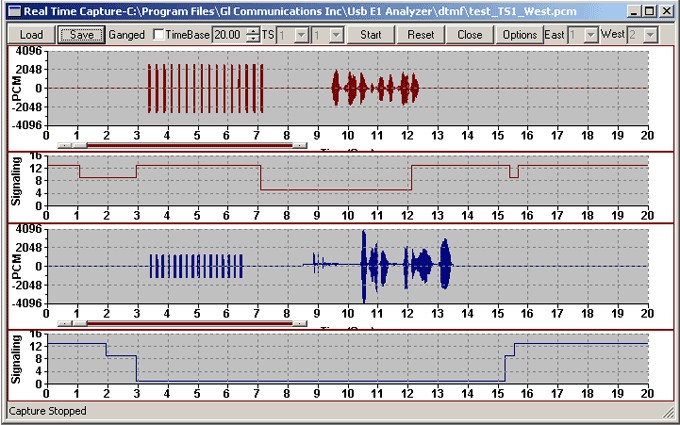 ---
Strip-Chart Main Features:
Compatible with Windows® 7 and above Operating Systems
Supports Real-time capturing and off-line analysis of PCM Data as well as Signaling
Enables the user to view data graphically with exact transition of signals with time
Ability to capture PCM and signaling data on any of user-specified time slot
Grid based Canvas / Background display enabling ease of locating / reading data points.
Option to choose specific T1/E1 ports in case of more than two port systems
Loading of previously captured PCM and Signaling files, for off-line viewing
Zoom-in and Zoom-Out of data based on the time-base settings. The time base varies between 0.01 till 25. Easy Intermediate zooming features without resetting to zero.
Monitoring of "Available Bytes" & "Missed Bytes" in Real-time Capture, enabling the user to quickly check the data missed, if any at the time of capture
Selection of Timer Interval to set capture rate for data
Ganged option synchronizes (both PCM & Signaling) data on the graphic display
Automated naming convention for saving PCM and Signaling file based on timeslots for loading the captured files in the appropriate timeslots
Chooses Signaling file automatically (for E1s) based on the name of the PCM files
Appends data between successive captures
---
Real-time Strip Chart Configuration
The Card parameters set at the main GUI are global and applicable to the Strip-Chart application. At any given point of time, data (PCM & Signaling ) can be captured from a maximum of any two T1/E1 ports.
The user can set the timer interval (in msec) which controls the capture rate, and also select the port numbers (for more than a two port system) and a time slot for each port.

---
Real-time Capture
Upon invoking the Strip-Chart application, the application window is displayed in Real Time mode. "Start" button toggles between "Start" and "Stop". The ongoing capturing process can be seen at the Status Bar in the form of total captured bytes (for both East & West Cards).
Once the Real-time capture is stopped, the Data captured can be viewed and also saved for further analysis and viewing. The Time Base control acts as a Zoom-In and Zoom-Out feature for the Strips.
---
Offline Viewing of Captured Data
The previously captured PCM data along with corresponding Signaling information can be viewed in this mode. Load button when invoked, brings the file-selection dialogue, where the user can choose the files to be loaded for offline analysis. Incase of E1 systems, when the user chooses PCM files, the corresponding Signaling files automatically get picked up and displayed. The Ganged feature can be used to keep all the charts in Synchronization on Time scale.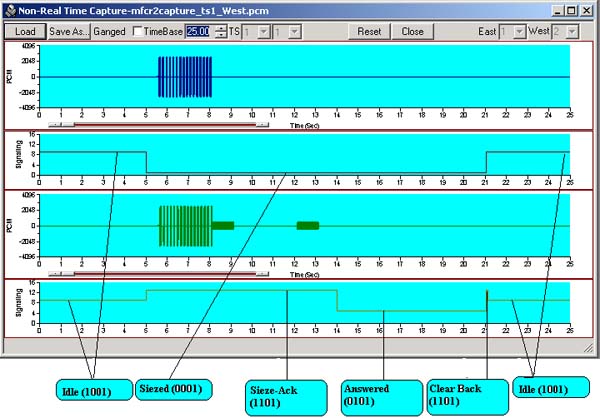 ---
MFC-R2 Analysis and Emulation
GL's MFCR2 Analysis & Emulation solutions use any of the following hardware:
T1E1 Analyzer (Potable USB or HD PCI cards) Or
MAPS™ Central Office Switching Simulation (PSTN, TDM, IP Networks)
Both the products supports remote capture & analysis using client-server technology,while MAPS™ Central Office is ideal for simulating and testing advanced telecom networks and products, including switches, gateways, and transmission systems.
---
Resources:
Please Note: The XX in the Item No. refers to the hardware platform, listed at the bottom of the Buyer's Guide, which the software will be running on. Therefore, XX can either be ETA or EEA (Octal/Quad Boards), PTA or PEA (tProbe Units), UTA or UEA (USB Units), HUT or HUE (Universal Cards), and HDT or HDE (HD cards) depending upon the hardware.
* Specifications and features subject to change without notice.
---

Back to List of T1E1 Basic and Optional Applications Index Page