Newsletter: GL Announces T1E1 Quad & Octal Analysis & Emulation Hardware
Welcome to a February 2012 issue of GL Communications' Newsletter providing information and insight into our latest T1 E1 Quad and Octal Analysis and Emulation Boards.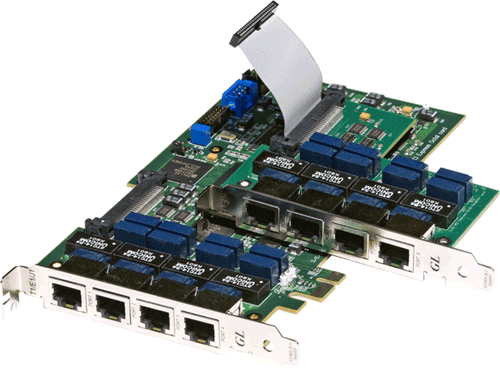 Overview
GL's Octal & Quad T1 E1 boards are high-density boards that provide Four (4) or Eight (8) RJ-48 T1 E1 ports and multiples thereof. For example, configurations of 8, 12, 16, …64 T1 E1s in a single rack are possible.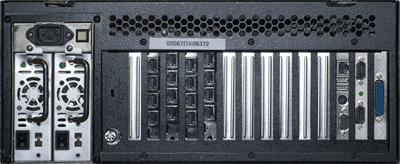 Important Applications / Features:
T1 or E1 interfacing – Software Selectable


TDM, ISDN, SS7 – High Density Voice


VoIP, Frame Relay, Multi-Link Frame Relay, PPP, IMA, and Multi-Link PPP, HDLC


Most all "special applications" are available for Quad and Octal T1 E1 cards


Call Recording, Generation, and Monitoring for hundreds to thousands of calls in one platform


Windows® and Linux Drivers for Open Source Applications


Media (VoIP) Gateway, IP PBX, and IVR Applications i.e. Asterisk (TM)


Router with Multi T1 E1 WAN Interfaces i.e. ML-PPP (Multi Link PPP)


PCI Express x1 Lane/Board


"Cross-Port Through" and "Cross-Port Transmit" Modes – these configurations make cabling with Drop/Insert and Fail-Safe Inline Monitoring very easy


High Density and High Speed – The boards (with Direct Memory Access) are significantly faster and significantly more efficient


Octal boards are compatible with dual, quad, and higher core motherboards and software that simulate dual and quad cores (hyper-threading)
The cards are available with user-friendly GUI for Windows® XP and Windows® 7 operating systems with support for almost all existing T1 E1 Analyzer applications including Comprehensive Analysis / Emulation of Voice, Data, Protocol, Digital, and Echo Testing.
Comparison and advantages of the new Quad and Octal Cards over Dual T1 E1 Universal Cards are given in the following table.
Feature
Universal Dual T1 E1 Boards
Quad, Octal T1 E1 Boards
Number of Ports
2
4, 8
PCI Slot Type
Uses a PCI Bus / Connector
Uses a PCI Express x1 Bus / Connector
Output Frequency Offset
Each port can be individually set with an output frequency offset
A single frequency offset which is applied to all 8 ports
Pulse Mask Application
Supported
Not Supported
Jitter Measurement
Supported
Not Supported
External Clock Mode
Supported
No clock port connector
VF Drop and Insert
Supported
No VF connectors;
Digital Drop/Insert supported
Speaker (on board)
Supported
No speakers
For the comprehensive information on the hardware, you can refer to Octal & Quad T1 E1 Analysis and Emulation Hardware web page.

Back to Latest News Page