Newsletter: GL Announces PacketShark™
(GbE Packet Capture, Filter & Aggregation Tap)
Welcome to another August 2012 issue of GL Communications' Newsletter providing information and insight into our product PacketShark™ - Handheld hardware that can tap packet networks and capture Ethernet packets at wire speed.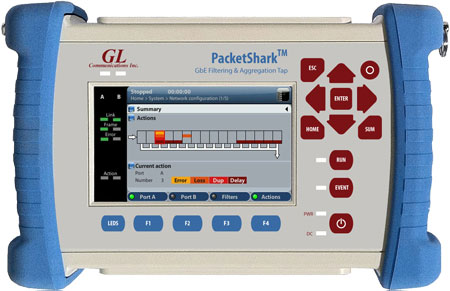 Overview
GL's PacketShark™ is a portable product that can tap packet networks and capture Ethernet packets at wire speed, i.e., in optical or electrical interfaces up to 1 Gb/s and selectively filter the captured traffic based on specified criteria. Packets are transmitted through two ports and the packets that are traffic compliant with one of the filters is sent to a packet analyzer, such as Wireshark or GL's PacketScan™ for detailed packet analysis. Alternatively, the traffic can be even sent to a memory card (SD) and later analyzed offline.

PacketShark™ is an invaluable tool for on-field simultaneous capturing from two interfaces, analyzing 100% streams without any delays, and filtering/aggregating required packet streams at wire speed.

PacketShark™ overcomes most of the limitations of protocol analyzers running on Laptops or PCs that are too slow to capture live Full Duplex traffic at wire speed. It is generally preferred over "mirror" ports and traditional "taps" in providing aggregated traffic output and mobility. It supports all the features of high-end taps in a small, battery operated instrument, weighing less than 1.2 kg, and providing mobility and storage capacity to reach any point in the network. It provides INSTANT ON features - no PC required.
Applications
Proactive monitoring of IP services
Monitor complex, distributed networks supporting the voice and data services
Useful for Lawful Interception by Government Agencies or Intelligence Agencies as PacketShark™ does not have a physical or logical address
Intrusion Detection System (IDS) - Monitor network and/or system activities for malicious activities
Ideal for experts working in ISP, VoIP, IPTV, IDS, Sniff, R&D, Lawful, Security Services
Main Features
Ability to capture packets at any point of the Network
Wirespeed filtering with zero loss and zero delay - Equipped with a unique Zero Delay technology that ensures every packet goes through without delay (even if power is lost)
Capture in the field and analyze in the office - Field storage of captured data using an external storage device (SD memory card) in PCAP format.
Copy and forward matching packets to the drop LAN.
Traffic and Signal Regeneration
Sixteen (16) simultaneous filters can be applied to the traffic.
Firmware filters to identify traffic MAC, IP, UDP or TCP flow.
Centralized or distributed deployment
Jitter-less time stamps
Invisible when connected (Undetectable): no IP no MAC
Improves efficiency and the performance of the protocol analyzer by adding mobility, capture filters and local storage
Erred frames, fundamental feature for troubleshooting: FCS, runts, fragments, etc
For comprehensive information on the applications, please refer to
PacketShark™
web page.

Back to Latest News Page