Newsletter: GL Enhances PacketScan™ with IP Video Call Capture and Analysis Capability
Welcome to the February issue of GL Communications' Newsletter. Now, the "V" in VoIP can be for "Voice" or "Video" with newly added IP Video Call Capture and Analysis capability in GL's PacketScan™.
Overview Of the Application
PacketScan™ is a real-time VoIP analyzer that monitors and captures live voice and video IP traffic with associated call signaling. Hundreds of calls can be be monitored in real-time with detailed analysis of selected voice and video streams being supported. Applications include testing of IP voice and video phones, IP / TDM Gateways, IP Routers and Switches, and SIP Proxies. Users can perform analysis in real-time or on captured calls with various QOS (quality of service) metrics.
The voice features of PacketScan™ include live listening, analysis, and recording; power, frequency, and spectral analysis, and tone and digit analysis. Detailed call statistics such as packet loss, gap, jitter, delay, RTP performance statistics, and many other voice band statistics can be monitored simultaneously. Sophisticated filters permit zooming and recording of specific calls of interest. Video sessions can be captured and replayed (in QuickTime *.qt format).
PacketScan™ can collect vital statistics about calls for theoretically an infinite time limited only by the hard disk capacity of the PC or network drive.
New Video Features - Record and Playback Video
This feature allows the user to record audio and video data of a video session to a file in QuickTime format. PacketScan™ can monitor video calls and display both audio and video RTP streams in summary view. Video calls will be marked with symbol "V" at the left corner as shown in the figure below.

The SIP/Auto Detected RTP video call can be recorded to a file in QuickTime format (*.qt) by selecting 'Record Video' option. PacketScan™ may be installed in either end of the system to record the video data as depicted in the figure below.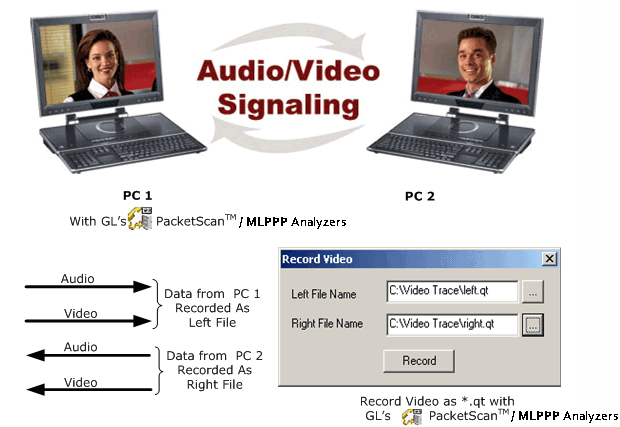 The recorded video data in Quick Time Format (*.qt) can be viewed by VLC Viewer (3rd party application). It is available for both Auto Detected RTP Calls and SIP Calls. Supported Video Codecs are:
H263+
H263++ CIF 190 kbps
H263++ CIF 350 kbps
H263++ CIF 512 kbps
H263++ QCIF 128 kbps
H263++ QCIF 64 kbps
H263++ QCIF 80 kbps
And more supported codecs are in the pipeline.
H.263 - is a video codec designed by the ITU-T as a low-bit rate encoding solution for videoconferencing.
QCIF - Quarter Common Intermediate Format, a videoconferencing format that specifies data rates of 30 frames per second (fps), with each frame containing 144 lines and 176 pixels per line.
CIF - A video format used in videoconferencing systems that specifies a data rate of 30 frames per second (fps), with each frame containing 288 lines and 352 pixels per line.
Other Important Features Of PacketScan™ Application
Monitor progress of up to 500+ simultaneous calls with bi-directional RTP traffic.
Supports SIP (SIP Session Initiation Protocol RFC 2543 and 3261), Megaco3525, Megaco3015, MGCP, and H323 protocols.
Supports decoding of MAC, IP, SIP, UDP, TCP, RTP, & RTCP Protocols.
Call Capturing based on Call Agents or Trigger Actions such as MOS, packet loss, latency, or called / calling numbers.
Voice codecs supported include G726_40 (40kbps), G726_32 (32kbps), G726_24 (24kbps) , G726_16 (16kbps) , GSM (13.2kbps) , G729 (8kbps) , G729B (8kbps), AMR , ILBC_15_2 (for 20 msec), SPEEX, EVRC* (Rates -1/8, ½ and 1), SMV* (Modes - 0, 1, 2 and 3), ILBC_13_33 (for 30 msec),more are coming.
Video codecs supported include H.263+ providing video capture and videoconference monitoring capability.
For additional features please click here.

Back to Latest News Page