Press Release: GL Communications Enhanced PacketScan™ with Non-Intrusive Voice Quality Measurement Capability
Gaithersburg, Maryland, USA - September 19th, 2005 - GL Communications Inc, today announced the release of their VoIP Testing Product, PacketScan™ with enhanced features for non-intrusive voice quality measurements based on E-Model. Other features added include dynamic payload mapping, H.323 call analysis and improved reports.
PacketScan™ is a PC-based real-time VoIP testing tool that can accurately assess voice quality. It can monitor hundreds of calls in real-time including detailed analysis of selected voiceband streams. The supported codecs include, G.729ab, G.726 (40, 32, 24, 16 kbps), G.711 (alaw, ulaw), GSM, AMR, EVRC, SMV, FR, EFR, iLBC, Speex, and many others.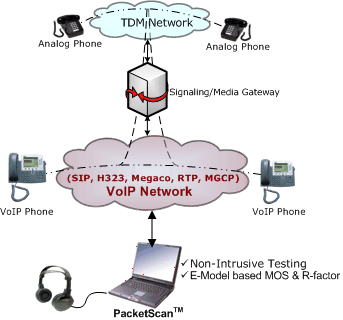 PacketScan™ provides the following enhancements:
Quality of Service (QOS) using E-Model: PacketScan™ now reports R-factor and MOS, along with delay, jitter, and gap for every RTP stream that is captured. Listening and Conversational Quality (MOS-LQ & MOS-CQ) scores are also reported. Error alerts are automated using built-in user-defined score thresholds. These enhancements, combined with all other existing features, continue to make PacketScan™ the leading product for voiceband analysis of VoIP networks.


Dynamic Payload Mapping: This feature enables users to assign codec types to RTP streams having dynamic payloads. This is useful while analyzing RTP streams that may be established using proprietary signaling protocols.


H.323 Call Analysis: PPacketScan™can now analyze H.323 calls. All features and statistics that have been supported with SIP are now available for H.323.


PacketScan™, PacketGen™, and RTP Toolbox™ are GL's flagship products for comprehensive test and measurement of VoIP networks, components, and equipment.
About GL Communications Inc
Founded in 1986, GL Communications Inc. is a leading supplier of rigorous, PC and Laptop-based test, analysis, and simulation equipment to the telecommunications industry. The company offers a wide range of products and services designed to aid telecommunications engineers working in research and development as well as those responsible for operations and ongoing quality assurance.
Contact:

Shelley Sharma
Phone: 301-670-4784 ext. 114
E-mail: info@gl.com

Back to Press Releases Index Page