Newsletter: GL's Packetscan™ adds E-model
Voice Quality Measurement
Welcome to the August issue of GL Communications' Newsletter providing information about latest enhancements to our product, PacketScan™. GL has added non-intrusive voice quality measurement and other enhancements to PacketScan™, a comprehensive VoIP analysis tool.
Voice transmission over packet networks continue to present challenging quality of service issues - including echo, latency (jitter), voice clipping, and impairments due to lost or jittered packets. These problems are exacerbated even further during high loads or high degrees of voice compression, ultimately causing voice quality to deteriorate. A non-intrusive tool to accurately assess voice quality would be invaluable.
Quality of Service (QOS) using E-Model
E-Model (ITU recommendation G.107) is a powerful and repeatable way of assessing the voice quality within VoIP networks. Traditional methods of measuring voice quality required an intrusive approach, where a reference signal is passed through the network and the degraded signal is received at the other end of the network. These signals are then compared using complex algorithms and a resultant Mean Opinion Score (MOS) is obtained.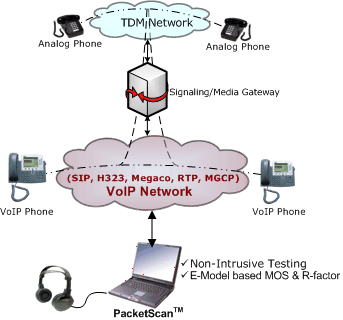 The E-Model's approach is non-intrusive; an intrusive reference signal is not required, nor is capture of the corresponding degraded signal. MOS measurements are possible on live traffic anywhere in the call path. The E-Model's output is referred to as the "R factor", which is a numeric value that ranges from 0 to 100. The R factor is then correlated to a MOS, based on a few network variables.
GL's PacketScan™ now reports R-factor and MOS, along with delay, jitter, and gap for every RTP stream that is captured. Listening and Conversational Quality (MOS-LQ & MOS-CQ) scores are also reported. Error alerts are automated using built-in user-defined score thresholds. These enhancements, combined with all other existing features, continue to make PacketScan™ the leading product for voiceband analysis of VoIP networks.
Other latest enhancements to PacketScan™:
Dynamic Payload Mapping - This feature enables users to assign codec types to RTP streams having dynamic payloads. This is useful while analyzing RTP streams that may be established using proprietary signalling protocols.



H.323 Call Analysis - PacketScan™ can now analyse H.323 calls. All features and statistics that have been supported with SIP are now available for H.323.
Analysis Features
Real-time VoIP analyzer that runs on a standard PC with a NIC card.


Simple easy-to-use interface structured for VoIP call analysis.


Invaluable tool for testing IP phones, Gateways, IP Routers and Switches, and Proxies.


Hundreds of calls can be monitored in real-time including detailed analysis of selected voiceband streams.


Detailed call statistics, call trace, RTP performance statistics, and unparalleled voiceband statistics can be viewed simultaneously.


Perform power, frequency, spectral, tone and digit analysis with ease and precision.


Listen/Record Audio with or without jitter buffer.


QOS statistics are also gathered such as packet loss, gap, jitter, and delay.


Sophisticated filters permit zooming and recording of specific calls of interest.


Real-time recording, listening, and visualization.


Codecs supported: G.729ab, G.726 (40, 32, 24, 16 kbps), G.711 (alaw, ulaw), GSM, AMR, EVRC, SMV, FR, EFR, iLBC, Speex, etc.


Monitor and Analyze DTMF/MF/Tones.


RFC-2833 compliant - Detect all events.


Automatically Detects RTP Traffic in the network.


Provide quick reference to overall VoIP network health in terms of jitter, packet loss, duplicate packets, etc.


User-specified Pass/Fail criteria for calls.


Please refer to PacketScan™ web link for further details.

Back to Latest News Page