Newsletter: GL Releases PacketProbe™
A CPE Based VoIP Monitoring Solution
GL's PacketProbe™ is an advanced CPE(Customer Premises Equipment) based VoIP monitoring reporting and diagnostic appliance, stemming from GLís suite of market leading voice analysis tools. It can fit seamlessly into any existing standards based management or reporting environment, such as SNMP or RADIUS. PacketProbes™ can provide vital voice call quality statistics, Call Detail Records and Quality of Service metrics at the end of each call. Optionally, GL offers its own Monitoring and Reporting System, PacketScanWeb™.
PacketProbe™ can be used to ensure successful deployments, and can also be used to help with network design, ensuring that the most efficient topologies are implemented. Additionally, PacketProbe™ can be used for ongoing network management to allow for maximum customer uptime and to allow the Service Provider to meet or exceed their Service Level Guarantee.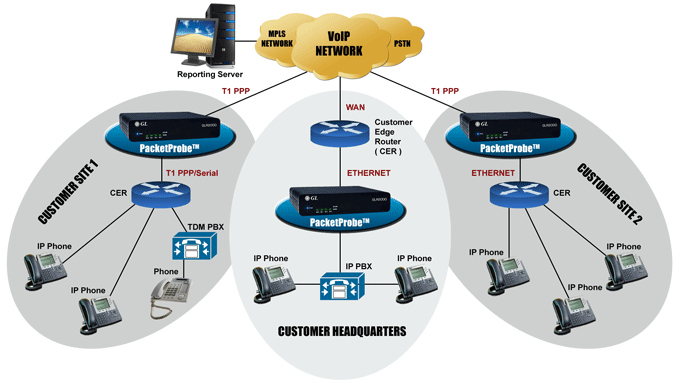 Deployment Scenarios
PacketProbe™ can be integrated into an intelligent third-party network device, like a router for example, or it may be deployed as a stand-alone appliance. As a stand-alone applicance PacketProbe is completely transparent to your existing network and is able to interface with WAN or LAN. It can even function as the demark point between WAN and LAN. In any scenario it passively monitors VoIP traffic and produces real-time per call and per-stream voice quality metrics necessary for network administrators to isolate and diagnose voice quality problems.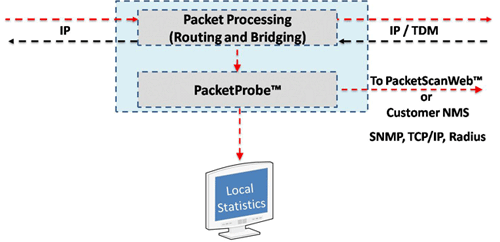 Inline PacketProbe™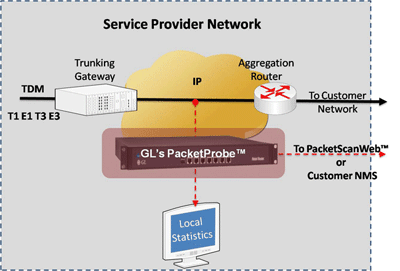 Standalone PacketProbe™
Real-time Monitoring and Reporting
PacketProbe™
is able to report said metrics to a local console or to a centralized database via industry standard protocols like TCP/IP, SNMP, and RADIUS. A Network Management System (NMS) like GLís PacketScanWeb™ would then allow many simultaneous users to read and query the database using a conventional web browser. Multiple PacketProbes™ coupled with GLís
PacketScanWeb™
can provide complete and immediate network-wide voice quality visibility.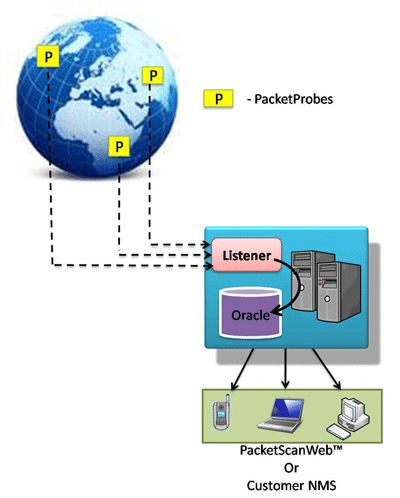 Main Features:
Reports Call Detail Records (CDR) and Quality metrics per call/stream, including:



Call summary statistics including caller number, callee number, start time, duration, etc.


Listening and Conversational Quality Mean Opinion Score (MOS-LQ, MOS-CQ)


Listening and Conversational R factors (R-LQ, R-CQ)


R-factors for burst and gap conditions Ė R-Burst, R-Gap


For narrowband and wideband voice - R and MOS Scores


Degradation factors - % degradation due to loss, discard, delay, gap, jitter, and codecs


Lost, Discarded, Out-of-sequence, Duplicate packet statistics


Round Trip Delay (RTD) statistics


Codec and SSRC identification


Packet Ė Packet Delay Variation (PPDV - RFC3550), Mean Absolute Packet Delay Variation (MAPDV - G.1020) and Y.1540 Jitter Metrics



Reports CDR with Quality Metrics for each stream


Automatically detects active VoIP calls based on VoIP call signaling or RTP session. Supports SIP, MGCP, MEGACO, H.323/H.255


Distributed network architecture


Call Quality analysis using optimized ITU-T G.107 with ETSI TS 101 329-5 Annex E


Supports Japanese TTC JJ201.01 VoIP monitoring requirements


CODECís supported include G.711, G.723, G.726, G.728, G.722.x, G.729A, G.729B, GSM, FR etc
For comprehensive information on the products, please visit: PacketProbe™ or PacketScanWeb™ webpages.

Back to Latest News Page