Newsletter: GL Announces PacketExpert™
A Wirespeed Ethernet/Packet Tester
Welcome to another August, 2010 issue of GL Communications' newsletter providing information and insight into our newest product PacketExpert™ – A Quad port wirespeed Ethernet/Packet Tester.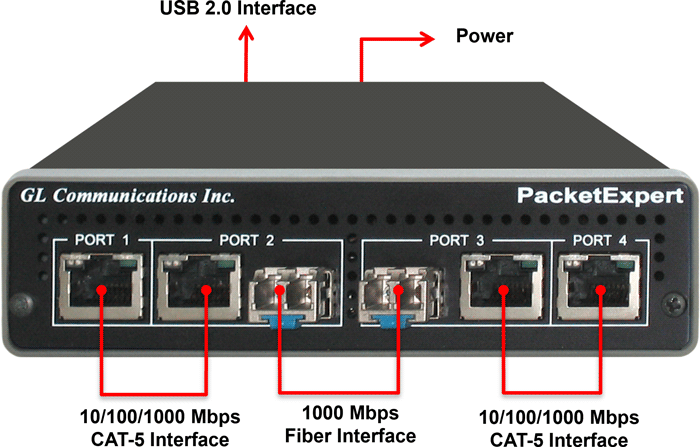 Overview
PacketExpert™ is a quad port wirespeed Ethernet/Packet Tester. It supports 4 Gigabit Ethernet ports and connects to the PC through a USB 2.0 interface. Each GigE port provides independent Ethernet/IP testing at wirespeed for applications such as BERT, RFC 2544, and many more.
PacketExpert™ truly takes confusion out of Ethernet testing at all protocol layers - from raw Ethernet to IP/UDP packets. It can be used as a general purpose Ethernet performance analysis for 10/100 Mbps or 1 Gbps Ethernet local area networks. Two of the 4 ports have both Electrical and Optical interfaces, enabling testing on optical fiber links also.

Ethernet BER Testing
A BERT application measures Bit Error Rate on Raw unframed Ethernet (Layer1), framed Ethernet (Layer2), IP and UDP data streams. Various PRBS patterns such as 29-1, 211-1, 215-1, 220-1, 223-1, 229-1, 231-1 are supported. Also All Ones, All Zeroes, Alternate Ones and Zeroes patterns are provided as well as user-defined test patterns ranging from 1 bit to 32 bits.
PacketExpert™ supports user-defined options to configure Ethernet/IP/UDP header parameters, including VLAN, Frame Size, and Rate.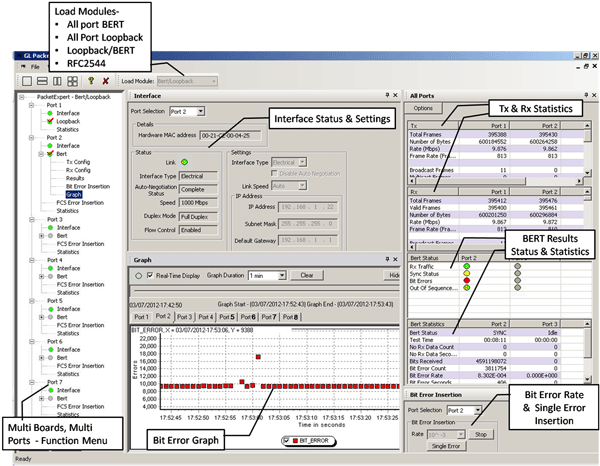 BERT Results (LEDs) and Graph
Optional sequence number insertion allows measuring out-of-sequence packets. Detailed BERT statistics like the Bit Error Count, Bit Error Rate, Bit Error Seconds etc., are provided. Bit Error Count is displayed in both Tabular and Graphical formats.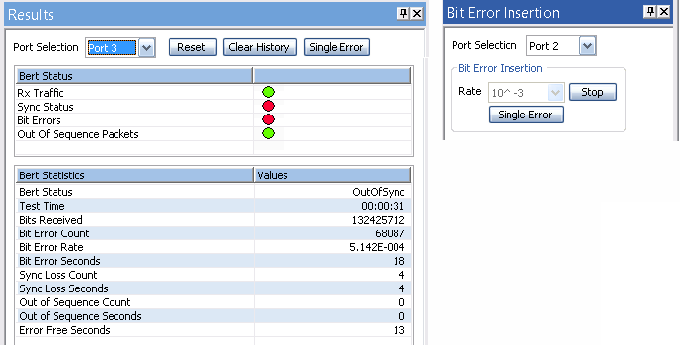 RFC 2544 Testing
Per RFC 2544 specifications, PacketExpert supports Throughput, Latency, Frame Loss Rate, and Back-to-Back tests. It includes various parameter configurations such as Test Selection, Frame Sizes, Unidirectional/Bidirectional, Number of trials, Trial Duration, and many more. User-defined options to configure various packet header parameters, like MAC addresses, IP addresses, UDP ports etc. Results are displayed in both tabular as well as graph format.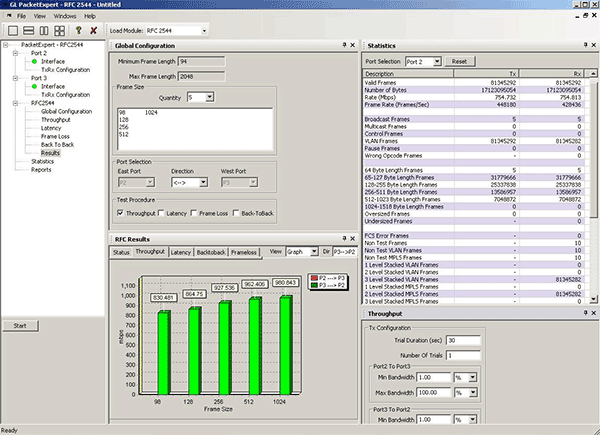 RFC Results
Details of RFC results are provided in graphical format below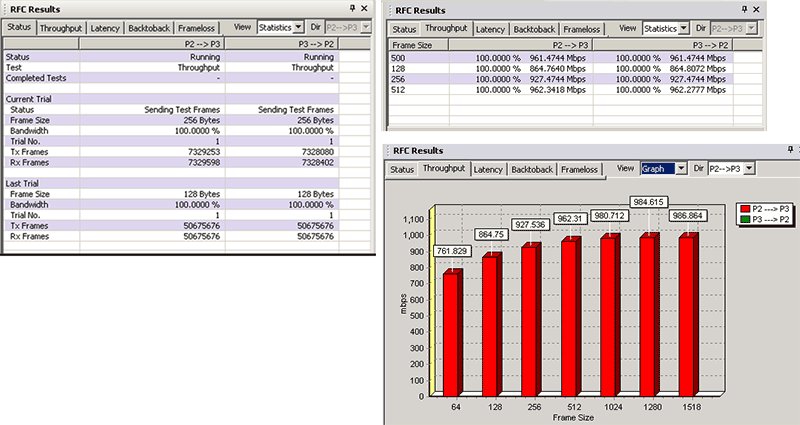 Important Features
Quad port Gigabit Ethernet tester, generate/receive Ethernet traffic at wirespeed.


Wirespeed BERT over Raw unframed Ethernet (Layer1), Framed Ethernet (Layer2), IP and UDP on only one port


Bidirectional RFC 2544 – Throughput, Latency, Frame Loss Rate and Back-to-Back tests on 2 ports.


BERT – supported PRBS patterns are 29-1, 211-1, 215-1, 220-1, 223-1, 229-1, 231-1 and User Defined test patterns ranging between 1 to 32 bits


Bit Error Insertion for both single as well as Rate Error


Generates detailed reports in PDF format for both BERT and RFC 2544


Portability through a USB 2.0 Interface


2 ports have Electrical and optical interfaces. User option provided to switch from electrical to optical and vice versa.


Electrical ports can operate in 10/100/1000 Mbps speed and Optical Ports can operate in 1000 Mbps speed


Detailed frame statistics per port.


Loopback capability for incoming traffic. Both smart loopback (auto loopback) and user-defined loopback capability supported.


Capability to generate/respond to ARP requests, making it easy to work with Routers


Frame lengths from 64 bytes to 1518 bytes, Jumbo frames also supported


Capability to modify various header parameters for MAC, IP and UDP layers. VLAN also supported.


Option to insert sequence number to measure Out Of Sequence Packets and packet loss.
Hardware Interfaces
Interfaces:

2 x 10/100/1000 Base-T Electrical only
2 x 1000 Base-X Optical OR 10/100/1000 Base-T Electrical
Single Mode or Multi Mode Fiber SFP support with LC connector



Standards:
Interface:
Power:
For comprehensive information on the product, please visit PacketExpert™ web page.

Back to Latest News Page