Newsletter: PacketScan™ - Comprehensive IP Analyzer
Welcome to a July 2013 issue of GL Communications' Newsletter providing information on our enhanced PacketScan™ software, a comprehensive IP Analyzer for voice, video, fax, data, and signaling.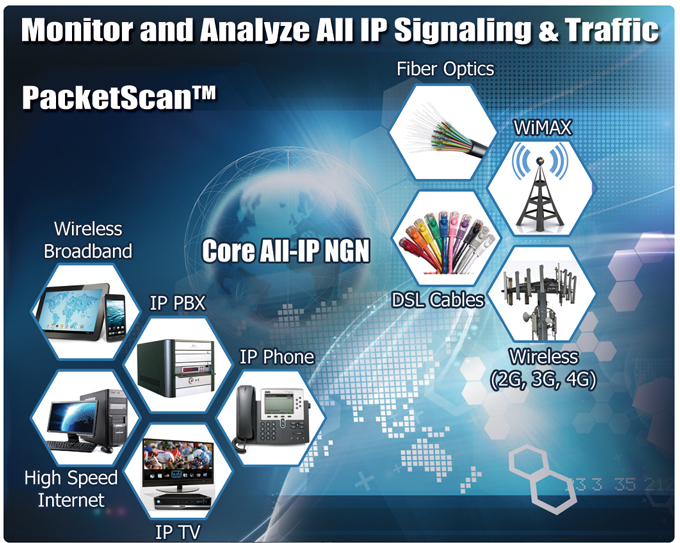 Overview
All carriers are rolling out services, including voice, video, fax, and data via packet networks. There is need for a single tool that provides comprehensive analysis and monitoring capabilities - whether for VoIP, FoIP (Fax over IP), video, or wired and wireless traffic and signaling. Also, if such a tool provides Quality of Service (QoS) and centralized Network Surveillance Solutions with multiple Probe locations, then customers are afforded a one stop solution for performance analysis of their IP networks.

GL's PacketScan™ and PacketScanWeb™ have been enhanced to provide integrated and comprehensive All IP Network Analysis and Monitoring Solutions. PacketScan™ is a powerful software tool that captures and monitors live signaling and traffic over IP (IPv4 and IPv6). It captures, segregates, monitors and collects statistics on all IP calls. Almost all protocols over IP transport layer, as listed below, can be captured and decoded for troubleshooting network problems.
SIP, SIP-I, SIP-T, H323, MEGACO, MGCP
Diameter
LTE S1, X2,and eGTP
SIGTRAN - SS7, ISDN
GSM A over IP
GPRS Gb and Gn over IP
UMTS IuPS and IuCs over IP
All traffic supported - Digits, Tones, Voice, Video, Fax


All IP Protocols Supported
Thousands of calls can be monitored in real-time including detailed analysis of selected voice band streams. Applications include testing of IP phones, Gateways, IP Routers, Switches, and Proxies. Users can listen/record audio and video data of a session in real-time; perform power, frequency, spectral, tone and digit analysis, and video analysis with ease and precision; get an exact picture of QoS (quality of the service).

PacketScanWeb™ is a centralized VoIP network monitoring system. A PacketScanWeb™ server is deployed in a central location along with an Oracle® database. A number of GL's PacketScan™ probes and/or, PacketProbes™ are deployed in remote locations across the network to passively monitor VoIP traffic. Whenever a monitored call completes, the scan/probe calculates a variety of quality metrics (MOS, loss, delay, jitter, etc) and sends the metrics to the central Oracle database for storage.
Important Enhancements
The PacketScan™ is now an "All IP" protocol analyzer. It includes protocol decode support for all protocols transported over IP.


A list of "All IP" Supported protocol stacks


Enhanced PacketScan™ architecture permits monitoring up to 2000 simultaneous calls in core i7 machines


Enhanced call analysis capability using Microsoft® Excel® Addins. The custom Excel® addin can import PacketScan™ call summary reports (CSV format) and provides detailed graphs for any metrics such as LMOS, CMOS, R-Factor, Lost Frames etc.


The PacketScan™ also offers enhanced HDL File Conversion Utility to convert ethereal (Wireshark) format files (*.PCAP, *.CAP, and *.PCAPNG) to GL's file format (*.HDL) and vice-versa. The utility can also automatically detect the format of the source PCAP files whether it is captured on Linux or Windows® and converts accordingly to HDL file.


One can also generate reports of captured Calls Summary in PDF format in packet analysis. The statistics included in the report are:



Calls per second
Signalling frames count for each call
Total timed out calls
Total force closed calls
Total discarded RTP packets
Percentage value displayed for discarded, lost, out of order and duplicate packets
Call initiated time, Call established time



The enhanced application provides graphical presentation of analysis including ladder diagrams of protocols
Other Features Include
Search for "Calls of Interest" - GL's Call Data Records (CDR) application uses the per call data from PacketScan™ and Voice Band Analyzer (VBA) analytics to provide useful call detail records for further analysis using Excel®. The application triggers on all calls and generate comprehensive call detail reports along with audio files. The audio files are processed using VBA to measure actual analog voice parameters such as Active Speech Level (ASL), Noise Level, Activity Factor (AF), and RMS power. User can analyze CSV reports generated from CDR application using built in tools included with Excel. The records can be filtered using Advanced Filter in Excel® tool based on signaling, or various measurements to generate reports of "calls of interest". The voice files of these calls can be either downloaded, or played back using Goldwave® or any audio program.


Powerful Triggers and Action feature provides options to save a set of Call Detail Records for each call containing the signaling, RTP packet statistics, and Mean Opinion Score (MOS) / R-factor scores along with the actual recorded audio file of the call for complete and comprehensive analysis of troubled calls.


The PacketScan™ can be configured to automatically start monitoring traffic with pre-defined filters, trigger actions, and parameters. This also includes automatically connecting to a remote database for PacketScanWeb™ applications. This can be useful in remote monitoring applications where a laptop can be setup and configured for plug-n-play testing.
For comprehensive information on the enhanced application, please refer to our
PacketScan™
webpage.

Back to Latest News Page