eCPRI Protocol Analysis Tool for Enhanced Monitoring and Analysis
GL is pleased to announce the latest edition of our Newsletter, which provides valuable insights into our Enhanced Common Public Radio Interface (eCPRI) protocol analysis tool. The eCPRI tool can perform unlimited wirespeed capturing of eCPRI traffic up to the hard drive limit. With this tool, users can effectively monitor and analyze eCPRI traffic while verifying the interoperability, latency, and reliability of the fronthaul transport interface.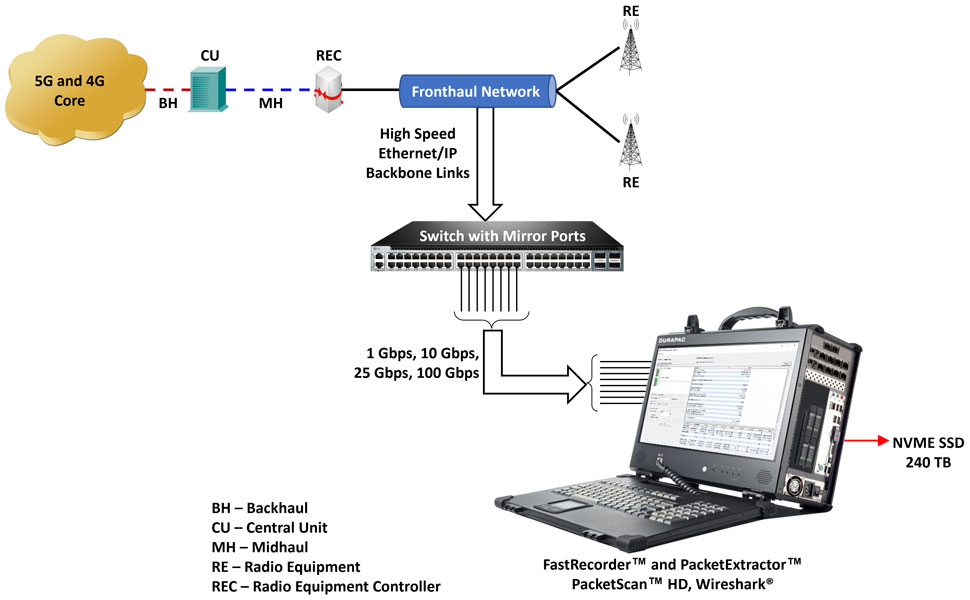 Overview
eCPRI is an industry collaboration with the objective of establishing publicly accessible specifications for the critical internal interface of radio base stations. This interface, known as eCPRI, connects the eCPRI Radio Equipment Control (eREC) and eCPRI Radio Equipment (eRE) via the Fronthaul Transport Network. Fronthaul networks are required to adhere to rigorous standards of high data rates, reliability, and low latency. The eCPRI protocol can be transmitted over UDP or MAC layers. It encompasses various services, including User Data, Real-time Control, and other eCPRI services.
GL's eCPRI protocol analysis powerful solution is designed to analyze and monitor eCPRI traffic. Users can analyze and generate statistics on various eCPRI message types. These message types include IQ Data, Bit Sequence, Generic Data Transfer, Remote Memory Access, One-way Delay Measurement, Remote Reset, and Event Indication. Furthermore, the tool offers support for monitoring eCPRI traffic, allowing for the detection and analysis of packet impairments like Missed Packets, Out of Order, Duplicate Packets, and One-Way Delay, among others.
GL's FastRecorder™ and PacketExtractor™ solutions have been enhanced to capture and extract eCPRI traffic. In addition, the high-density Ethernet monitoring appliance, PacketScan™ HD, also offers decoding, monitoring, and analysis capabilities for the eCPRI protocol.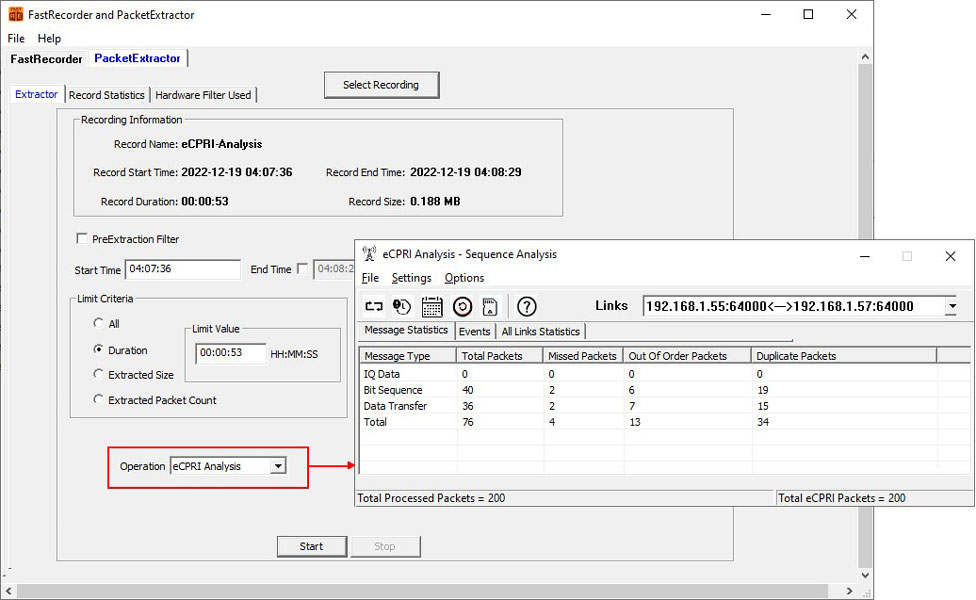 ---
Key Features
Monitor and decode eCPRI traffic to identify packet impairments, such as Missed Packets, Out of Order Packets, Duplicate Packets, and One-Way Delay
Provides the message statistics for Sequence Analysis, One-Way Delay Measurement, Event Indication, Remote Reset, and Remote Memory Access
Supports eCPRI analysis for each IPv4 and IPv6 pair address
The All Links feature displays the sequence analysis for all available eCPRI links
Supports One-Way Delay calculation in microseconds
Supports identification of hardware faults, software faults, or vendor-specific faults for a selected Element ID
Provides graphical representation of Remote reset statistics
Supports Remote Memory Access statistics for each Element ID and total statistics for all the elements

Back to Newsletter Index Page