Newsletter: GL Announces SIGTRAN (SS7 Over IP) Emulation Software
Welcome to a June 2010 issue of GL's Newsletter providing information and insight into our latest product SIGTRAN Emulation Software, called MAPS SIGTRAN. The Message Automation and Protocol Simulation (MAPS™) is a framework for detailed emulation of many protocols, including recently added SIGTRAN – or SS7 over IP.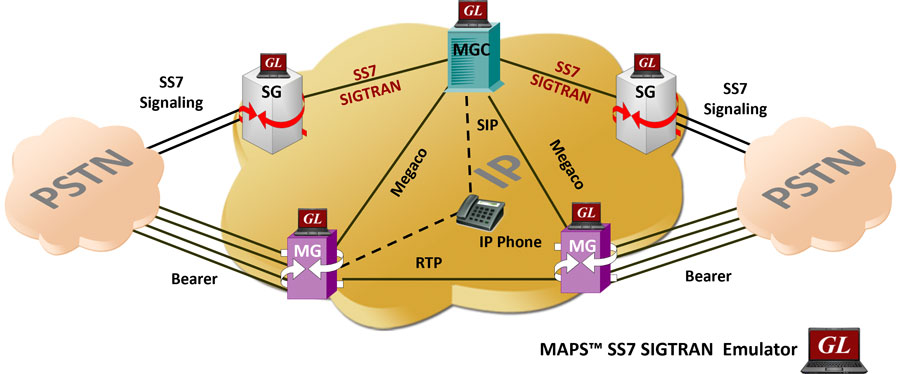 Overview
SIGTRAN protocols are an extension of the SS7 protocol family, but carried over IP. A Signaling Gateway (SG) translates the SS7 TDM layers to SIGTRAN IP format. It supports the same application and call management functions as SS7 but uses two protocol layers on top of Internet Protocol (IP): Stream Control Transport Protocol (SCTP) and M3UA (MTP3) User Adaptation Layer.
M3UA enables SS7 protocol's User Parts (e.g. ISUP, SCCP and TUP) to run over IP instead of TDM lines. ISUP, or ISDN User Part, is used to set up and release calls through the PSTN. In an IP network, ISUP is carried as payload by SCTP, as are SCCP and TUP. When a call is terminated in the IP Network, a Softswitch translates SIGTRAN into SIP signaling. If the call is terminated in the PSTN, an SG reconverts SIGTRAN to SS7 TDM.
The Message Automation & Protocol Simulation (MAPS™) SIGTRAN
Message Automation & Protocol Simulation (MAPS™) is a powerful protocol test simulation platform supporting a wide range of protocols such as SIGTRAN (SS7 over IP), SS7 over TDM (T1 E1), ISDN over TDM (T1 E1), GSM-A & GSM-Abis over TDM, Megaco, SIP, and MGCP over IP.
MAPS SIGTRAN is an advanced protocol simulator/tester for SS7 simulation over IP Networks. It can simulate a Signaling Gateway and Softswitch ISUP signaling specification as defined by ITU-T standards. The tester supports testing network elements, error tracking, regression testing, conformance testing, load testing/call generation and generation of high volumes of ISUP traffic. MAPS SIGTRAN functionality covers the ITU and ANSI variant of SS7 implementing M3UA, and ISUP protocols. It is able to run pre-defined test scenarios against ISUP test objects in a controlled & deterministic manner.
MAPS SIGTRAN Conformance Scripts are suitable for compliance tests and functional tests, where test objects can be accurately and reliably validated for compliance with ITU-T standard Q.761-764 and Q.784. It is suitable for manufacturers, network operators and service providers to address all stages of the development cycle, regression testing through to type approval, and acceptance testing.
MAPS SIGTRAN supports powerful utilities like Message Editor and Script Editor which allow new scenarios to be created or existing scenarios to be modified using ISUP messages and parameters.
Also available is an independent GUI based SIGTRAN (SS7 over IP) Protocol Analyzer for online capture and decode of the signaling in real-time both during tests and as a stand-alone tracer for live systems.
Working Principle
The Message Editor is a powerful utility of MAPS application, which allows users to create any number of message templates with user-selected protocol fields and default values for each protocol field.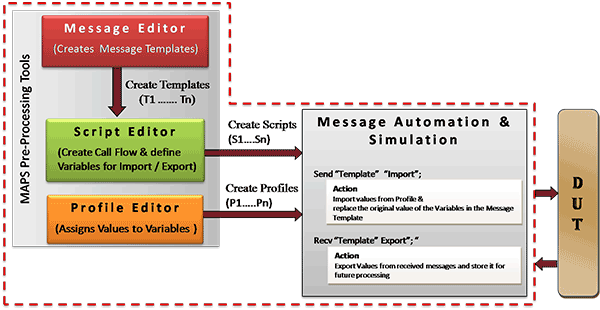 The protocol fields in message templates comprises of Mandatory fixed, Mandatory variable and Mandatory Optional Parameters, and these can be accessed by scripts as variables using import/export files.
The scripts comprises of sequence of commands that performs the required operation using pre-defined message templates. The Script Editor is another powerful utility of MAPS, in which sequences of message templates can be grouped together in an order to create call flow.
Profile consists of values assigned to the variables. Profiles can be created using a utility called Profile Editor where the values can be assigned to the variables. The original value of the variables in the message template is replaced with these assigned values.
MAPS provides the ability to create any number of scripts to simulate a real-time scenario with MAPS-SIGTRAN and DUT.
Applications
Provides fault insertion, and erroneous call flows testing capability


Functional testing, Regression testing and Conformance testing of network elements


Ready scripts makes testing procedure simpler, less time consuming and hence time to market products
For comprehensive information on the product, please visit MAPS-SIGTRAN Webpage.

Back to Latest News Page