Newsletter: GL Announces GSM & UMTS MAP Emulation
Welcome to another February 2012 issue of GL Communications' Newsletter providing information and insight into our latest GSM & UMTS MAP Emulator.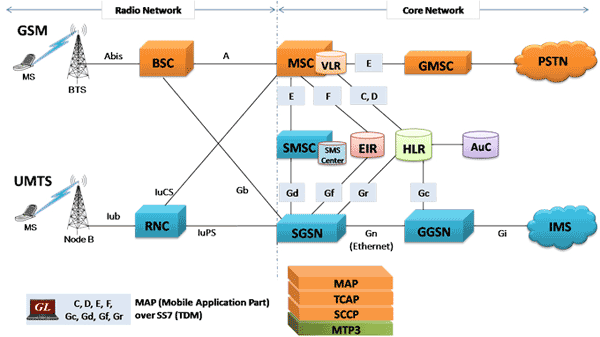 Overview
Mobile Application Part (MAP) is an SS7 protocol used by various elements in GSM, UMTS, and GPRS mobile "core" networks to provide services to mobile phone users. The "radio" and "core" network partition is shown above for GSM and UMTS networks. An interesting article by Jan A. Audstad, available on the web at http://www.telektronikk.com/volumes/pdf/3.2004/Page_170-176.pdf recounts the development of MAP as "one of the real technological triumphs of GSM". As related in the article, SS7 was decided upon as the basis for MAP. Common services provided by MAP are "location tracking", "roaming", "subscription information", "short message service", and many more.
Traditionally SS7 is carried by TDM (T1 and E1) circuits, but recently with the popularity of the internet and IP, a special IP protocol called SIGTRAN is rapidly gaining acceptance.
Elements and interfaces that comprise the core network are briefly listed and described below:
Interface
Elements
Purpose
TDM (T1 or E1)
IP
B
MSC-VLR
Generally an internal interface within the MSC. Used whenever the MSC needs access to data regarding a MS located in its area.
√
√
C
MSC-HLR
MSC server interrogates the HLR for routing information of a subscriber for a call or SMS directed to that subscriber
√
√
D
VLR-HLR
Used to exchange data related to the current location of a mobile station and to the management of that subscriber
√
√
E
MSC-GMSC
MSC-SMSC
Exchange of handover data between two adjacent MSCs for the purpose of seamless call and message flow
√
√
F
MSC-EIR
Used by the EIR to verify the status of the IMEI retrieved from the Mobile Station
√
√
G
VLR-VLR
Used to update a new VLR with IMSI and authentication info from old VLR, when a mobile subscriber moves from one VLR area to another (not shown in the diagram)
√
√
H
HLR-AuC
HLR requests for authentication and ciphering data from the AuC for a Mobile Subscriber .
√
√
Gc
GGSN-HLR
Used by the GGSN to retrieve information about the location and supported services for a mobile subscriber for packet data services (GPRS, etc.)
√
√
Gr
SGSN-HLR
Used to exchange data related to the current location and management of a Mobile Subscriber (MS) and Mobile Equipment (ME)
√
√
Gf
SGSN-EIR
Used by the EIR to verify the status of the IMEI retrieved from the Mobile Station.
√
√
Gd
SGSN-SMSC
Used to transfer SMS over GPRS.
√
√
GL's MAPS™ (Message Automation and Protocol Simulation) product line bearing the same acronym, is used to emulate all the MAP interfaces listed above – both TDM and IP. MAPS™ is an advanced and versatile protocol simulator/tester that can simulate a variety of protocols encountered in the telecom space, including for example ISDN, CAS, SS7, and many more. Now it also supports all the GSM and UMTS MAP interfaces. In addition to to supporting the MAP network elements connected by the interfaces listed, also supported are error tracking, regression testing, conformance testing, load testing and call generation. It can run pre-defined test scenarios against test objects in a controlled & deterministic manner.
MAPS™ MAP Emulator supports powerful utilities like Message Editor, Script Editor, and Profile Editor which allow new scenarios to be created or existing scenarios to be modified using MAP messages and parameters.
Call Generation & Bulk Call Settings
Call Generation option allows the user to simulate outgoing communications where an outgoing call is initiated by sending call control messages using proper scripts and profiles. The profile allows necessary parameters of call control messages to be changed during runtime.
Examples are shown below.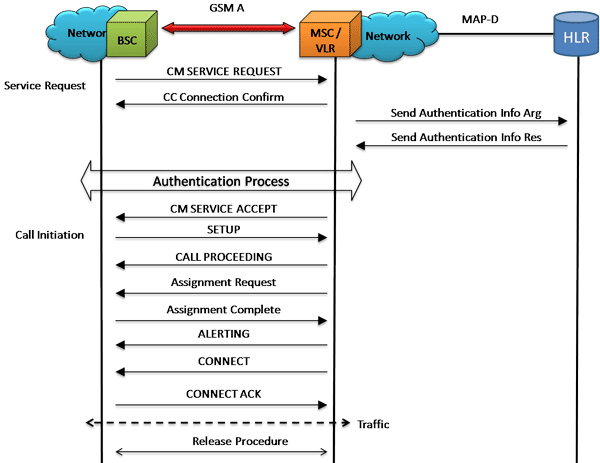 MAP/D Mobile Originating Call Flow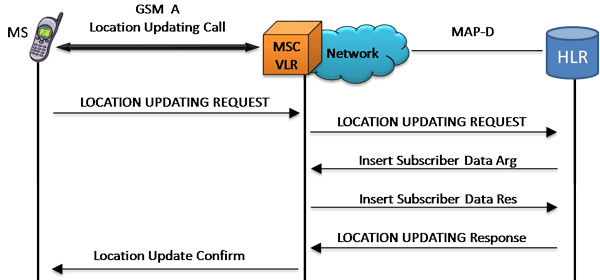 MAP/D Location Update Call Flow

MAP/C, MAP/D Retrieval Routing Information Call Flow
The screenshot below shows MAPS™ acting as MSC/VLR and sending the Location Update Request message to HLR.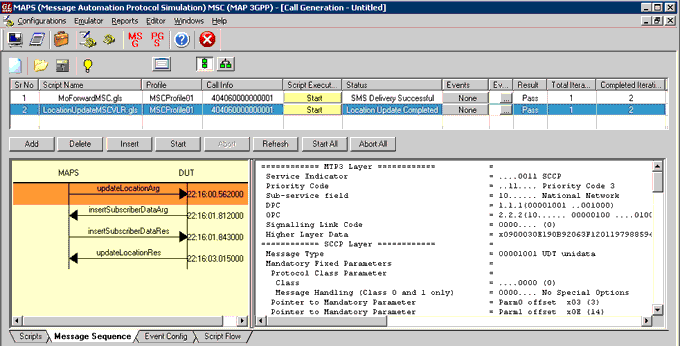 Call Generation at MSC/VLR Node
Load Generation Settings
MAPS™ supports Bulk Call Simulation and Stress/Load Testing capabilities through Load Generation feature. Load Generation window helps users configure Stress/Load Testing parameters such as Call per second (CPS) or Busy hour call attempts (BHCA), Max Simultaneous Calls and Burst parameters.
Call Reception
Call generated from other entity can be automatically detected in call reception window by pre-setting the required scripts in the Incoming Call Handler window. The screenshot below shows MAPS™ acting as HLR and responding to the Location Update Request message from MSC.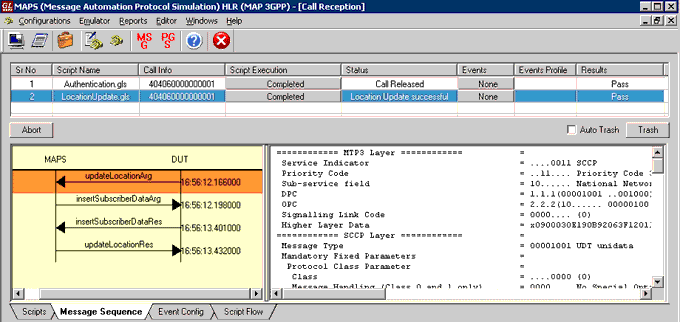 Screenshot of Call Reception at HLR Node
Main Features
MAP protocol simulation over TDM (E1/T1) and IP
Emulator can be configured as MSC (VLR), HLR, GMSC, EIR, AuC, SMSC, SGSN and GGSN entities and emulate the respective interfaces
User-friendly GUI for configuring the MAP signaling links
Access to all MTP3, SCCP, and MAP R4 protocol fields such as TMSI, IMSI, MCC, MNC, MSIN, CCBS and more
Ready scripts for monitoring other end, set reporting state for the requested service, report an event or call outcome, report remote subscriber status procedures
Logging of all messages in real-time
Save and load configurations
Supported on Windows® 7/8 or higher version operating systems
For comprehensive information on the application, you can refer to the MAPS MAP Emulator Software web page.

Back to Latest News Page