Newsletter: GL Announces LTE (Long Term Evolution) Protocol Simulator
Welcome to a May 2011 issue of GL's Newsletter. Today we introduce our new product, LTE (Long Term Evolution) - Protocol Simulator – a software application for emulating LTE interfaces. If you have a smartphone with 4G capability and a carrier that is rolling out LTE, then this newsletter is about the protocols that make it happen.
First, do we need LTE? Here's a possible answer.
Overview
Long Term Evolution (LTE) is not about Charles Darwin or his famous work "On the Origin of Species" – Surprise! It's about a mobile technology that can change the way you work and play. It can improve or destroy your productivity. Take a careful look at the picture above – is there anything else that you could possibly squeeze into the device at the right? And what's more, all that functionality comes at very little cost – carriers in the US like Verizon, ATT, T-Mobile, and Sprint are offering LTE compatible smartphones for less than a few $/day!
In the diagram below, some of the internals of a LTE network are shown. The user (UE) has very high speed RF connection to the nearest local tower. This high speed connection is always ON, as long as the mobile is powered up. LTE is an all IP infrastructure with service priority built in – audio and video are given priority. All necessities like IP address, authentication, and security are validated. Instant resources over RF (the air) and IP (internal network) are made available depending on what the user is attempting to do. Also, LTE is designed for compatibility with older 2G and 3G mobile systems.
GL has released LTE Protocol Simulation for several interfaces – currently S1 – MME, and eGTP (S5/S8 and S11). Additional releases are planned for the near future.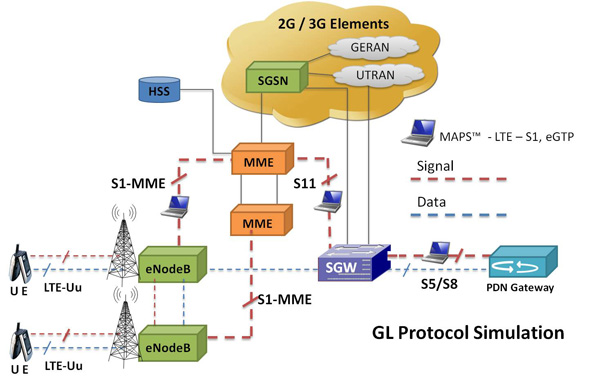 Details of MAPS™ LTE S1 Simulation
GL's Message Automation & Protocol Simulation (MAPS™ - LTE-S1 and LTE eGTP) is designed for LTE Testing. It can simulate eNodeB (also called Evolved NodeB), and MME (Mobility Management Entity) and other interfaces as shown above.
MAPS™ - LTE-S1 can act either as eNodeB or as MME and simulate the other entity. It can generate any LTE-S1 messages in an automated, interactive, and scripted fashion. Possible applications include:
Simulate up to 500 Smartphones (UEs) powering up and down
Authenticate and confirm security procedures
QoS requests for greater or lesser bandwidth
Temporary addressing management for mobility and security
LTE-S1 Signaling Scenario
Given below is a general LTE-S1 signaling scenario, the messages between eNodeB (eNB) and MME (Mobility Management Entity) are simulated using MAPS™ application.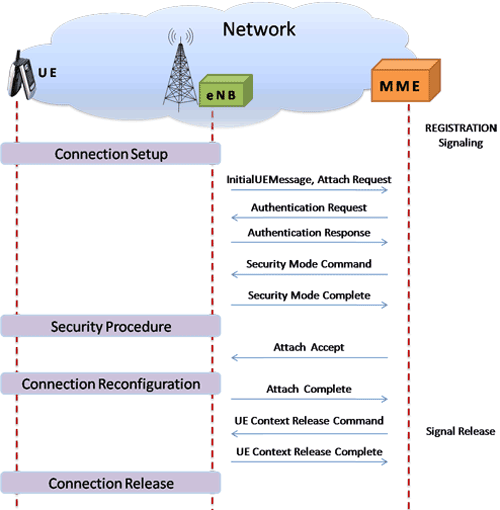 In UE-deregistered state, eNodeB sends Attach Request to MME (network) asking for attaching UE to network and provide an IP address to the UE.
Network may initiate authentication and Security Mode procedures towards eNodeB.
If MME can accept eNodeB's Attach Request then it replies with Attach Accept and asks for establishing Default Context.
If eNodeB can create the context, then it sends Attach Complete with Activate Default Bearer Context Accept to MME.
At this point UE is registered with the network systems.
S1-AP/NAS Messages
'Messages' are created using MsgEditor, which are then internally called by the certain commands in the script, based on the scenario requirement. A message template is nothing but a binary file containing a S1-AP and NAS messages, in which user can specify values of certain fields to be supplied at run time. The inbuilt Message Template files (*.hdl) are available in the installation directory (\MAPS\LTE S1\3GPP\eNodeB\Message) and (\MAPS\LTE S1\3GPP\MME\Message) specific paths. Users may also create custom message templates and save it in these directories for later use in Script Editor.
LTE-S1 Testing Features
Simulates eNodeB and MME.
Supports LTE control plane.
Generates hundreds of UE Signaling.
Handles Retransmissions.
Generates and process S1/NAS valid and invalid messages.
Supports message templates for both S1-AP and NAS message and customization of the field values.
Allows defining variables for various fields of the selected message type.
Ready-to-use scripts for quick testing.
Supports customization of call flow and messages.
Supports scripted call generation and automated call reception.
Script based & protocol independent software architecture.
Supported on Windows® 7/8 or higher version operating systems.
For comprehensive information, please refer to MAPS-LTE Protocol Simulator webpage

Back to Latest News Page