Newsletter: GL Announces SIGTRAN Protocol Simulator for ISDN over IP
Welcome to a September 2011 issue of GL's Newsletter. Today we introduce our new product SIGTRAN ISDN over IP Protocol Simulator - An advanced protocol simulator/tester used for simulating SIGTRAN ISDN. SIGTRAN, shortened form of Signaling Transmission, is the standard for conversion, transport, and encapsulation of SS7 and ISDN over IP. It is one of the most important transition elements in moving from legacy TDM to NGN IP networks.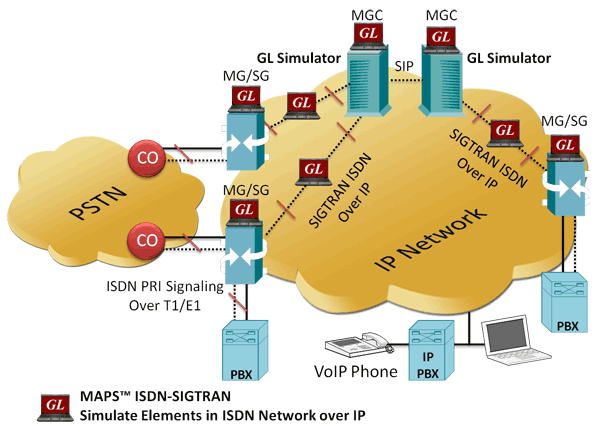 Overview
ISDN is a very common protocol in the legacy network. The two types are PRI (Primary Rate Interface or 23B +D) for T1 E1 lines and BRI (Basic Rate Interface, or 2B + D) for lower speed digital lines. As PSTN networks migrate to Next Generation Networks (NGNs), a need for conversion and transport of signaling and media (voice) is necessary. NGNs are IP based systems, therefore protocols have been developed to reliably transport/adapt Q.920s (data link layer) and Q.930s (Layer 3 user messages) TDM protocols. This adaptation is performed by two IP based protocols within SIGTRAN, called SCTP and IUA.
As shown above, a Signaling Gateway (SG) on the TDM side connects to standard PRI T1 E1 lines (or BRI- not shown) and translates the ISDN messages to SIGTRAN IP format. It supports the same application and call management functions as ISDN but uses two protocol layers on top of Internet Protocol (IP): Stream Control Transport Protocol (SCTP) and ISDN Q.921-User Adaptation Layer (IUA). The SG talks to a Media Gateway Controller (MGC), which in turn performs further routing and signaling decisions within the NGN. The protocol architecture of ISDN SIGTRAN is shown below.

GLís MAPS™ SIGTRAN is an advanced protocol simulator/tester used for testing SIGTRAN. Both SIGTRAN with SS7 over IP and SIGTRAN with ISDN over IP are supported. The tester can simulate a complete ISDN connection SG to MGC, where ISDN signaling as defined by the ITU-T Q.921 / Q.931 standards. In addition, GL MAPS™ SIGTRAN also supports the following flavors of ISDN:
4ESS, 5ESS, BELL ISDN, DMS100, DMS200, QSIG
MAPS™ SIGTRAN is a powerful tool that can be used to perform detailed testing of ISDN protocol messages over IP, and offers a complete solution for testing, troubleshooting, and maintenance of SIGTRAN devices and networks implementing PRI ISDN.
MAPS™ SIGTRAN ISDN over IP can act as the SG when testing the MGC or as the MGC when testing the SG as shown below.

MAPS™ SIGTRAN ISDN Specifics
Call Generation & Bulk Call Settings
Call Generation option allows the user to simulate outgoing communications where an outgoing call is initiated by sending call control messages using proper scripts and profiles. The profile allows necessary parameters of call control messages to be changed during runtime. Messages are exchanged between the MAPS™ and the DUT. MAPS™ application acts as either the Caller or resides at the network terminal acting as Callee.
During call generation, MAPS™ SIGTRAN-ISDN over IP is considered as Caller, and it initiates the call flow by sending SETUP message to the DUT.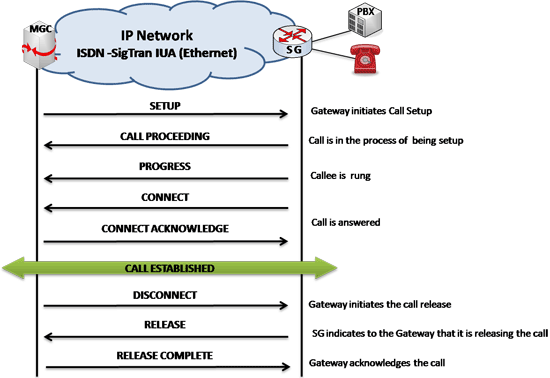 Call Flow diagram
The screenshot below shows MAPS™ acting as subscriber and initiating the SETUP message to switch.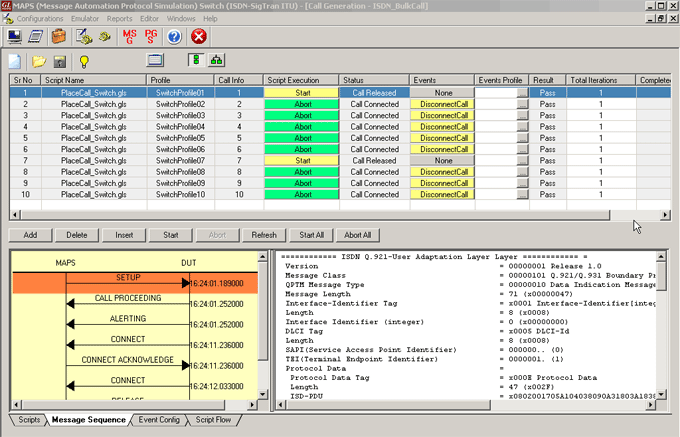 Call Generation
Load Generation Settings
MAPS™ supports Bulk Call Simulation and Stress/Load Testing capabilities through Load Generation feature. Load Generation window helps users configure Stress/Load Testing parameters such as call per second (CPS) or busy hour call attempts (BHCA), Max Simultaneous Calls and Burst parameters.
Call Reception
Call generated from other entity can be automatically detected in call reception window by pre-setting the required scripts in the Incoming Call Handler window.
During call reception, MAPS™ SIGTRAN-ISDN over IP is configured as receiving terminal, it processes the call flow by replying-back to the SETUP message from the Caller.
The screenshot below shows MAPS™ acting as switch and responding to the SETUP message from subscriber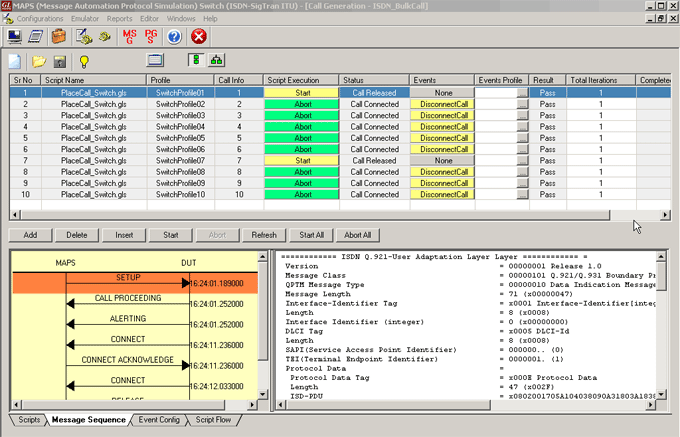 Screenshot of Call Reception Window
Some of the Important Features
Simulates ISDN signaling over IP (ISDN-SIGTRAN)
Generates and process all ISDN messages such as Setup, Connect, Release messages, and more
Switch and Subscriber Emulation
User controlled access to optional ISDN parameters such as timers
Provides various release cause codes such as rejected, no user response, user busy, congested, and so on to troubleshoot the problems in ISDN
Impairments can be applied to messages to simulate error conditions
Supports customization of call flows and message templates using Script editor and Message editor
Provides call statistics and associated captured events and error events during call simulation
For comprehensive information on the application, please visit the MAPS™ SIGTRAN ISDN Over IP Protocol Simulator webpage.

Back to Latest News Page