Newsletter: GL Announces LTE (Long Term Evolution) Protocol Analyzer
Welcome to a May 2010 issue of GL's Newsletter providing information and insight into our latest product LTE (Long Term Evolution) Protocol Analyzer software.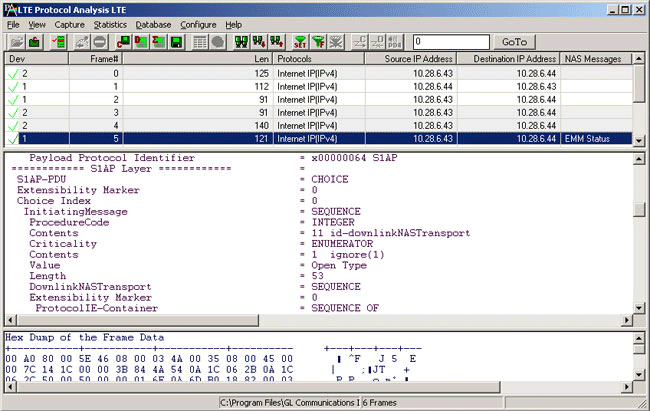 Overview
LTE (Long Term Evolution) protocol standard is the so called 4G (4th Generation) mobile standard in the rapidly evolving mobile technologies. Its distinguishing feature is an all IP infrastructure and significantly greater air interface bandwidth to the mobile handset. It was developed as an enhancement to the existing 3G UMTS System (Universal Mobile Telecommunications System) to provide users enhanced mobile radio and internet access.
The LTE air interface is a completely new system based on orthogonal frequency-division multiple access (OFDMA) in the downlink and single-carrier frequency-division multiple access (SC-FDMA) in the uplink. The system efficiently supports multi-antenna technologies (MIMO). OFDMA is considered much better at handling the varying propagation conditions seen in mobile radio. This is similar to WiMAX. In MIMO techniques, either multiple antennas can transmit the same data stream to improve data-transmission reliability or different antennas can transmit different data streams simultaneously to increase throughput.
Another significant feature of LTE is its high bandwidth—up to 20 MHz. Because the usable bandwidth is scalable, LTE can also operate in the existing 5-MHz UMTS frequency bands, or in even smaller bands.
Network Architecture
LTE standard is progressing as a part of 3rd Generation Partnership Project (3GPP). The Evolved Packet System (EPS) standardized by 3GPP is divided into a radio access network known as the E-UTRAN and a core network known as the Evolved Packet Core (EPC). The E-UTRAN consists of eNodeBs, which provide the radio interface toward the user equipment. The eNodeBs are interconnected with each other via the IP-based X2 interface and toward the Evolved Packet Core (EPC) via the IP-based S1 interfaces – see the architecture depicted in the main diagram.
GL's LTE analyzer is capable of capturing, decoding and performing various test measurements across various interfaces i.e. S1, S3, S4, S5 (or S8), S6a, S10, S11, S13 and X2 interfaces of the LTE network.
GL Communications supports both Real-time and Offline types of LTE Analyzer. Required pre-requisites are - Hardware Dongles and Windows® 2000/XP/Vista Operating System.
Screen Capture of LTE Analyzer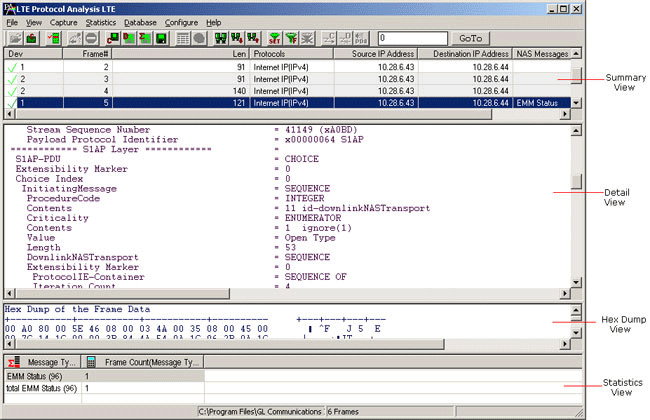 Main Features
Displays summary, detail, hex-dump, summary and statistics views


Detail View displays decodes of a user-selected frame from the Summary View


Statistics View displays statistics based on frame count, byte count frames/sec, bytes/sec etc for the entire captured data


Hex dump View displays raw data as a hexadecimal and ASCII octet dump


Search and filtering capabilities


Exports Summary View information to a comma delimited file for subsequent import into a database or spreadsheet


Capability to export detailed decode information to an ASCII file


Remote monitoring capability using GL's Network Surveillance System
Additional feature supported by Offline LTE Analyzer
Trace files for analysis can be loaded through simple command-line arguments


Multiple trace files can be loaded simultaneously with different GUI instances for offline analysis
For comprehensive information on the application, please visit LTE (Long-term Evolution) Analyzer webpage.

Back to Latest News Page