MAPS™ LTE for X2 Interface Emulator
(LTE X2 Application Protocol Interface Emulation)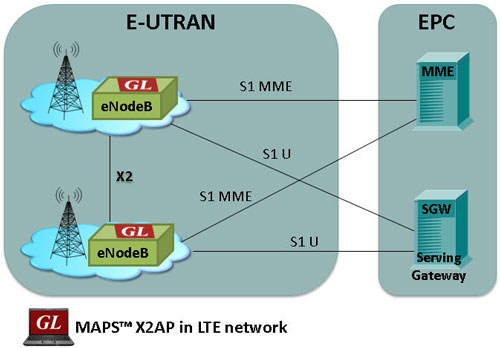 MAPS™ LTE X2 Interface Emulator Software Ver 7.6.12 (64-bit Only) | Download Now!
---
Background

The X2 is the interconnecting interface between two eNodeBs in LTE network and supports both Control Plane and User Plane. The principle Control Plane protocol is X2-AP (X2 Application Protocol) resides on SCTP (Stream Control Transmission Protocol).

LTE X2-AP is responsible for the following functions:

Mobility Management - this enables the serving eNodeB to move the specified UE responsibility to a target eNodeB.
Load Management - procedure to report resource status, overload indications and current traffic loading between the eNodeBs
Reporting of General Error Situations - procedure to report general error situations
Re-setting /Setting the X2 – procedure to setup or reset X2 interface by exchanging the necessary information between the eNodeBs
eNodeB Configuration Update - procedure to update the application level data required for the eNodeBs to interoperate in the network.

MAPS™ LTE X2 AP User's Guide
MAPS™ LTE X2 AP Product Brochure
MAPS™ LTE X2 AP - Quick Install Guide
MAPS™ LTE X2 AP - Quick Verification Guide
GL Product Lists
MAPS™ SIP - IMS Emulator Brochures
View Presentation

---

GL's suite of "Wireless Networks Lab Solutions" Brochure
---
Overview
GL's Message Automation & Protocol Simulation (MAPS™) is a multi-protocol, multi-technology platform used for the emulation of a variety of communication protocols over IP, TDM, and Wireless networks. MAPS™ can be used to test signaling over legacy networks (such as CAS, SS7, ISDN, PPP and more), IP networks (such as SIP, MGCP, MEGACO, SIGTRAN, Diameter…) and also the Wireless technologies including GSM, UMTS, and LTE networks. Recently LTE X2-AP has been introduced.
GL's MAPS™ X2 Application Protocol (X2-AP) is used to co-ordinate handovers and perform load management between eNodeB (Evolved Node B) network elements - Source eNodeB and Target eNodeB. The MAPS™ X2-AP test tool is designed with specific test cases, as per LTE 3GPP mobile standards.
MAPS™ LTE X2-AP Interface Emulator supports powerful utilities like Message Editor, Script Editor, and Profile Editor which allow new scenarios to be created or existing scenarios to be modified using messages and parameters.
Possible applications include:
Simulate up to 500 Smartphones (UEs) powering up and down
Authenticate and confirm security procedures
QoS requests for greater or lesser bandwidth
Temporary addressing management for mobility and security
GL also provides a GUI based LTE Analyzer for on-line capture and decode of the signaling in real-time both during tests and as a stand-alone tracer for live systems.
---
Main Features
Simulate two eNodeB elements in LTE X2-AP interface.
Supports LTE Control plane.
Generates hundreds of UE Signaling (Load Testing).
Generates and process X2-AP (valid and invalid) messages.
Supports Mobility Management, Load Management, Reporting of General Error Situations, Re-setting X2, Setting up the X2, and eNodeB Configuration Update procedures.
Insertion of impairments to create invalid messages.
Supports customization of call flow and message templates using Script and Message Editor.
Ready-to-use scripts for quick testing.
Supports scripted call generation and automated call reception.
Script based & protocol independent software architecture.
Provides Call Statistics and Events Status.
Supported on Windows® XP and Windows® 7 (32 bit and 64 bit) operating systems.
---
Supported Protocol Standards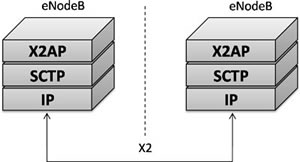 | | |
| --- | --- |
| Supported Protocols | Standard / Specification Used |
| X2 Application Protocol (X2-AP) | 3GPP TS 36423-900 |
| SCTP | RFC 4960 |
| Non-Access-Stratum (NAS) | 3GPP TS 24.301 V9.0.0 (2009-09) |
---
Test Configuration
A test bed setup is configured to use a pre-defined XML profile file. The multiple profiles created in the default profile (XML) selected in Test Bed Setup are accessible from the call generation and reception windows.
This feature allows users to configure the necessary parameters to establish communication between MAPS™ X2 and the DUT. X2 Application interface supports SCTP configuration.
For IP based protocols, MAPS™ test bed should be setup with mandatory Source / Destination Port, Address, Stream ID and Payload ID parameters to establish connection with DUT. These parameters enable the users to configure MAPS™ application as the required entity in SCTP/ IUA/ UDP/ MTP Layers of IP network. The Default profile set in Testbed Setup is used to configure MAPS™ X2 for call configuration.

Screen Shot of X2-AP Testbed Setup Configuration
---
Typical X2-AP Interface Procedures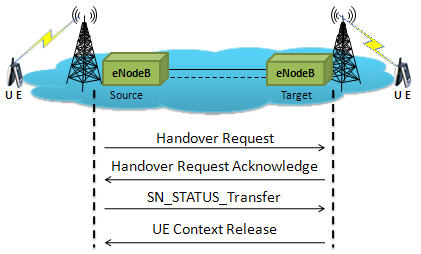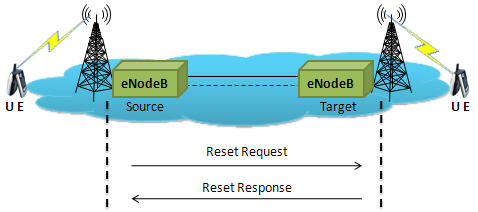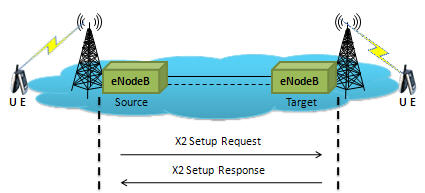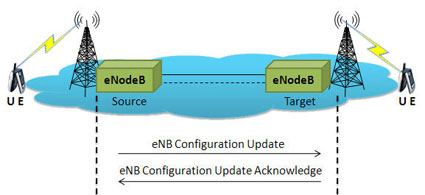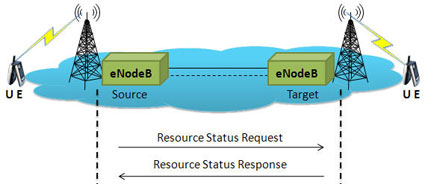 ---
Call Generation
Call Generation option allows the user to simulate outgoing communications where an outgoing call is initiated by sending call control messages using proper scripts and profiles. The profile allows necessary parameters of call control messages to be changed during runtime.
Testing Target eNodeB in X2 interface
Here, MAPS™ acts as Source eNodeB, and tests the DUT that is configured as Target eNodeB. MAPS™ initiates the messages towards the end-terminal and responds to messages from the DUT.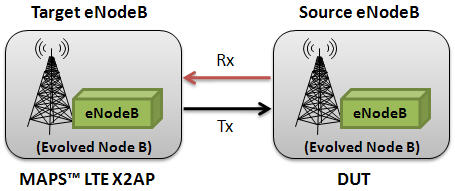 MAPS™ X2 configured as Source eNodeB
The test is performed to ensure that the MAPS™ X2 configured as Source eNodeB initiates the procedure by sending the HANDOVER REQUEST message to the Target eNodeB. The Target eNodeB (DUT) shall reserve necessary resources, and send the HANDOVER REQUEST ACKNOWLEDGE message back to the Source eNodeB. The call generation screen shot depicting the Handover Procedure flow is as shown below.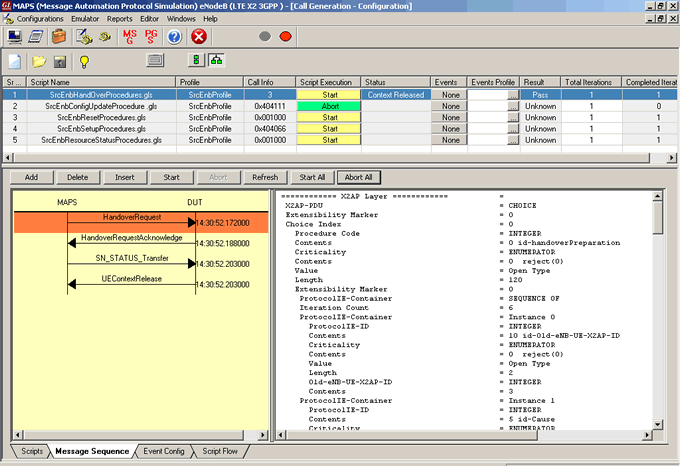 ---
Call Reception
Call generated from other entity can be automatically detected in call reception window by pre-setting the required scripts in the Incoming Call Handler window.
Testing Source eNodeB in X2 interface
This test is performed to ensure that the MAPS™ X2 configured as Target eNodeB in order to receive and process the Handover Request message from the Source eNodeB (DUT) in the X2 interface.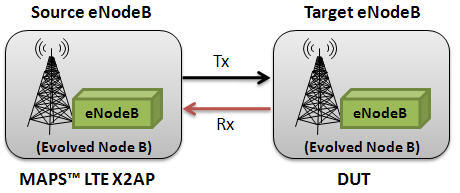 MAPS™ X2 configured as Target eNodeB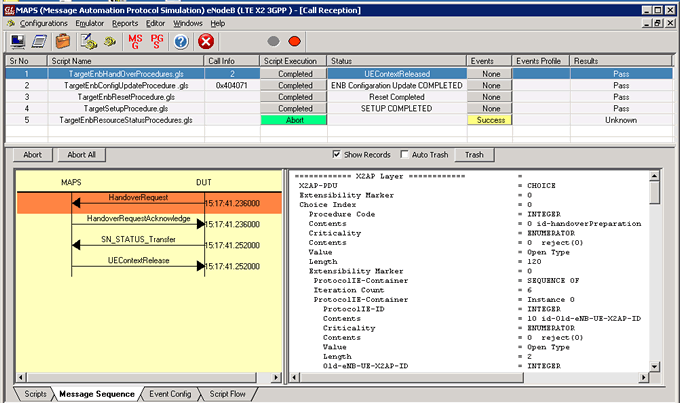 Handover Procedure Reception at Target eNodeB
---
Bulk Call Simulation
MAPS™ supports Bulk Call Simulation and Stress/Load Testing capabilities through Load Generation feature. Load Generation window helps users configure Stress/Load Testing parameters such as Call per second (CPS) or Busy hour call attempts (BHCA), Max Simultaneous Calls and Burst parameters.

Screen Shot of Load Generation Parameters
---
Customization of Call Flow and Messages Using Pre-Processing Tools
---
Call Flow & Script Execution Control
Message Sequence - MAPS™ LTE X2 provides protocol trace with full message decoding, custom trace, and graphical ladder diagrams of call flow with time stamp while simulation is running. Call flow graph allows to easily verifying the messages exchanged between MAPS™ X2 and DUT. See Call Generation and Call Reception for details.
Script Contents & Script Flow - The Scripts Contents window displays the contents of the script selected for call generation or reception. The Script Flow window displays the set of statements successfully executed by MAPS™ X2 to help users in troubleshooting a particular the call scenario.
Events & Event Profile Editor
- User-defined events allow redirection of script execution on-the-go. The custom parameters in the events can also be changed during script execution using
Event Profiles
.

Screenshot of Script Contents and Script Flow

Screenshot of Event Config
---
Call Statistics, Events, Link Status
Call Statistics & Status - By default, all call handling scripts (irrespective of the type of the functions) are assessed by MAPS™ LTE S1 to provide statistical information about total calls, active calls, completed calls, passed calls, and failed calls. It is also possible to characterize the statistical information under different groups of call handling scripts under a unique heading.
In addition, Call Generation and Call Reception windows provide useful call status & script execution results.

Screenshot of Call Statistics and Status
Events Reporting – MAPS™ X2 provides Event Log, Error Events, and Captured Errors windows that log the captured events and errors encountered during the progress of the call.

Screenshot of Event Log
---
Buyer's Guide:
Specifications are subject to change without notice.

Back to Message Automation & Protocol Simulation Index Page