LinkSim™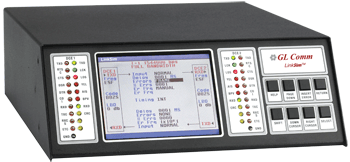 ---
Overview

The GLís LinkSim™ simulates a variety of communications links, inserting delays and inserting errors such that the user can determine what effects these impairments will have on their systems.

The LinkSim™ includes six pairs of interfaces - RS232, RS422/RS530, V.35, X.21, HSSI and T1 E1. It can introduce propagation delays in either or both directions. Propagation delays can be up to 1.999 seconds per direction for speeds up to 2.048 Mbps and up to 500 milliseconds for speeds from 8.192M to 50 Mbps. The LinkSim™ can inject logic, ones, zeros, timing slips, bit, burst, frame, BPV, CRC, FDL, signaling, block, C-Bit and P-Bit errors in either or both directions.
---
Main Features
Simulates a variety of communications facilities
Supports T1 E1, RS232, V.35, RS422/RS530, X.21, HSSI
Supports 78 data rates from 1,200 to 50M bps
Inserts delays up to 1.999 second in each direction
Inserts errors and timing slips in each direction
Delays, errors and speeds can be different in each direction
All operating parameters, including interfaces, speeds, delays, errors and control signals are illustrated on a single screen
Parameters are selected by scrolling through values stored in the LinkSim™
---
Applications
Testing protocols and error correction techniques
Checking new equipment prior to field installation
Measuring performance and reliability in various operating environments
---
Specifications

Speed
Base Unit Speed
78 standard speeds from 1,200 bps to 8.192 Mbps
Interfaces (two each)
RS 232
DB25P 25-pin female connector
RS 530/RS 422
DB25P 25-pin female connector
V.35
34-pin Winchester female connector
X.21
DB15P 15 pin female connector
T-1 and E-1 (G.703)
RJ48C 8 position modular in parallel with bantam and dual BNCs.
HSSI
50 pin HSSI connectors
Miscellaneous
Propagation Delay
Up to 1.999 second per direction for speeds up to 2.048 Mbps
Up to 0.5 seconds (500 ms) per direction for speeds to 50 Mbps
Delay is selectable in 1 millisecond increments
RTS/CTS Delays
Up to 999 millisecs in 1 millisecond increments
Errors
Logic (bit) errors, Ones, Zeros, Burst errors, Block errors,
Framing errors, BPVs, CRCs, C-Bit errors, P-Bit errors,
Error seconds and Slips
Error Frequency
1x10e1 to 1x10e12 bits, Random Secs, Manual
Gap up to 99999999 bits, Gap up to 99999999 milliseconds
9999 Blocks
Timing
Internal, external and locked
External clock Ė TTL level
Control Signals
Request To Send (RTS), Clear To Send (CTS)
Data Set Ready (DSR), Carrier Detect (CD)
Data Terminal Ready (DTR)
Power
90 - 230V AC
50 to 60 Hz
7.2 watts 25 BTU/hr
Physical Dimensions
Dimension
3.5" (8.9 cm) h x 10" (25.4 cm) w x 12" (30.5 cm) d
Weight
12 lbs (5.5 kg)
Environmental
Operating Temperature
0 to 50° C, 32 to 122° F
Relative Humidity
0 to 95% non-condensing
Specifications subject to change without notice.
---
Application Notes
---
Buyer's Guide