Newsletter: GL Announces Simplified VoIP Testing
Welcome to the September 2009 issue of GL's Newsletter. This time we provide information and insight into our VoIP Testing Solution with VQuad™- an easy, automated, or manual means to testing end to end VoIP performance.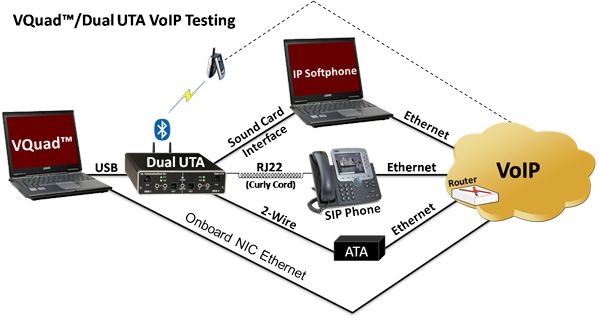 Overview
Testing at the end-points of a VoIP network is a true reflection of the voice quality that an end user is actually experiencing. As shown above, VQuad™ with Dual UTA can connect and test VoIP networks at endpoints in many ways:
Direct Ethernet connection using SIP (Session Initiation Protocol)
Dual UTA / 2Wire connection to an ATA or router
Dual UTA / RJ-22 (curly cord) handset interface
Dual UTA / 4-Wire sound card interface for IP Softphones
Bluetooth to a mobile phone
VoIP Testing Procedure
VQuad™ can perform manual or automated tests on up to eight VoIP sessions simultaneously. Important features include: automatic call control (SIP protocol), automatic traffic generation/reception, and path confirmation using digits or frequency tones.
VQuad™ along with the Dual UTA can connect to a VoIP network in several ways including through an ATA (the Dual UTA simulates the analog phone), through a Softphone (the Dual UTA provides Balanced I/O ports), via wireless (the Dual UTA connects to any mobile phone using Bluetooth® technology), and through the customerís phone itself (the Dual UTA can replace the handset of ANY analog, digital, or VoIP phone). The VQuad™ can also act as an end point and directly connect to the VoIP network via SIP protocol.
When simulating VoIP end points, as a user agent or thru the analog 2-wire interface, VQuad™ supports full call control including supplementary services such as 3-Way Calling. VQuad™ also supports path confirmation, send/record voice synchronously for VQT PESQ results and full scripting of the test. Additional measurements include Round Trip Delay, One Way Delay and a variety of functions for echo testing.
Some of the important features:
Connect and simulate any endpoint
Connect directly to ATA, Router, Softphone, Phone Handset, or Wireless via Bluetooth®
Connect at using SIP protocol with user-defined parameters for Authentification and Proxy
Connect up to eight interfaces with a single VQuad™ system
Connect manually or automatically with SIP call control and user-defined parameters for authentification and proxy
Perform numerous measurements including PESQ, latency (including RTD and OWD), Post Dial Delay (PDD), and Signal to Noise Ratio (SNR), and many others
For more information on the features available, please refer to the VoIP Testing using VQuad™ web page, or give us a call.

Back to Latest News Page