2/4 Wire Hybrid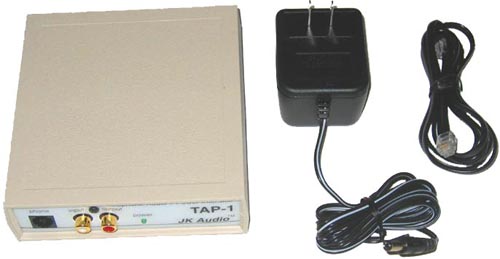 Overview
The 2/4 Wire Hybrid (SA009) is an Interface box (2-wire to 4-wire) to allow connection of any standard (POTS) Telephone to the VF IN and VF OUT (Audio) ports of GL Communications' Analyzer products. This allows you to listen and talk on a timeslot, and allows use of features on the telephone such as the DTMF Keypad and Redial. The 2/4 Wire Hybrid DOES NOT connect to a telephone line.
---
2 Wire Interface
Standard RJ11 Interface
Powers telephone and fax machines with -48 VDC
---
4 Wire Interface
RCA jacks for 4 wire input and output
Independent 4 wire input and output level adjustment
Hybrid null adjustment optimizes transmit and receive separation to > 50 dB
---
Applications
2 to 4 wire conversion for Lab testing
Recording voice signals with 'telephone' like quality
For more information about the applications of 2/4 wire hybrid.
---
Resources
| Item No. | Item Description |
| --- | --- |
| SA009 | 2/4 Wire Hybrid |
| SA011 | Bantam to RCA Conversion Cable (Qty = 2) |

Back to Accessories and Adapters Index Page