Portable Test Instruments
Portable Tester for IP / Ethernet
PacketExpert™ mTOP™ Probe 10G/1G Unit
GL's latest PacketExpert™ mTOP™ Probe unit is a stand-alone hardware variant, an all-in-one self-contained test instrument. PacketExpert™ probe unit includes USB based PacketExpert™ hardware unit and in-built NUC mini PC, which can be controlled remotely using browser application. The rear panel displays the PC interfaces - USB 2.0 or 3.0 ports, GigaBit Ethernet port, HDMI, along with 256 GB HDD, 8G memory, i3/i7 NUC, and Windows® 10 64-bit OS.

External USB based Wi-Fi adaptor can be plugged to the USB 3.0 ports on the rear panel provides wireless connectivity. The tests and the configurations on the hardware can be controlled remotely using any browser-capable (Chrome, Edge, Firefox) device such as desktops, table PCs MAC systems (Mac, iPhone, iPad) or PDAs.
10Gbps/1Gbps Electrical/Optical ports supports BERT, Smart Loopback, RFC 2544, ExpertSAM, Record and Playback, IPLinkSim™ and PacketBroker functionalities. Each GigE port provides independent Ethernet/VLAN/MPLS/IP/UDP layer-wise testing at wirespeed.
For more details, visit Handheld Portable IP/Ethernet Tester webpage.
---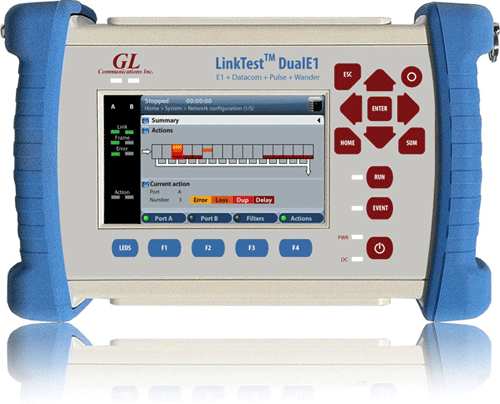 LinkTest™ Dual E1 - E1, Datacom, Jitter, Wander Testing

GL's LinkTest™ Dual E1 is a handheld dual-port tester for E1 and data communications (V.11 / X.24, V.24/RS232, V.35, V.36/RS449, EIA-530, EIA-530A) interfaces. With the support of a large range of software options for E1 services and sub rate multiplexing system, this handheld unit provides a scalable test solution for E1 and data testing. It provides a large, clear screen with a full set of physical layer tests for E1 balanced and unbalanced circuits including BERT, VF, round trip delay and signal level.
For more details, visit LinkTest™ Dual E1 webpage.