Newsletter: GL Releases Scripted & GUI ISDN Emulator
Welcome to another March 2009 issue of GL's Newsletter providing information and insight into our Scripted ISDN Emulator and GUI ISDN Emulator products. These products allow both manual and automatic testing of ISDN networks and equipment.
Overview
GL's ISDN Emulator for T1 E1 networks has been available as a manual GUI based ISDN Emulator and now is available as a Scripted (client-server) based application.
ISDN emulation features include selection of various ISDN standards, variants & NFAS, including the flexibility to modify ISDN call parameters & message content. This flexibility ensures that the ISDN emulator will communicate with a wide variety of systems under test. It's even possible to emulate a complete ISDN connection (switch to subscriber) all in the same PC with a dual interface T1 E1 card.
Scripted ISDN Emulator
The scripted (client-server) based ISDN Emulator emulates ISDN calls over T1 E1 links in a similar manner as the GUI, with the added capability to script entire ISDN sessions. The script can be run and rerun for automated environments.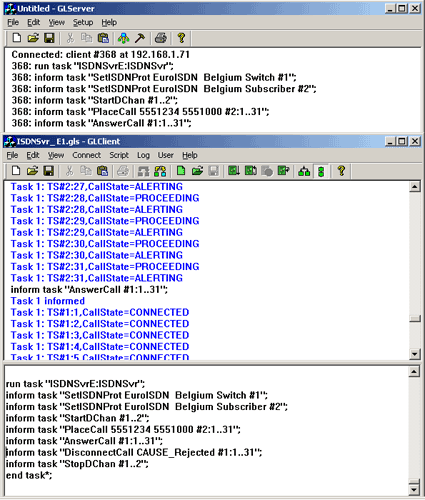 Additionally, the ISDN Emulator application offers the following advantages:
Simultaneous testing of high capacity T1 E1 systems through a single client
Remotely control ISDN emulation using simple commands by client applications
Collection of call records from remote locations
For comprehensive information on the product, please refer to Scripted ISDN Emulator web page.
GUI ISDN Emulator
The GUI ISDN Emulator provides a user-friendly graphical interface, which allows the user to get up and running quickly. From 1 to 4 T1 or E1 trunks can be supported with a mixture of subscriber or switch emulation on different trunks.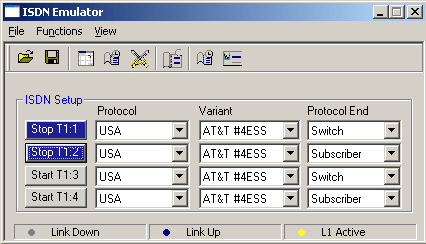 The Emulator provides ease of configuring various parameters like call management and nearly all protocol variants are supported and easily selected. Link status (Lap D) is also indicated.
Some of the important features
Nearly all ISDN standards and variants are supported. Variants are AT & T #4ESS, AT & T #5ESS, Bellcore #5ESS, National ISDN 2, Nortel, DMS - 250, and Siemens EWSD
1 to 4 Configurable Signaling Links.
Supported protocol layers - LAPD and Q.931 Layers
Switch and Subscriber Emulation
User Friendly GUI for Configuring the ISDN Layer parameters. Includes configuring for Called/Calling Numbering Plan/Type, type of ISDN service, etc. These ISDN parameters may be saved within a Timeslot group so as to allow multiple ISDN parameter configurations, simultaneously.
For comprehensive information on the product, please refer to ISDN Emulator web page.

Back to Latest News Page