Newsletter: GL Announces Release of GSM/TRAU/GPRS Protocol Analyzers with New Features and Enhancements
Welcome to the January issue of GL Communications' Newsletter providing information about new introductions and enhancements in GL Communications' Protocol Analyzers.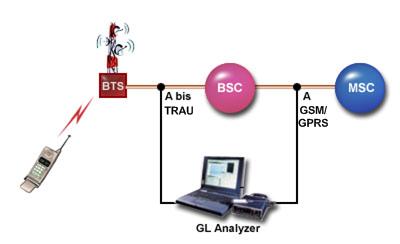 GSM continues to be the dominant wireless technology with over 1.1 billion global subscribers, and almost one in six of the world's population opting for GSM. One of the strengths of GSM, is that it offers a seamless evolutionary path for a variety of services in addition to voice, including low speed data through GPRS, high speed data through EDGE, and broadband services through UMTS. Global subscriptions to 3G/UMTS networks has already reached 16 million in more than 60 networks. Test equipment that keeps pace with this evolution is desirable.
In proportion to the advances in GSM, GL Communications has enhanced its GSM,TRAU, and GPRS Protocol Analyzers to suit all testing requirements. In addition, GL Communications will soon release protocol decodes for UMTS.
A brief summary of features and enhancements in GSM/TRAU/GPRS Protocol Analyzers:
Media Analysis


Any TRAU channel can now be heard in real-time through a sound card or stored to hard disk for later analysis. The application also includes the following real-time features:

Digit and Tone detection
Oscilloscope and Spectral views

Further, TRAU frames can be stored "as is" for offline analysis of timing and protocol messaging. The audio can be extracted and stored in "wav" format, which is suitable for applications such as Cool Edit or Adobe Audition. All major codecs are supported including FR (Full Rate), EFR (Enhanced Full Rate), HR (Half Rate), and AMR (Adaptive Multi Rate). Given below are screenshots of the TRAU analyzer:

TRAU Protocol and Audio Data Analysis



Oscilloscope and Spectral views in TRAU Analyzer



Sub-Channel Tx/Rx Capabilities


TRAU channels in T1 and E1 occupy fractional timeslot capacity or sub-channels. For example, out of 8 bits that make a channel of 64kbps, 2 bits may be used for 16 kbps codec transmission. To test transmission/reception in these sub-channels, T1 and E1 Tx/Rx File Utility Software has been enhanced to allow transmission/reception using sub-channels. Please visit https://www.gl.com/tofrom1transmit.html for further details.



Network Surveillance


Call records and Message trace can now be monitored centrally using NetSurveyorTM. Central monitoring features include:

Ability to view CDR and Message Trace data in real-time from anywhere in the world using the Internet, and
Ability to sort and filter protocol data

An application note has been provided describing NetSurveyorTM and a live demo at the following links:
Network Surveillance
Live Demo



Support for Ga interface analysis in GPRS Analyzer


GL's GPRS Analyzer has been enhanced with the addition of Ga interface decoding. The Ga interface deals with charging and billing of GPRS call and event data.


Billing systems utilize this interface for collecting and processing Call Data Records (CDRs).

Back to Latest News Page