Newsletter: GL Announces Wireless Backhaul Testing Solutions
Welcome to the March 2009 issue of GL's Newsletter providing information and insight into our Wireless Backhaul Testing Solutions that help troubleshoot various types of backhaul to ensure that the network is capable of reliable transmission.
Overview
With rapid rise in mobile communications, and as data and video penetrate the mobile market; wireless backhaul is gaining popularity due in large part to its cost efficiencies. IP and Ethernet backhaul over fiber, microwave, and even TDM (T1 E1 T3 E3 OC3 and OC12) is gaining momentum. Operators have chosen alternate backhaul solutions such as leased T1 E1, Ethernet, IP, Satellite, Microwave, and Fiber to minimize expenses.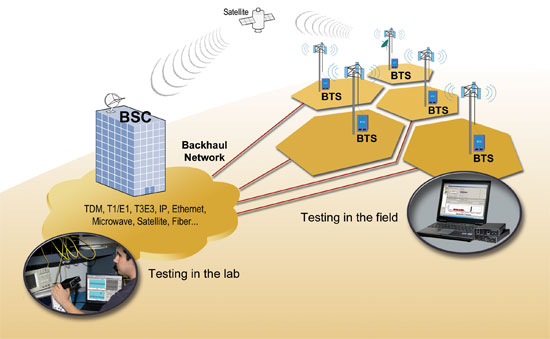 Why Backhaul Testing?
When traditional T1 E1 circuits from telco are not available, or too expensive, operators may resort to satellite or microwave transmission. Ethernet backhaul may also be considered. Each technology has differing delays, error performance, and reliability characteristics. A network operator must be equipped with proper tools to monitor, troubleshoot, and assess various types of backhaul options.
Assessing performance of legacy transmission (T1 E1) or Ethernet backhaul requires test tools that can measure clock accuracy, clock jitter, bit error rate, packet jitter, packet loss, round trip delay and throughput. All of these functions in a single test set is preferable
If the same tool can also be used for installation, maintenance, and performance monitoring, so much the better
GL's Solution
GL provides various testing solutions to monitor and test backhaul networks. Our test gear helps test backhaul no matter what the media; are portable, hand-held, or PC based, and is used successfully by customers world-wide to monitor and troubleshoot deployed networks.
Main Features
Test T1 E1 T3 E3 cellular backhaul (delay, throughput, error free transmission)
Test cellular IP backhaul, carrier Ethernet backhaul, etc
Test point-to-point and multipoint circuits
Simulate backhaul systems in the convenience of your Lab
For comprehensive information on GL's Backhaul Network Testing Solutions, please refer to Backhaul Testing Solutions web page.

Back to Latest News Page