Newsletter: GL's Fax, Modem, and Voice Testing Solutions
Welcome to GL Communications' Newsletter providing information about our product lines for Fax, Modem, and Voice Testing.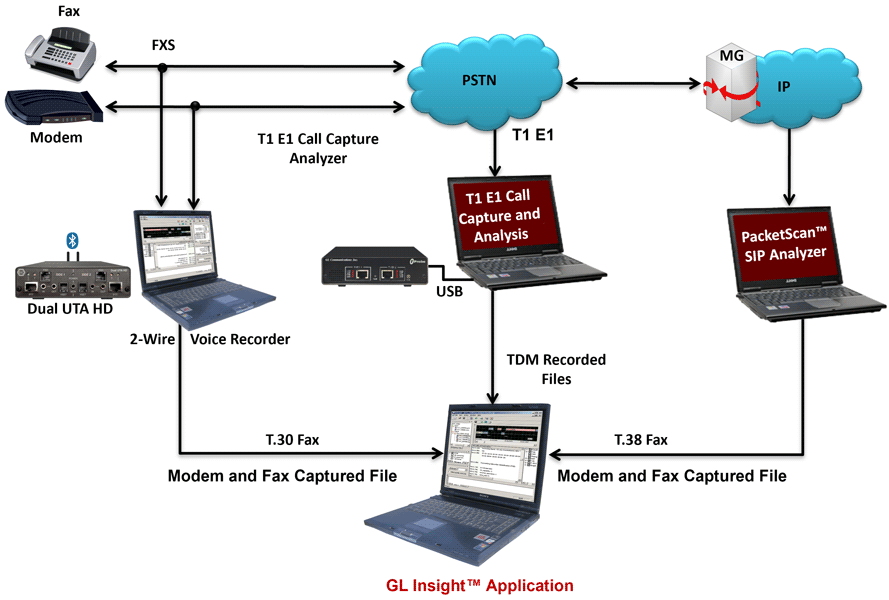 Trends in Fax, Modem, and Voice Communications
Voice, fax, and modem transmission continue to be dominant forms of communication over a wide variety of wired and wireless networks.
Traditionally, voice has been transported over wired networks using telephone lines (PSTN) and more recently over broadband IP networks using VoIP. Wireless networks now carry more voice than wired networks with over 2.2 billion mobile phones or 60% of worldwide phones. Wireless voice growth has yet to peak.
According to some reports, fax transmission has actually increased. Long considered a workhorse in the office, a dedicated fax machine offers the simplicity of feeding a document "as is" and dialing and transmitting to an unattended destination - features that are hard to beat. Also, fax transmission is now being done by PCs with built in text scanners and modems. Fax transmission is so vital that any new technology must address ways and means of transporting it, i.e. Fax over IP (FoIP) and Fax over wireless networks.
Modem transmission over voice lines is still the primary method of accessing the Internet in the US and worldwide. Higher speeds, improved compression, and low cost continue to make dial-up very attractive and convenient.
So voice, fax and modem are here to stay for the foreseeable future. To successfully deploy voice, fax, and modem services requires extensive network design, test and traffic engineering. Test equipment can prove valuable in this process, if it can:
Generate and receive voice, fax, and modem signals in bulk over wired and wireless networks,

Monitor and distinguish voice, fax, and modem signals in real time for traffic engineering and network design purposes,

Analyze voice, fax, and modem signals after capture for troubleshooting failed or poorly handled calls.
GL Communications provides a comprehensive suite of solutions for Fax, Modem, and Voice Testing.
Voice, Fax, and Modem Signal Generation and Reception
Fax and Modem PSTN Call Decoding and Analysis
Fax and Modem IP Call Decoding and Analysis
GLInsight™ for Fax over IP is a powerful and feature rich offline software tool that analyzes pre-recorded IP fax calls

GLInsight™ for Modem over IP analyzes modem traffic recordings within IP packets, by depacketization of the PCM signal, appropriate signal analysis, demodulation, phase analysis, error correction and data decompression

PacketScan™ supports capturing and decoding of Fax (T.38 data) calls over VoIP. PacketScan™ fax decodes can be viewed in the form of T.38 call graph and call summary with decoded information for all T.38 messages received on the call. The captured fax calls by PacketScan™ can also be analyzed using GLInsight™ by saving the fax calls directly in (*.PCAP) Ethereal file format.
Voice, Fax, and Modem Classification
GL's T1 E1 Traffic Classifier provides non-intrusive real-time monitoring and classification of T1 E1 traffic. All timeslots are monitored in real-time for 16 different traffic types including silence, voice, a variety of data modulations, fax modulations, DTMF digits, and call progress signals.

Back to Latest News Page