Press Release: GL Announces Powerfull Packet Test Tools - PacketScan™ and RTP Toolbox™
Gaithersburg, Maryland, USA - November 2'nd, 2006 - GL Communications Inc., announced today the release of enhanced packet test tools PacketScan™ version 2.0.32 and RTP Toolbox™ version 1.33 with Voiceband Codecs. Briefing to the media, the significance of voiceband codecs and how they differ in voice quality, Mr. Jagdish Vadalia, Senior Manager of Product Development at GL said, "The word "codec" is a compression of the two words "coder decoder" and is used to identify a voice compression algorithm. Telecom Engineers are always looking to transmit or store voice in the least bandwidth or space - thus the need for more sophisticated codecs". Applications include:
Wireless networks where efficient use of scarce frequency spectrum is important
VoIP networks where packetized and compressed voice is used to transmit over the World Wide Web
PCs, MP3 players, and mobile phones where codecs are used to transmit, store, and play voice and music"
Mr. Vadalia added, "GL's packet test tools: PacketScan™ and RTPToolBoxTM are now supported with both narrowband as well as wideband codecs that help in transmission or storing voice in the least bandwidth or space"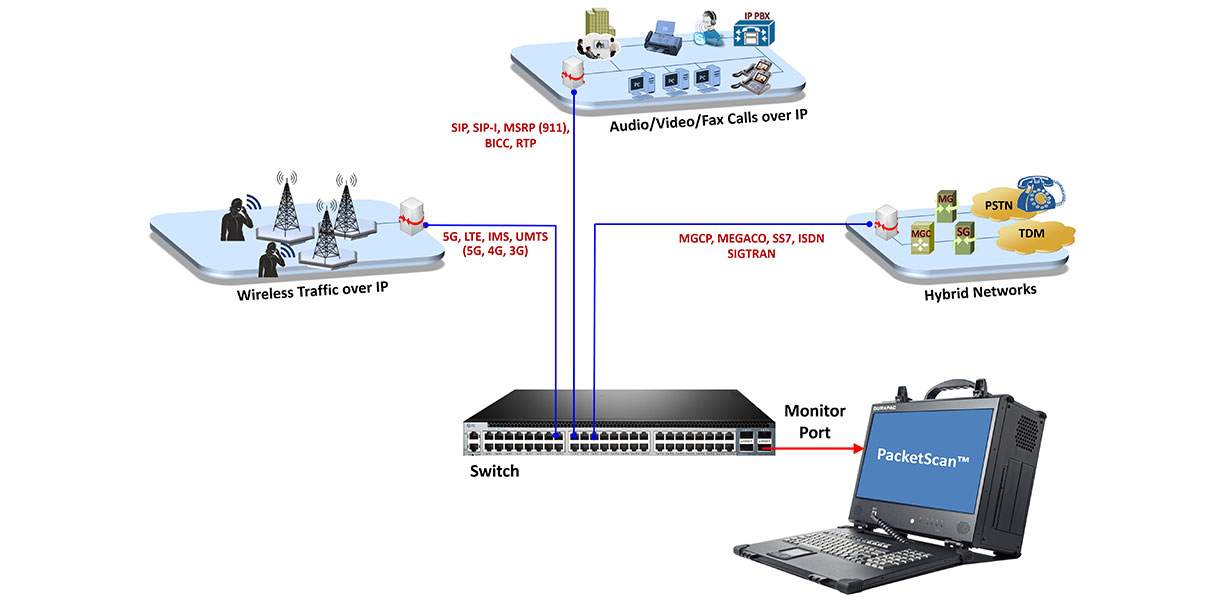 Important New Features of PacketScan™:
Supports WinPcap 3.1


R factors/MOS supported for more codecs


EVRC and ILBC Codec support


Record audio and video data of a session to a file in QuickTime format


Triggered Actions and E-mail Support


PacketScan™ as part of a Network Management System
For comprehensive information on GL's PacketScan™ click here
Important New Features of RTP ToolBox™
R factors / MOS now supported for more Audio and Video codecs


ILBC codec is supported for 20 ms and 30 ms packet size


Option to Monitor user-defined tones in the Command Line Interface (CLI) in addition to the standard dual tones


EVRC codec now supports Header Free Packet Format and the default Bundled Packet Format in the GUI and CLI



The Header-Free Packet Format


The Default Bundled Packet Format



G.722 Wideband codec support
For complete information on GL's RTP ToolBox™ click here
About GL Communications Inc
Founded in 1986, GL Communications Inc. is a leading supplier of test, monitoring, and analysis equipment for TDM, Wireless, and VoIP networks. Unlike conventional test equipment, GL's test platforms provide visualization, capture, storage, and convenient features like portability, remotability, and scripting.
GL's TDM Analysis & Emulation line of products includes T1, E1, T3, OC-3, STM-1, analog four-wire, and analog two-wire interface cards and solutions. Capabilities include voiceband traffic analysis and emulation across all traffic types (voice, digits, tones, fax, modem), all protocols (HDLC, ISDN, SS7, CAS, GSM, GPRS, CDMA), and with capacities up to thousands of channels.
GL's VoIP products generate / analyze thousands of calls simultaneously with traffic types such as voice files, digits, tones, noise, and fax using G.711, G.729, AMR, EVRC, and GSM codecs. Additional features include visual analysis, real-time listening, recording, and voice quality assessment using ITU algorithms PAMS, PSQM, and PESQ.
GL's Wireless Products perform protocol analysis and voice quality assessment on GSM, CDMA, UMTS, and CDMA 2000 networks. Connections can be made to any wireless phone with automated call control, GPS, mapping software, and real-time signal measurements.
GL's Echo Canceller testing solutions provide the broadest range of simulation and analysis, including compliance testing per G.168 and G.160.
GL's Network Surveillance and Monitoring products include Probes for TDM, VoIP, ATM, and Wireless networks. An open standards based approach provides a scalable, feature rich, real-time access to network intelligence. Centralized or distributed access, efficient transport and database loading allow compatibility with 3rd party and standards based monitoring systems.
For more information about GL's complete line of products,
Contact:

Shelley Sharma
Phone: 301-670-4784 ext. 114
E-mail: info@gl.com

Back to Press Releases Index Page