Newsletter: GL Announces the Release of Enhanced Packet Test Tools with Voiceband Codecs
Welcome to another October issue of GL Communications' Newsletter. This newsletter provides a quick overview of voiceband codecs and how they differ in voice quality. It also describes additional features added to GL's Packet Test Tools PacketScan™ and RTP Toolbox™.
Do you know your Codecs?
The word "codec" is a compression of the two words "coder decoder" and is used to identify a voice compression algorithm. Engineers are always looking to transmit or store voice in the least bandwidth or space - thus the need for more sophisticated codecs. Applications include:
Wireless networks where efficient use of scarce frequency spectrum is important
VoIP networks where packetized and compressed voice is used to transmit over the World Wide Web
PCs, MP3 players, and mobile phones where codecs are used to store and play music
Many codecs have been added to GL's Packet Test Tools: PacketScan™ and RTP Toolbox™ as well as many enhanced features:
more codecs (wideband and narrowband)
more voice quality support with trigger actions on poor voice quality
more signal processing functions
ability to capture poor calls and transmit them by e-mail for analysis
and video support
GL's PacketScan™ is a real-time VoIP analyzer that non-intrusively captures live IP traffic, and segregates them into SIP /H323 / Megaco / MGCP calls and collects statistics about the calls. Applications include monitoring of IP phones, Gateways, IP Routers, Switches, and Proxies. Its real-time nature makes it an outstanding tool for live monitoring of VoIP traffic as well as long-term traffic statistics gathering.
GL's RTP Toolbox™ is an application that is used to create, monitor, analyze, and terminate multiple RTP traffic streams (sessions). Its graphical nature makes it perfect for detailed analysis of signal processing elements in VoIP networks. The Command Line Interface (CLI) for RTP Toolbox makes it ideal fit for automated testing of Media Gateways, ATAs, Echo Cancellers, and other signal processing devices in VoIP networks.
A brief summary of the new features and enhancements introduced to RTP Toolbox™ ver 1.33 are: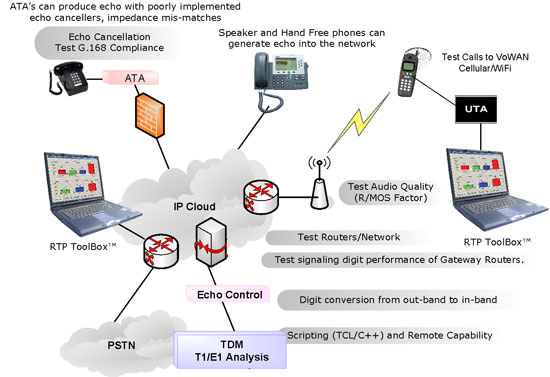 R factors / MOS now supported for more codecs

R factor is a non-intrusive voice quality rating factor based on the quality of packet flows. Its voice quality score is based on various network parameters, including codec type, packet loss, packet jitter, and packet delay. Mean Opinion Scores (MOS) are calculated using the ITU-T G.107 E-Model to determine the transmission-rating factor (R-Factor).

R factors/ MOS is now supported for more Audio and Video codecs including:

Mulaw and Alaw - widely used codecs in TDM telephony
ADPCM family of codecs - G726 (40 kbps), G726 (32 kbps), G726 (24 kbps), and G726 (16 kbps)
GSM610 - widely used in GSM wireless networks
G729, G729B - widely used VoIP codec
AMR - Adaptive Multi-Rate, widely used wireless codec in GSM and 3G networks
ILBC (20 msec), ILBC (30 msec) - Internet Low Bit Rate Codec is a royalty free codec developed by Global IP Sound
Speex NB

A more comprehensive list of codecs and their details with respective voice quality is provided at this link Codec Listings.

ILBC codec is supported for 20 ms and 30 ms packet size

The iLBC (Internet Low Bit Rate Codec) codec enables graceful speech quality degradation in the case of lost frames, that occur due to lost or delayed IP packets. This codec is suitable for real time communications such as, telephony and video conferencing, streaming audio, archival and messaging. The iLBC codec is an algorithm that compresses each basic frame (20 ms or 30 ms) of 8000 Hz, 16-bit sampled input speech, into output frames with rate of 400 bits for 30 ms basic frame size and 304 bits for 20 ms basic frame size. The codec supports two basic frame lengths: 30 ms at 13.33 kbit/s and 20 ms at 15.2 kbit/s, using a block independent linear-predictive coding (LPC) algorithm.

Option to Monitor user-defined tones in the Command Line Interface (CLI) in addition to the standard dual tones

This feature allows the users to define their own tones. By specifying low and high frequencies, the user can monitor the defined tones. The user can also perform a particular action depending upon the tones detected, as is done in IVR applications. The different types of tones that can be generated using the application are:

User defined tones
Standard tones - mf digits, dtmf digits, mfc-r2 forward digits, mfc-r2 backward digits
Single tones of single frequency




EVRC codec now supports Header Free Packet Format and the default Bundled Packet Format in the GUI and CLI



The Header-Free Packet Format

The Header-Free Packet Format is designed for maximum bandwidth efficiency and low latency. Only one codec data frame can be sent in each Header-Free format packet.

The Default Bundled Packet Format

A bundled/interleaved format is included to reduce the effect of packet loss on speech quality and spread the overhead of the RTP header over more than one speech frame.

G.722 Wideband codec support

G.722 Speech coding with a wider bandwidth than that offered in telephony results in major improvement in represented speech quality. G.722 wideband speech coding algorithm supports bit rates of 64, 56 and 48 kbps. Its overall delay is around 3 ms, and is small enough to protect echo problems. In addition, the codec provides acceptable performance even with bit error rates up to 10E-3. This requirement ensures that performance degrades gently even under the worst transmission conditions that one may encounter in a telecommunications network.

For more information about GL's RTP Toolbox™ click here.
A brief summary of the new features and enhancements introduced to PacketScan™ ver 2.0.32 are: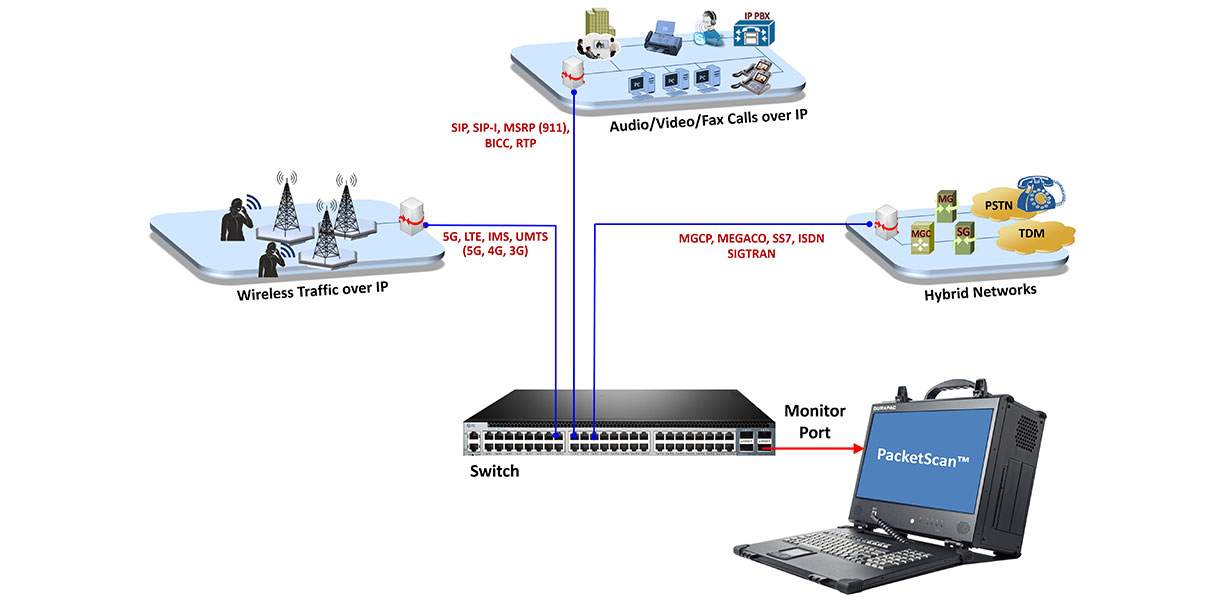 Supports WinPcap 3.1

WinPcap is the industry-standard tool for link-layer network access in Windows environments. It allows applications to capture and transmit network packets bypassing the protocol stack, and has additional useful features, including kernel-level packet filtering, a network statistics engine and support for remote packet capture.

R factors/MOS supported for more codecs

R factors/MOS is now supported for more audio and video codecs: Mulaw, Alaw, G726 (40 kbps), G726 (32 kbps), G726 (24 kbps), G726 (16 kbps), GSM610, G729, G729B, AMR, ILBC (20 msec), ILBC (30 msec) and SPEEX.

EVRC and ILBC Codec support

EVRC codec supports both header free and bundled packet format and ILBC supports both 20 msec and 30 msec packet size.

Record audio and video data of a session to a file in QuickTime format

PacketScan™ can monitor video calls and display both audio and video RTP streams in summary view. There is a provision to view video calls using a filter. Users can record video calls to a file in QuickTime format, which can be viewed by VLC player. Record video option is available for both Auto Detected RTP Calls and SIP Calls. Supported Video Codecs are:

H263+
H263++ CIF 190 kbps
H263++ CIF 350 kbps
H263++ CIF 512 kbps
H263++ QCIF 128 kbps
H263++ QCIF 64 kbps
H263++ QCIF 80 kbps.

H.263 - is a video codec designed by the ITU-T as a low-bit rate encoding solution for videoconferencing. It was first designed to be utilized in H.324 based systems (PSTN and other circuit-switched network videoconferencing and videotelephony applications), but has since found use in H.323 (RTP/IP-based videoconferencing), H.320 (ISDN-based videoconferencing), RTSP (streaming media) and SIP (Internet conferencing).

H.263 was developed as an evolutionary improvement based on experience from H.261, the previous ITU-T standard for video compression, and the MPEG-1 and MPEG-2 standards.

QCIF - Quarter Common Intermediate Format, a videoconferencing format that specifies data rates of 30 frames per second (fps), with each frame containing 144 lines and 176 pixels per line. This is one-fourth the resolution of Full CIF.

CIF - A video format used in videoconferencing systems that specifies a data rate of 30 frames per second (fps), with each frame containing 288 lines and 352 pixels per line.

Triggered Actions and E-mail Support

PacketScan™ has the ability to send e-mails based on a trigger such as "poor MOS score" on a call. Details of a call such as the call setup protocol details and the captured audio that transpired on the call can be sent as an attachment to the e-mail.

PacketScan™ as part of a Network Management System

PacketScan™ has the ability to send via TCP/IP all collected "traffic summary" data such as CDRs, MOS, jitter, gap, and other useful statistics to a central database as part of a Network Management System. This feature makes PacketScan™ very powerful indeed as the performance of an entire VoIP network can be readily assessed and monitored in realtime.
For comprehensive information on GL Communications' PacketScan™ click here.

Back to Latest News Page