Newsletter: GL Enhances Voice Quality Testing Solution
Welcome to another June 2010 issue of our Newsletter providing information on the latest enhancements to our Voice Quality Testing Solution. The product provides an excellent platform to measure voice quality over any type of network.
Overview
Communication devices of all types are capable of voice - such as PCs with softphones, conventional landline phones, mobile VoIP phones, and mobile wireless phones. They can interconnect using 2G, 3G, and 4G wireless networks, landline TDM networks, and IP networks – all with varying impairments. As a result, end to end voice quality is more variable and more important than in the past with a homogeneous network.
GL's Voice Quality Testing Solution provides one test platform no matter the network (VoIP, TDM, or Wireless) and no matter the interface (Analog, Digital, or Wireless). It provides connections for all wireless phones, whether operating on GSM, CDMA, WiMax, or FemtoCell. Connection to a mobile device is possible via Bluetooth® or a headset jack. VoIP connections are supported for ATAs, Media Gateways, or SoftPhones. Other supported interfaces include T1 E1, 2-Wire analog, and Push to Talk radios. This versatility is provided through a "universal telephony adapter", or Dual UTA (two ports of each type) and VQuad™ software capable of TDM, Wireless, and VoIP signaling and interfacing, see below.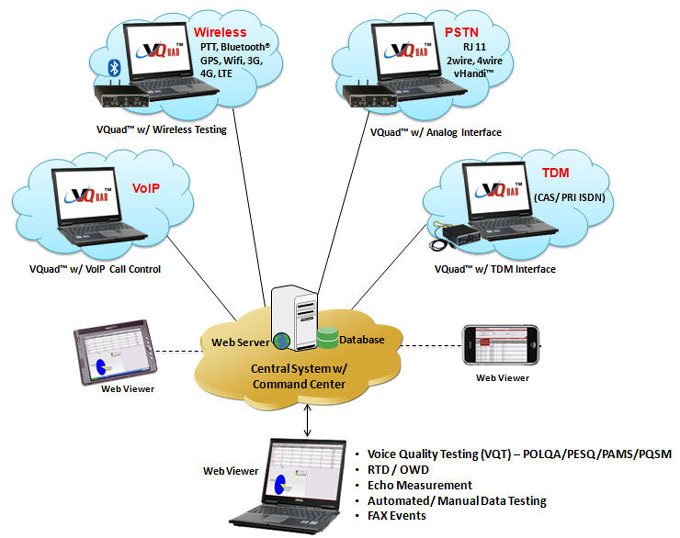 Once end to end connections are established, both Voice Quality and Call Failure Rates can be easily and automatically measured. Additional metrics include S/N levels, delay, jitter, and clipping.
Voice Quality utilizes three widely accepted algorithms to perform the voice comparisons, Perceptual Evaluation of Speech Quality (PESQ LQ/LQO/WB) per Rec. P.862.1/2, Perceptual Analysis / Measurement System (PAMS) per Rec. P.800, and Perceptual Speech Quality Measurement (PSQM) per Rec. P.861. PESQ provides an objective measurement of subjective listening tests on telephony systems.
Important Enhancements Introduced
VQT PESQ now supports Wideband PESQ (P.862.2) and the Impairment Factor (Ie) within results


VQT can automatically load and start Auto Configuration upon execution of the software.


The Command Center has added enhanced Email Alert support. This requires the DataImport application running on the central system. Both the VQuad™ and VQT can send alerts directly to the DataImport, which in turn will send the alert to the Command Center for processing. Email alerts also support Network Status of the individual network nodes. This modification provides easier setup and configuration of the entire network.


Support for VQuad™ and Central Location nodes when located behind a firewall or Router


Enhancement to the WebViewer™ includes ability to remotely control the various Network nodes (including VQuad™, VQT, Command Center, File Monitor) directly from the WebViewer™ browser screen


Enhancement to WebViewer™ includes ability to access the WebViewer™ configuration file and remotely make changes directly from the web browser. Changes include user-defined display of Pie Chart and Statistic screens
Other features include:
Manual or Automatic operation of entire solution with a variety of interfaces supported including 2-wire Analog, Bluetooth®, Mobile, T1/E1, VoIP SIP, and Mobile Radio


Network wide deployment with central location analysis and results. Web based WebViewer™ accesses all results and configures, starts, stops the tests


Fail/safe capability built within network system so that upon failures, the system automatically reports and resets. Results and analysis are never lost


Testing the Voice Quality and Call Failure Rates of Telecom Networks as well as ATM and PSTN Connections


Measuring the effect of Packet Jitter in VoIP Network


Measuring Voice Performance Over Frame Relay Networks


Analyze the Effects of Codec Compression in Wireless Networks


Provides PESQ LQ/LQO/WB results along with Active Speech and Noise Levels, Latency, Jitter, Clipping, and power Measurements
For comprehensive information on the application, please visit Voice Quality Testing Solutions web page.

Back to Latest News Page