Newsletter: GL Announces VQuad™ with
Enhanced Voice & Data Testing Solutions
Welcome to a July, 2011 issue of GL's Newsletter covering latest enhancements introduced to our versatile Voice and Data Quality Testing Solutions Ė VQuad™ and VQuad™ - Lite (ver 6.4), Mobile Device Controller, and WebViewer™.
Overview
The network of the future is mobile and IP centric with LTE and Advanced LTE leading the transformation. GLís mobile test solution encompass LTE infrastructure along with 3G, WiMax and WiFi for end-to-end intrusive voice and data testing.
Typical networks that are supported by GL's VQuad™ - Dual UTA hardware/software include Wireless (Wifi, Bluetooth®, 3G, 4G, LTE) , Broadband Internet (3G, 4G), VoIP SIP, PSTN, and TDM. Automated testing using GLís VQuad™ Scripting, portability for mobile drive testing, remote accessibility, and centralized data retrieval, analysis and control are just a few attributes of GLís next generation Voice and Data Testing solution.
Enhanced VQuad™
GLís VQuad™ product can connect to any mobile, landline or VoIP device and provide automated Voice and Data Quality analysis on the associated network. The VQuad™ solution utilizes user-friendly software with a USB based hardware component (Dual UTA Ė Universal Telephony Adapter) for connecting to devices and testing various networks. The Dual UTA incorporates several interfaces including Bluetooth®, 2-wire analog FXO, 4-wire analog and PTT for radio devices.
The Bluetooth® interface provides a wireless connection to any Bluetooth® enabled mobile device connecting to any network. Hence the GL solution is network and device independent. The testing is fully automated and can be controlled from a central system or via a WEB Browser. All test results are automatically relayed to a Central Database where they are accessed via a simple WEB Browser/Viewer. Multiple phone nodes run simultaneously and concurrently for testing different networks, different locations, and between different end points.
Added to the GL VQuad™ solution is Data Testing for all wireless networks. Using the VQuad™ product along with a standard PC internet connection, automated tests including TCP, UDP, HTTP, VoIP, Route, FTP and DNS are supported. The PC internet connection can be wired Ethernet, WiFi, or even Broadband card (both LTE and 3G fully supported).
Also available is the GLís NetTest package for Data Testing on any supported Mobile Device. This feature uses downloadable apps for both Apple and Android devices and is remotely controlled via the GL Mobile Device Controller system. Using VQuad™ one can remotely and automatically perform these same Data Tests on Apple and Android devices when connected to LTE/3G networks or over a WiFi network. The Data tests can be performed while also running Voice Quality tests. In other words, if the network supports both Voice and Data simultaneously, GLīs solution can support and provide valuable information with regard to voice and data network quality.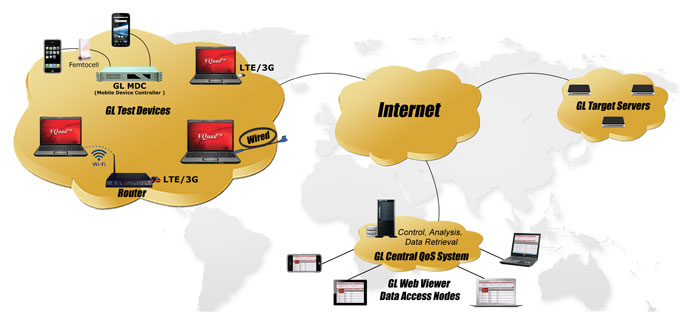 GL VQuad™ Data Testing supporting Mobile Devices and PC Internet
Some of the important Features:
Single box portable solution interfacing with the following:

Any Communication Device (Mobile phone, Smart phones (iPhone, Android), Military/Mobile radio, Bluetooth®, WiMax, WiFi)
2-Wire POTS (connect to PSTN, ATA, Media Gateway)
SIP Call Agent (act as a SoftPhone and configure Proxy and Registrar).
VoIP Ethernet (connect directly to any SoftPhone or any digital/VoIP hardware phone)
T1/E1 (CAS and PRI ISDN protocols supported)

Local VQuad™ can control remote VQuad™ systems to expand testing for an entire network. All results and events are automatically transferred to a Central Database (optional WebViewer™ required).
Automated Data Testing for Apple/Android Mobile Devices including TCP, UDP, VoIP, Route, HTTP, FTP, and DNS.
Automated Data Testing for PC Internet connection (Broadband 3G/4G, WiFi, Wired) including TCP, UDP, VoIP, Route, HTTP, FTP, and DNS.
Data Testing supports remotely deployed GL Data Server target points for end-to-end testing.
Echo Measurement testing over TDM, VoIP, 2-Wire, and Wireless using Echo Measurement Utility (EMU)
Enhanced VQuad™ scripting for generating a variety of automated Voice and Data quality tests.
WebViewer™
GL's WebViewer™ provides the method to control, monitor and access, in real time, the entire VQuad™/VQT network including all individual VQuad™ probes as well as the central location. Current status of the entire test is displayed along with customized user statistics and results of the active tests.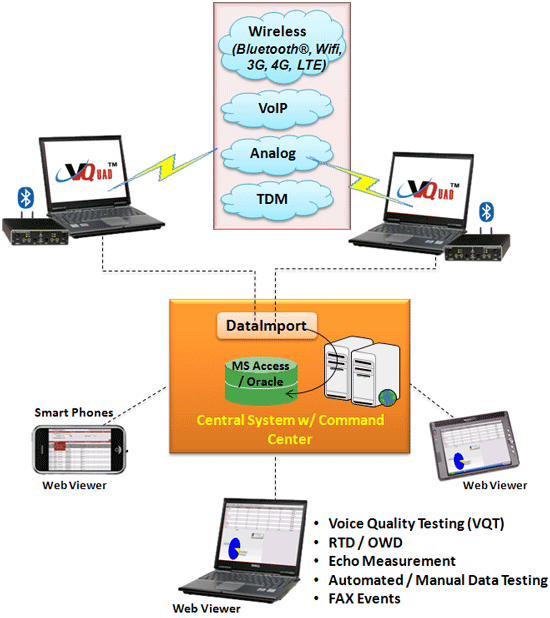 GLís WebViewer™
Some of the important Features:
Support for PC and Apple (MacBook, iPad, iPhone) web browser
All results from individual VQuad™ probes, VQT, VBA, and EMU are automatically sent to WebViewer™ central database.
Results include Voice Quality, Data Testing, Delay Measurements, Call Control, user generated events, and user-defined statistics
Customized Reports for both Results and Statistics can be output as either Excel or Text formats.
Database backup, export and import utilities
Query results based on a variety of mechanisms including, but not limited to, time, device ID, location/test name, result threshold, result condition and value
Display all result events or display events on per call basis (all results within call are averaged with min/max values provided)
Mobile Device Controller
GLís Mobile Device Controller (MDC) provides a liaison to all supported Apple/Android based mobile devices for conducting data tests. The MDC communicates to the mobile devices while accepting commands from VQuad™ and sending test results back to VQuad™. The Data Tests can be remotely started irrespective if the mobile device is in close proximity of the VQuad™.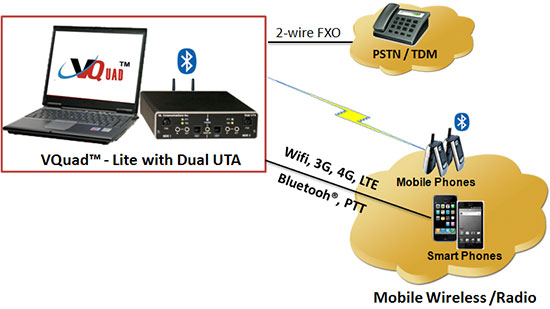 GLís VQuad™ - Lite software
GL has released the VQuad™ - Lite application with Dual Universal Telephony Adapter (UTA). This Lite version of VQuad™ is geared towards field technicians based on the simplicity of the software and ease of operation. The VQuad™ - Lite supports a maximum of two FXO and/or Mobile Bluetooth devices. Complete automated scripting (supporting Voice and Data testing), remote access, and connection to the central system are available in a compact software application.
Mobile Phones with Bluetooth® - Works with all Bluetooth® phones for both call control, audio send/record and Data Testing. Bluetooth® also performs RSSI, Battery level functions, Network verification.
RJ-11 POTS lines - Detect dial tone, go off hook, CallerID detection, send digits (two stage dialing), answer calls, detect a variety of Special Information Tones (SIT), and much more as well as send/record audio for Voice Quality measurement
For comprehensive information on the applications, please refer to Complete VQT Solutions web page.

Back to Latest News Page