Newsletter: How to Enjoy the Benefits of VoIP Technology
(without the Heartache)
Welcome to another April 2011 issue of GL Communications' Newsletter providing information and insight into our enhanced RTP ToolBox™ Software – A tool that helps test, simulate & monitor voice traffic carried by RTP & RTCP Packets. RTP ToolBox™ is rich in visual presentation of voice quality statistics that significantly simplifies debugging and analysis of VoIP calls.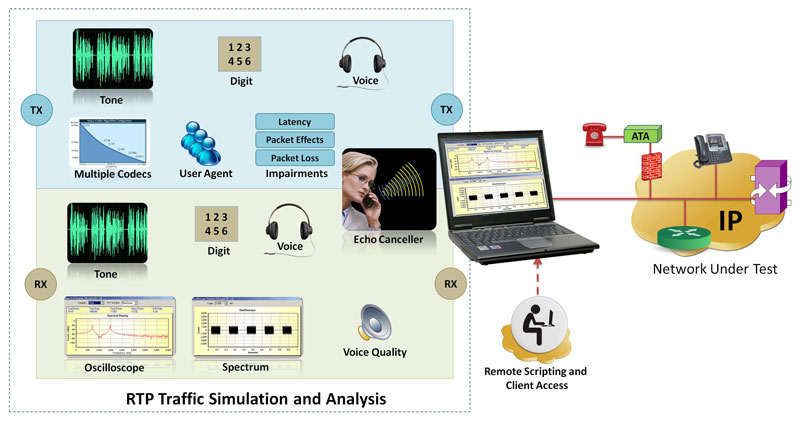 Overview
VoIP technology is permeating the telephone network and pretty soon the majority of telephone traffic will be carried by VoIP technology whether wired or wireless. It's attractive because if designed correctly, it can be higher quality than conventional analog connections. End to end digital is far better than analog-digital-analog connections. Many codecs like wideband G.722 are much better than G.711; 8 kHz bandwidth vs. 4 kHz. Also, there are many convergence benefits e.g. integration with e-mail, portability, and ease of management.
All that said, there is that often heard remark: "is this a VoIP connection?" implying of course, that voice is breaking up or there are big gaps in speech, or sudden silence. How do you rectify this? How do you pinpoint the problems? Why is there discontinuous speech? Here's where a tool like RTP ToolBox™ may help. Make a call from your LAN and visualize and analyze the voice quality. Do it again directly at the Gateway / Router. This helps localize the problem: local area network, access line, or in the network. You may also need (but not necessary) a product like PacketGen™, or MAPS SIP, or VQuad™ to provide a constant controllable load or to make calls to wireless devices.
RTP ToolBox™ can be a powerful tool to visualize and analyze VoIP traffic. In one software package, working with your onboard NIC, all the tools are available for diagnosing VoIP call quality problems. Then start enjoying the benefits of higher quality, lower cost, and all that is advertised.
Recent Enhancements
RTP ToolBox™ is designed to generate and monitor RTP and RTCP packets independent of call-signaling protocols such as SIP, H323, MEGACO, or MGCP. However standard SIP is also supported. The tool is perfect for testing and developing enhanced voice features like Voice Activity Detection (VAD), echo cancellation, a host of different codecs, digit detection, digit generation, Fax over IP, jitter implementation, and much much more. It can be used to test end-user equipment such as IP phones, Analog Telephone Adapters (ATAs), and Gateways and Routers that support VoIP.
Recent enhancements include:
Voice Activity Detection (VAD) support for G726 series codecs – don't you wish they would get rid of VAD, I mean they've compressed enough already. To see if VAD is the culprit, you can make calls with and without VAD.


EVRC-C Codec support – Yet another codec that gives you more bang for the buck.


'CodecOptions.ini' file to configure parameters such as Packetization-Time, Payload-Type, Codecs, and Codec Options for User Agent SIP call generation


Enhanced SIP Dial Interface can now dial or accept calls from all supported codecs.


Support for the INFO and REFER methods


Command Line Interpreter (CLI) Enhancements for RTP, RTCP, R-Factor and MOS statistics


Support for TCL 8.5 CLI interface. The TCL interface supports call placing commands


Re-Register Facility and expiry time for registration


Support for WinPcap 4.1.2
Other Important Features
Set the RTP traffic properties (payload type, codec) and impairments during Auto-scan of all incoming RTP traffic


Automatic scan option to capture all incoming RTP traffic


Monitoring RTP streams using scalable Oscilloscope and Spectrum Analyzer


Generation/Detection of in-band and out-of-band Digits/Tones (DTMF, MF, user-defined, etc.)/Events per RFC-2833 & RFC-4733 Set Delay and Attenuate for loop backed RTP traffic


User-defined impairments: latency, packet loss, out of sequence and duplicate packets


Detailed statistical information of RTP and RTCP packets


Sending and recording of voice files with a synchronous TX/RX option


G.168 testing for echo cancellation equipment


Talk and Play to Speaker options using PC sound card


Call Generation and Reception ability provides UA simulation


Codec options and payload type can be customized for UA during Call Generation (Dial) & Call Reception


Quality Metrics with R-Factor and MOS Factors, Jitter Buffer Statistics, Degradation Factor, Burst Metrics, and Delay Metrics are graphically represented


Supports Client-Server functionality (requires additional license)-C++, & TCL clients
For comprehensive information on the application, please refer to RTP ToolBox™ Software web page.

Back to Latest News Page